Winter operations: Innovating the de-icing tradition
Historically, aerospace de/anti-icing technology has grown from the original concept of applying a freeze-point suppressant chemical to the wings of aircrafts. In a market whereby such a norm has influenced the entire de-icing industry, including the development of test methods, how can new life be injected into the way we deice to meet the age-old problems faced in winter periods? Aircraft de-icing fluid expert at LNT Solutions, Tim Peyton, explains how seemingly subtle changes to application technology, control systems and methodology are the principal drivers for the innovations which are now revolutionising de/anti-icing technology.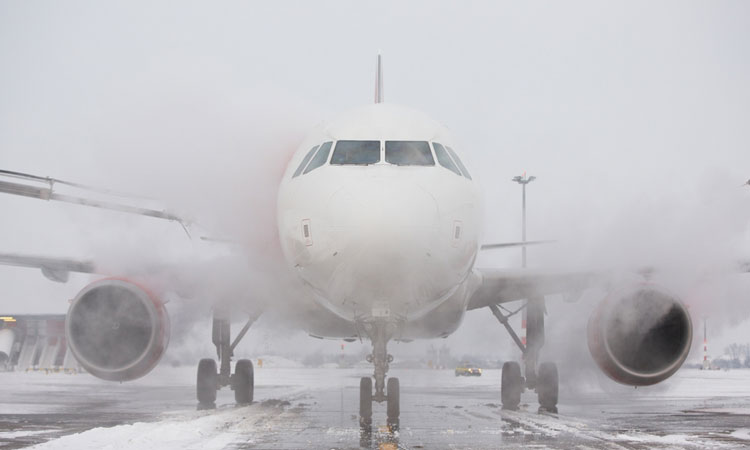 Prior to recent innovations, the process of applying Type I, II, III and IV products to aircraft and the basic composition of the applied chemicals used in de/anti-icing have remained largely unchanged. As a result, the chemical technology has been replicated by a number of vendors all with similar products and approach as the chemical products have been established for 20+ years. Although their performance has been incrementally improved, their basic composition remains constant. They are all essentially Rheology modified Glycol/Water solutions with varying additives to give fluid characteristics such as corrosion inhibition, surface wetting and formability to name a few.
Similarly, as products have been developed, the test methods to assess their performance have also been formed to assess and measure their physico-chemical performance in terms of endurance, aerodynamic viability and corrosivity among other aspects. As new products have to fit the defined and historically trusted test criteria, they are essentially complex 'me-toos'. In addition, dramatic advances are naturally stifled by a limited choice of natural freeze-point suppressant chemicals which also meet the stringent anti-corrosion challenges. The historical data and confidence these products have gained make it difficult to deviate from the base-product technology.
Working alongside partners
What has been radically improved is the application technology, control systems and methodology to spray the fluid. Being a relative newcomer to this specific market-segment, LNT Solutions (LNT) has grown up with this technology and established de/anti-icing fluids with this awareness. Working alongside partners, LNT has employed these innovations specifically to alleviate difficulties experienced when extreme weather hits, beyond just improved chemical performance, adding logistical performance-benefits. Taking a novel approach to manufacturing products maximises the potential of the latest application, control and stock management technology developed in the sector.
An important aspect is the inclusion of a manufacturing and logistic strategy to allow end-users such as airlines, airports and service providers to minimise the strain on supply-chain logistics. Instead of manufacturing at locations where the factory just 'happens to be', LNT manufactures in strategic locations, which are often near or on an airport facility.
From these nearby bases, specially formulated concentrated additive packaged products are supplied with a number of advantages over traditional fluids. LNT PC-1 and EC-1 single-shot ad-packs represent a tiny proportion of the finished product (~two per cent) and negate the requirement to ship vast quantities of water and Glycol to the point-of-use. Instead, these commodities can be sourced and stored independently and the final blending can be performed on site. By working closely with our equipment manufacturer we've even enabled their system to blend de-icing fluid in the vehicle on demand.
The concentrates can be stored for long periods of time and exposed to environmental stresses that would be detrimental to finished blended de/anti-icing fluid. They can also be supplied in 1,000l totes which are easier to manage than discreet batches of 25,000l+ tanker-containers. For airports, this means less storage and more flexibility to react to changing weather conditions.
An independent and innovative de/anti-icing service provider
Working with independent and innovative de/anti-icing service provider has allowed the recovery, recycling and re-use of the glycol freeze-point suppressant used in de/anti-icing fluid. They can simply collect, treat and separate out the Glycol, blend it with water and add LNT's ad-pack to produce re-usable de-icing fluid. Such an innovation has huge advantages as it reduces the bio-burden on the airport and surrounding environment. This technology is currently in service and used to produce LNT E-188 Type 1 fluid. There are no physical limitations to this technology being used to manufacture LNT E450 Type 4 fluid in the future.
Coupled with the constant endeavour to improve on chemical technology, these innovations will take the industry one step further in full winter-preparedness. De/anti-icing innovation in new technologies is set to provide far greater logistical and planning value during this unpredictable season.
Biography
Aircraft de-icing fluid expert, Tim Peyton, joined LNT Solutions in 2011, and has since led the development of LNT's range of thickened fluids. He has also used his manufacturing expertise to assist the glycol recycling projects in which LNT is involved. Tim was previously Head of Operations at Kilfrost.