London Gatwick Airport: Transforming the passenger experience
Gatwick Airport is the UK's second largest airport and has the most efficient single-runway airport in the world serving more than 40 million passengers to 200 destinations in 90 countries. Gavin Jackson, Project Leader – Check-in Transformation at Gatwick Airport reveals a £2 billion investment programme that will transform the airport, with capital projects designed to drive growth and improve every aspect of the passenger journey.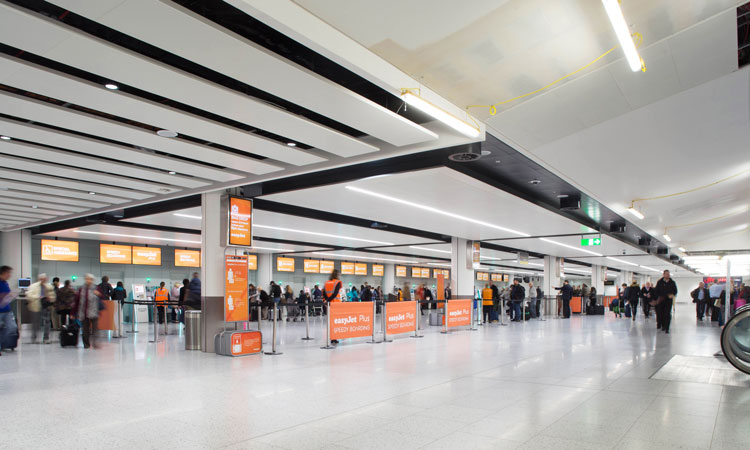 The airport is a major economic driver for the South East region, generating around 21,000 on-airport jobs and a further 10,000 jobs through related activities. It is located just 28 miles south of London with excellent public transport links, including the Gatwick Express.
Since 2009, when Gatwick became independent from BAA (now known as Heathrow Airport Holdings Ltd), it has been owned by a group of international investment funds (of which Global Infrastructure Partners (GIP) is the largest shareholder) and has been charting its own course, competing head-on with Heathrow Airport and investing billions to drive growth from existing infrastructure while it awaits the decision about building a second runway.
My role at Gatwick Airport is Project Leader for Check-in Transformation
Having previously led the terminal security operation and working on the new security search area for the South Terminal, we had already significantly transformed this part of the passenger journey at the airport, consistently meeting our queue targets of passengers getting through security in less than five minutes 95% of the time. We were also very aware of the time that passengers queued at check-in before getting to security, with people who were running late having queued excessively and arriving stressed, thankful for the swift process at security to get through to their gate.
Having moved in to a new Change Management role, one of my first projects was to better understand current performance at check-in and define a strategy to transform the customer experience in this area. Our team gathered data on queue times, transaction rates, and reviewed customer feedback. We worked with airlines and their handling agents to understand their check-in processes and the problems they faced. We were tasked with understanding that part of the process in minute detail and coming up with a strategy. My objectives are to eliminate queuing, while driving down costs for our airlines and for Gatwick Airport itself. And this needs to be done without extending our existing footprint, so we need to increase the efficiency and utilisation at check-in.
We know that the check-in process has historically been the main source of lengthy queuing at airports. This happens in both in- and off-peak months for a number of reasons.
Back in 2012 we started to do a lot of work to understand just how serious the issue of queuing had become, and in doing so, we needed to understand the reasons for the queue before we could look at the solutions. This piece of work told us that queuing was universal and that all our airlines – low cost, full service or charter airline models – suffered with the same problems. There are some operational disruptions which cause problems with queuing, such as road or rail problems effecting the passengers' arrival at the airport, but the biggest source of queue is the variation in labour at the point of check-in. We know that handling agents operate with very tight margins and that issues around recruitment and absenteeism, particularly around the peak summer months, are a real challenge.
Our passengers give us a lot of feedback via social media and through the customer relations teams so we quickly realised that the majority of passenger angst came from frustration around check-in – with the bulk of complaints highlighting either not enough desks open to process passengers, or not enough staff manning desks.
In analysing the check-in process we observed a large increase in online check-in
Airlines had made investments in their departure control systems and passengers had become more willing to book and check-in using their computers and later, smartphones. And while passengers were trying to help themselves reduce their queue time in the airport by online check-in before arrival, as this method of check-in became more mainstream, frustrations arose because upon arrival at the airport the queue to drop ones bags was now becoming as long as the previous queue to check in. So while we thought online check-in was a solution to long queues, it became a victim of its own success.
Our research and intelligence told us that by 2019, around 90 per cent of passengers would be using online check-in before arriving at the airport, and therefore all they needed to do was to drop their bag. This is why we turned our attention to this part of the process. We also conducted some passengers surveys that told us that passengers were more willing to self-serve at check-in with over 80% of the passengers surveyed saying they would be happy to tag their own bag.
We knew that we had an opportunity to remove our reliance on labour complexities and take advantage of the new age, and willingness of passengers to use technology to complete the airport processes. We looked closely at all the different airline models operating from Gatwick, and also the different systems they were using. It was clear that there was no one-size-fits-all model. We therefore decided to test the market because there was a myriad of new technologies emerging, all using different equipment and processes. We chose a range of carriers to work with us – full service, low-cost and charter – so that we could analyse the behaviours of a range of different passengers with varying needs, and then we chose four different vendor solutions.
Our trials began in November 2012 and ran to the end of 2013. During this time, we were able to gather an enormous amount of data and learn important lessons about the different vendors, their product performance and reliability. We were also able to gather information about our airlines' IT infrastructures, and from our staff who needed to install, use and maintain the systems. Most importantly we were able to assess the impact on transaction times and queues.
Following these trials, we had a clear idea of the solution we needed for Gatwick
We wanted one solution that would meet the requirements of the airport and all our major carriers, and we needed the flexibility within our terminals to use the equipment with different types of carrier. We also needed machinery that would be future proof and could be adapted to our growing needs and to the changing technologies of airlines over time.
Once we had this plan, we were able to secure the funding we needed and as part of the development of our North Terminal, we created a completely new departure level, with approval to install the world's largest self-service bag-drop zone.
All the partners who took part in our trials were invited to tender for machine installation
We chose Materna because they met the greatest number of our needs, including visa checking, excess baggage payments and the handling of sporting equipment. Once the decision to work with Materna was made we decided to pilot the solution ahead of the main project so we could test, develop and train on the equipment. This ran from May to September 2015 in both our North and South Terminals, and was designed to run through the summer peak. We were able to put 400,000 bags through the systems during that time, and even without the full functionality of the end product, we saw a significant reduction in queues versus the summer of the previous year: 90% of our passengers were through bag-drop in less than 10 minutes – a significant result and validation for the investment.
The first phase of our North Terminal self-service bag-drop zone officially opened in October 2015 with 28 machines and the second phase will open in March 2016 with a further 20 machines. With 48 self-service bag-drop machines, it is the biggest facility of its kind in the world, and we are very proud of the difference this makes to Gatwick and our passengers. We anticipate installing up to 180 kiosks in total across the airport by 2019 – this will account for half of our check-in infrastructure.
The results are phenomenal, with transaction times reduced to just over a minute per bag-dropped and a significant reduction in queues in our newly opened North Terminal facility.
Projects like this tie closely into Gatwick's growth strategy
By reducing transaction times at bag-drop, we can move more people through our terminals. This means we can grow our passenger numbers.
Gatwick broke through the 40 million passengers per year milestone in the latter part of 2015, a full 10 years ahead of predictions, and is set to finish the first quarter of 2016 at close to 42 million passengers per year.
Creatively approaching projects like bag-drop, and complementing them with major infrastructure projects like Next Gen security systems, e-gates for immigration, improved passenger flows, stand planning and investments in new Piers, all contribute to the growth strategy. Building a new runway will be essential in the mid-term but for now, Gatwick is able to accommodate the growing demands of today's tech savvy passengers.
Biography
Gavin Jackson joined Gatwick Airport in 2005 with a background in parcel logistics. His early career at Gatwick was in operational roles, and included Terminal Operations Manager and then Security Operations Manager. He was part of a team that delivered significant organisational change at Gatwick pre and post its sale to Global Infrastructure Partners (GIP), including the construction of the new security search area in the South Terminal. This project involved the introduction of new technology such as biometrics and automated access control, as well as process improvements and changes to working practises. He then moved to a change management role in 2011 and has since led a team delivering people, process, systems and infrastructure change for check-in at Gatwick.