Strengthening airport infrastructure to meet digital demand
The UK is one of the most important air transportation hubs in the world, with around 238 million passengers passing through its airports every year1. However, as passenger numbers continue to rise and flight destinations continue to increase, there is huge pressure on existing airport infrastructure and service management. Airports are complex businesses and as such operators must focus on providing high levels of security and increasing capacity to meet rising demand, says Ian Farnell, Aviation Executive at Fujitsu.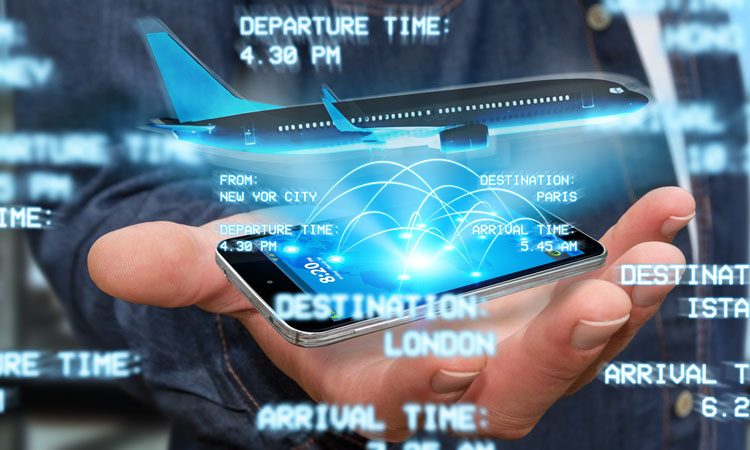 Passenger expectations also continue to rise. We are now living in a world where everything is connected and as a result, the way we live, travel and do business is changing. Services are now available at the click of a button and citizens expect the same kind of service from an airport as they do from their bank. Passengers want to know when their flight is due to take off; whether there are any delays; and where their gate is in a matter of seconds.
A good network infrastructure plays a significant role in not only improving services, reducing costs, managing security and increasing efficiency, but also delivering the passenger experience travellers now demand. But how can airports get this right?
Redefining the passenger experience
It is all about the passenger experience. Like so many industries, air travel is moving quickly towards a customer-centric approach when it comes to day-to-day operations. Plans for business growth rely on getting more travellers on to more flights, which means that improving the passenger experience is at the top of every airport and airline's agenda.
Whether they're using an international mega-terminal or a regional hub, passengers want an experience that is fast, predictable and stress-free. That means getting them through security and check-in procedures quickly and efficiently and providing up-to-date flight information; clean and comfortable departure lounges; and world-class retail and hospitality environments for those who choose to use them.
Airports need to convince passengers that they can deliver these sorts of experiences, thus a combination of outstanding service, efficient operational processes and innovative technology must come together.
Using technology to create better experiences
This is where technology can play a significant role within an airport terminal. By helping to support a series of separate journeys to an integrated intelligent system, driven by a more user-centred travel experience, airports can help create a truly intelligent terminal, capable of responding quickly to make every passenger journey the best it can be. For example, by combining CCTV with advanced data analytics, airports could track passenger movement and density to optimise footfall in retail outlets – keeping passengers happy and potentially increasing customer spend for retail partners.
For the traveller this means a couple of things. Firstly, it creates personalisation and more efficient services which enable passengers to move between modes of transport right across the country, provided by operators who take care of their needs, door-to-door.
It also provides ways for customers to optimise their journey by using applications and services that can process real-time information. Citizens are now accustomed to accessing information instantly through smartphones and being kept constantly up to date by social media. Using mobile check-in and boarding passes is now commonplace for many passengers and they expect the technology in airports to continue to assist them along their journey. Self-service kiosks and mobile applications for tracking live flight and baggage statuses can help passengers keep themselves informed; freeing service staff to focus on those passengers that need personal assistance.
Technology can go one step further for the airlines themselves by optimising maintenance. For example, when aircraft are stationary they are required to turn off their Auxiliary Power Unit (APU) and plug the craft into the airport's ground energy. This process benefits both the airport and the airline, both in terms of revenues and also reducing noise pollution. However, it is common for pilots to omit to turn off their APU. IoT (Internet of Things) sensors can quickly and easily check that aircraft are adhering to the rules and, if not, resolve the matter on a case by case basis.
Additionally, by tagging aircraft with IoT sensors airlines can monitor aircraft electronically, which will inform them when the aircraft requires maintenance, allowing safety operations to be completed more efficiently. For example, by using RFID technology airline staff can quickly check whether all life vests are in place ahead of a flight without the need of manual inspection that traditionally can take several hours. This enables the airline to get the aircraft in the air quicker, saving time and money.
Implementing a strong infrastructure
In order to keep up with this digital transformation, a strong infrastructure that underlies a great passenger experience is vital. This helps to create a layer of efficiency and productivity gains to drive real business growth. A technology infrastructure must be dependable, resilient and cost-effective in order to ensure the passenger experience and the technology that it supports is successful.
In addition it is vital that technology is regularly refreshed to meet increasing compute and storage demands. Requirements for mobile applications must also adapt for passengers and the staff who serve them.
Passenger expectations are changing fast and it's up to airports to either keep up or risk losing airlines – and their passengers – to more agile competitors. When airports get it right,  passengers will experience a journey that's not just hassle-free, but  genuinely enjoyable, and airports will stop being a mere gateway and become another destination.
Heathrow Airport is one example of an airport that has recently refreshed its network infrastructure to meet passenger demands2. Terminal 2 reopened after seven years of planning with a high-speed network at the heart of the operation that connects every aspect of life in the airport – from safety and security operations to check-in desks, through to enhanced passenger experience with Wi-Fi. The airport supports 26 airlines and is ready to handle millions of passengers every year, due to the future-proof, secure network that enables thousands of components to communicate effectively in order to make every passenger's journey safer and more enjoyable.
Co-creation is key
The success of this digital transformation is dependent on how it is implemented – it all comes down to the partners an airport works with. In the digital world the concept of co-creation brings together expertise within the transport sector and the technology sector to combine unique understandings that will enable the development of the most effective solutions.
It also enables airports to work in a more agile way; taking advantage of possible savings whilst reaping the benefits of digital solutions. According to recent research3, over three quarters (78%) of public sector leaders recognise the need to collaborate more strategically with organisations that can help shape their response to digital disruption. Co-creation plays a vital role in enabling the public and private sector to realise their full potential of digital, so it's important that airports embrace this.
The terminal of the future
Today, simply smoothing the movement of passengers along their journey is no longer enough. Airports are challenged to help airlines deliver the best possible service; work with retail and hospitality partners to provide an outstanding customer experience; and increase security and safety without inconveniencing passengers.
The network infrastructure plays a vital role within the airport terminal in delivering the best possible travel experience, and by making full use of the latest digital technologies airports can ensure that their offering meets the ever expanding passengers' demands.
Biography
Ian Farnell is Aviation Executive in UK & Ireland at Fujitsu. Ian has over 15 years' experience in current and emerging policies, practices, trends, technology, and information affecting the air transportation industry.
References
1. https://www.caa.co.uk/News/Passengers-at-UK-airports-increase-for-the-fourth-year-in-a-row/?catid=4294967494
2. http://www.fujitsu.com/uk/Images/CS_2014Nov_HeathrowAirport_Eng_v0.1.pdf
3. http://www.fujitsu.com/global/about/resources/publications/digital-disruption-report/
Issue
Related organisations