Ground handling in-depth focus : Managing on-time performance
With the busiest single runway in the world, Gatwick Airport processes 55 traffic movements an hour at its peak. Head of Airside, Gary Cobb, reveals how the airport deals with this intensity and ensures its systems and processes are fully optimised.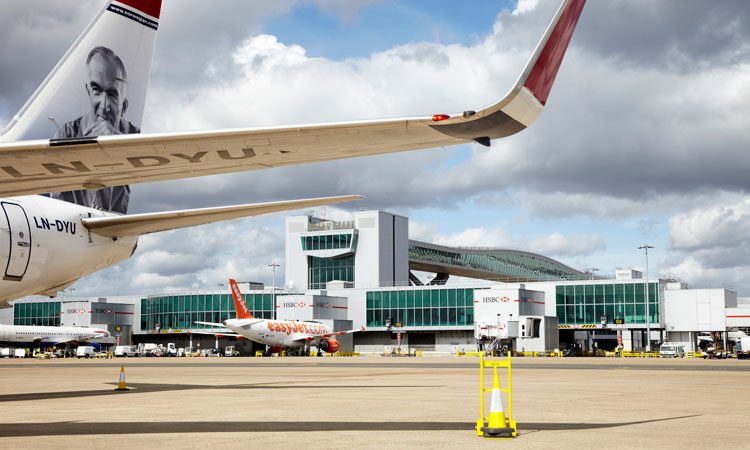 Such levels of intensity as those experienced at Gatwick means we are often counting gaps between flights in terms of seconds – with little buffer time to recover if the schedule slips. To make things more difficult, the skies above Gatwick in south east England are the busiest in the world, and a doubling in the number of restrictions imposed on this airspace over the last three years has caused considerable disruption during the summer months. In addition, many of our European destinations suffer frequent airspace restrictions in the summer themselves, including frequent industrial action.
As a result, Gatwick's on-time performance has suffered in recent years. Since it has come under new ownership, however, the airport has been analysing problems like this in detail and is working to improve relationships, processes and infrastructure in order to deliver practical, lasting solutions.
The Gatwick family
On the airfield, and across most of the airport, the most important area of focus is the manner in which Gatwick works with all third parties on the airport campus – or, as we call them, 'the Gatwick family'.  
We share and explore issues together in order to optimise systems and improve joint decision making. One key initiative in this respect has been the creation of our 'Single Ops Centre', which bases key airport, ground handling and airline staff together in one room – each using the same data and all making joint decisions. As you would expect, having all key personnel in the room at the same time leads to better, speedier decision making, which is important when every second counts.
We are also working hard with our ground handlers in preparation for the summer period and currently have external consultants reviewing their manning levels and summer plans. This method allows us to highlight areas for improvement and mitigation at the earliest possible stage, and means that we are going into the summer period fully prepared. Even if airspace restrictions should improve, we must continuously advance the capability of our ground operations. Gatwick now has an Airline Performance Team of 27 people in place with wide-ranging experience across airline, ground handler and airport operations. They attend target flights to ensure critical milestones are achieved and we are seeing clear improvements on turn success and on-time departure. We also now offer financial incentives to airport third parties that reward the achievement of key performance metrics, such as on-time departures and bag delivery.
With such an intense operation in the event that the schedule slips, we have to act quickly to recover flights. We have developed tools that identify late in-bound aircraft and a playbook of Standard Operating Procedures allows us to support airlines and ground handlers in recovering operations to on-time status. These measures also form the team's personal objectives; ensuring we are closely aligned with the needs of our customer airlines and their ground handlers.
We have also introduced the concept of recovery cells which aims to focus critical resources on specific areas and allows us to service any late aircraft remotely. For example, for aircraft that are arriving behind schedule yet on-time departure could still be salvaged, we plan them in a zone with enhanced resources to ensure they turn quickly and can depart for their next trip on time. In so doing, we reduce delay minutes while the aircraft is on the ground, and also ensure that we maintain better stability with our stand plan and reduce the impact on other aircraft regarding any off-schedule activity.
Infrastructure
An important infrastructure development has been the introduction of push and hold stands, or remote intermediate holding points. These allow aircraft given a calculated take-off time (airspace restriction) to push and taxi to an intermediate hold freeing up the stand for an arriving aircraft.  
Gatwick now has 15 of these located around the airfield allowing much better flow and improved on-time departure performance. We are also exploring the possibility of investing in more of these stands, as well as potentially combining them with remote de-icing capacity in the future.
A key enabler for the increase in push and hold stands has been the airport's transition to a new air navigation service provider. Air Navigation Solutions Ltd has been in place for over a year at the tower in Gatwick and through close joint working we have improved our process for using push and hold in readiness for our busy summer 2017 schedule. Working more closely with the tower also helps to ensure that on-time departure issues factor more strongly in the decisions they make.
Gate technology
A key lesson learnt from summer 2016 is that events taking place in the terminal building can determine whether an aircraft will leave on time. Previously we simply looked at what happened on the airfield, but our data tells us that a gate closing on time, for example, can have a strong bearing on whether the aircraft door will also close on time, which in turn impacts on-time departure, etc.
Increasingly, we are using technology to resolve issues such as this. E-gates in our security search areas are now fitted with 'Passenger Stop' technology to prevent late running passengers from going airside at all. Passenger details are also then fed to the specific gate teams to ensure that bag off-load and passenger management processes are streamlined.
Once at the gate-room, we have successfully trialled and are now rolling out e-gates for self-boarding. In a similar manner to the automated bag drop process at check-in, this technology means we can increase the number of boarding gates in each gate room; significantly increasing the number of passengers having gate checks carried out simultaneously, while reducing the time taken to board the aircraft.
With so many flights operating on very quick turnarounds, the impact of this new technology is considerable.
Real-time data gives a 'common truth'
The way we use data is also changing. Previously we would collate the previous day's performance report and review it the following morning. Naturally this meant we could not affect the outcome of the actual day itself – only learn from it. We now have two real-time data systems helping us in this respect.
The first – the Airport Community app – is a digital platform that brings 'the Gatwick family' together and keeps everyone in tune with the airport by sharing real-time information – or a 'common truth' – with all. More than 7,000 active users from 200 entities on the airport campus use it, including airlines, ground handlers, retailers, tenants, police and immigration. It has become an essential tool and staff utilise it via their personal smartphones without any financial incentive or mandate.
The app means that partners use real-time data on passenger flows to better plan staff breaks by avoiding peaks, and customisable alerts are keeping operational staff informed. Messaging channels help airlines communicate with ground staff and access to up-to-date on time departure or bag delivery performance data – broken down by airline and ground handler – instils a sense of competition amongst them. The app is also constantly enhanced based on the feedback we receive from the wider Gatwick family.
The second system is SPLUNK, which is used to power a number of real-time dashboards for airport staff – from security to airfield operations – presenting data from sensors dotted through the terminals regarding passenger flows and queue times.
Security staff, for example, use overhead monitors with dashboards showing metrics such as the number of trays-per-hour and the actual number of customers coming through versus forecasts. We can also push this information to the airlines and their partners, to see if they are running on time. Again, this helps to foster competition, which ultimately improves the service our passengers receive.
This dashboard is then put through a different lens for the benefit of Gatwick's airfield staff who use it – along with other data sources – to update their information spreadsheets several times a day, more in the event of disruptions. Our perspective has shifted from questioning 'how did we do?' to 'how are we doing?'. Equally, we are now better positioned to answer 'how will we do?'
With so little room for manoeuvre – both in the skies above and on the ground below – Gatwick has deconstructed the on-time departure process in detail. We will continue to analyse the problem and optimise areas that we can control. This may mean more investment in infrastructure – both physical and technological – but if recent years have taught the airport anything, it is that some of the best results can be delivered by focusing on improving relationships and the way we work, as well as sharing information with our airport partners.
Biography
Gary Cobb is Head of Airside at Gatwick Airport and is responsible for the operation of the busiest single runway in the world. He began his career as an Airside Operations Manager before becoming the Head of Airside. Prior to this he worked in manufacturing with Mars Inc., RB and Tarmac.