Morphing emerging tech into seamless travel experiences
Brian Cobb, Vice President of Customer Experience at Cincinnati / Northern Kentucky International Airport (CVG), explores how the airport is integrating non-traditional tech into the aviation ecosystem.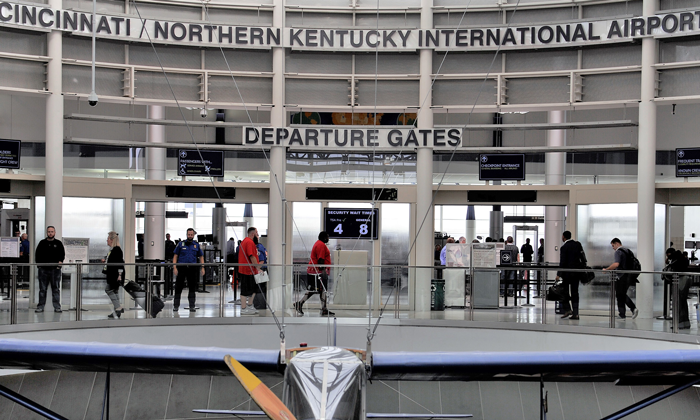 Storybook rise to historical gains CVG's August 2017 statistics provide insight to an enviable brand strategy:
'Since May 2013, CVG has welcomed five new carriers and introduced more than 50 new flight options to its network of 57 non-stop markets. More than any other (close-in competing) airport…'
'…local passenger traffic was up 30 per cent marking the third highest local passenger August volume in CVG's 70-year history'
'All scheduled carriers at CVG experienced double-digit year-over-year growth'
'Over the last three years, originating passenger volume has grown 58 per cent while airfares have decreased by more than 30 per cent'
'CVG also set an all-time record in terms of most cargo tonnage handled in one month… an increase of 39 per cent year-over-year'.
Being a SkyTrax award-winning airport for six of the last seven years solidifies CVG's placement as a leading global airport. A key tenet to its success is a clear vision and strategic plan to 'Go Beyond', further prescribed for employees and businesses partners to 'Provide a seamless passenger experience through innovative solutions'. This guiding principle opens a new market place for technology start-ups to collaborate among CVG's forward-thinking leadership team who are willing to take risks on young, nimble organisations that go beyond off -the-shelf airport solutions.
First mover to improve consumer queues
An immediate impactful deliverable for CVG was to improve its security queue lines. Well known among the airports are the negative influence that queues – particularly those associated with security – have on the overall consumer experience. Staff partnered with U.S. academic professionals at Purdue University in 2011 to prove onsite use of Bluetooth sensing technology. After a brief pilot test, the collaborative team identified a prime use-case for full sensing implementation.
Staff researched worldwide technologies, selecting Passenger Predictability in 2014 under a cooperative agreement between Veovo and now-named Leidos. Simply put, Bluetooth and Wi-Fi sensors strategically placed along the queue path provide point-to-point start and end times, further defined by specific paths consumers may take. Critical to U.S. security, CVG has the capability to pinpoint specific paths that are defined by TSA security measures. Each measure will have a different implication for wait times.
This ultimate collaboration, by integrating technology previously used in retail and highway systems, provided immediate insight to processes not formally measured. In turn, CVG staff were quick to partner with key tenant stakeholders, like the TSA, and swiftly identified security queues as a product delivery expectation. Both airport and security professionals embraced the new technology in short order, establishing a comfort level in the data outputs and confidence in displaying wait times for consumers viewing CVGairport.com and a large monitor prior to entering the queues.
Over time, trending data sets have helped resolve pinch points where scheduling flaws and inefficiencies existed. Leadership oversite, supported by real-time and historic views, have modified work schedules to address peak consumer surges. More importantly, the intrinsic value has delivered staffing efficiencies instead of immediate reliance upon additional staffing requests, while producing consistent queue time averages below 15 minutes. Consistent queue product delivery and accessible wait times for the consumer have dramatically reduced queue anxiety and false wait-time perceptions translating to unanticipated social media praise for expeditious queues.
Introducing consumers to seamless travel
In a few short years, CVG has diversified its passenger base and consequently achieved an equally balanced leisure-to-business ratio. This increase in leisure travellers brings a large number of consumers that are unfamiliar with the airport. Efforts to aid their wayfinding were embraced with the introduction of pre-trip navigation resources to help reduce pre-trip anxieties, such as 360° virtual tours and drone-created videos.
Google-supported virtual tours have garnered immediate consumer acceptance and within six months of launch, views have already exceeded one million. As consumers embrace virtual reality devices, the advent of virtual tours with integrated virtual assistants opens new doors for the CVG seamless experience.
In a unique twist, CVG has become the first airport to use footage captured by an indoor drone to provide a high overhead view. Using this concept, scripts were developed for 30-second video vignettes, hosted on CVGairport.com, to create Terminal Videos accessible by computer, tablet, or mobile device. The videos are intended for viewers to orient themselves to CVG's facilities – either from the comfort of their home or as they navigate through anticipated airport journey points.
Understanding consumer complexity
Staff have also been inspired to go beyond regulatory expectations and identify sources of innovation for all consumer types. This approach aims to create unique accessibility options for PRM travellers, providing them with a seamless travel experience equal to that of an able-bodied consumer. The video vignettes required written scripts for navigation and it seemed appropriate to incorporate closed-captioning into the final video production for the hearing-impaired. Likewise, for sight-impairments, the video scripts are posted to a webpage allowing smart-device users to leverage text-to-voice accessibility features. Both provide the end-consumer with quick identification of journey points including support services, restroom locations, and approximate walking distances.
Recognising the growing aging population and other limited mobility influences, staff were driven to identify innovative improvements to personal assistive devices. The WHILL personal electric vehicle quickly became a stand-out landmark as CVG became the first airport in the U.S. to pilot test such a device. The intrigue surrounding it was the conceptual idea of reducing reliance upon contract service wheelchairs.
The standard airport contract model relies upon readily available staff in order to avoid consumer frustration. WHILL provides the limited mobility consumer with a fully accessible, U.S. FDA-approved device enabling them – after a 30-second familiarisation – to self-navigate around the airport from the comfort and convenience of a powered electric vehicle. For those consumers with additional mobility restrictions, an accompanying caretaker can access the vehicle's Bluetooth enabled capabilities to navigate the chair via mobile device, immediately negating the burden of physically pushing a wheelchair. Further enhancements are being pursued, such as autonomous vehicle self-navigation and collision avoidance technology, making this electric vehicle well suited for mass public venues such as airports.
Influencing consumer perceptions through gamification
In a similar way to that of long queues, facility cleanliness quickly generates a perception of the overall quality of the brand. CVG partnered with Hipaax to introduce TaskWatch among the airport's housekeeping professionals; a first for any U.S. airport. TaskWatch is a wearable solution that incorporates IoT with enterprise management. With rapidly growing public-facing facilities, staff were challenged to determine how many consumer visits were made to restroom facilities and the associated appropriate frequency of cleaning events. Wi-Fi counting devices were deployed within CVG's Terminal restrooms to capture and signal a pre-selected visit tally. Once the tally threshold is reached, TaskWatch wearables receive an alert notification. From that point forward, housekeepers have a gamified approach to responding to, inspecting, cleaning, and closing the alert.
Via dashboard interaction, leaders have the capability of monitoring performance in real time, establishing internal service level expectations and consumer deliverables towards restroom appearance consistency. Also, as with successful queue management, TaskWatch has proven to be a supporting tool to CVG's social media presence – well-known and respected for our clean, pristine facilities. Naturally, the next evolution of TaskWatch envisions quiet-communication security features among staff and expansion beyond housekeeping professionals. Vital to any consumer experience is real-time feedback. CVG is in the early design phase of implementing Smart Forms provided by Wyzerr, a next-generation survey resource. Via gamification, the consumer experience supports asking 25 questions in under 60 seconds. This approach is anticipated for its influential capability to quickly engage the consumer, solicite immediate feedback, and trend the results for improvement. The visually appealing and simplified approach to survey taking satisfies consumer needs, brand commitments, and produces a data treasure-trove for future seamless travel advantages.
R&D for improving future consumer delivery
The final foray toward accelerating the brand is to create a web-hosted solution integrating many of the data elements captured above in addition to other sources, supporting information about flight history, security, weather, airline and concession APIs. The resulting predictive analytics are considered to be an integral step in attenuating and individualising the consumer experience. Piloting the astronomer.io data engineering platform, CVG was able to demonstrate dashboard analytics aligned to the performance of the airport with further capabilities of overlaying industry-standard survey results to specific flights, daily weather, and up-to-date security experiences. The resulting 'picture' establishes an accurate depiction of what the surveyed consumer experienced on any given day, time, and during operational readiness elements (e.g. restroom cleaning events, security wait times, etc.). Taking one step further with CVG's data engineer partners, we anticipate the capabilities of predicting a consumer's experience based upon their travel status (business/leisure) and scaling their information feeds and consumer preferences to their liking.
The emerging technologies at our fingertips today will certainly give rise to tomorrow's game-changing deliverables for the betterment of future seamless travel experiences.
Biography

BRIAN COBB is a graduate of Embry-Riddle Aeronautical University with a B.S. in Aeronautical Science holding commercial pilot and flight instructor licenses. He has been in the aviation industry for over 25 years and achieved ACI's International Airport Professional designation. His role is to provide experience advantages over competing airports while driving engagement and growth for the CVG Brand. Among his key focal points are start-up innovations and integration into the airport ecosystem. Brian's community engagement is dedicated to business-to-social embrace of disabilities and emerging technology to support air travel.