Smart glasses in the aviation industry: a fast developing technology
The IATA Aviation Virtual and Augmented Reality Summit (AVARS) will be the first of its kind to focus on the technology in the industry. In this article, Vuzix takes us through a few of the smart glasses offerings currently being employed by the aviation industry.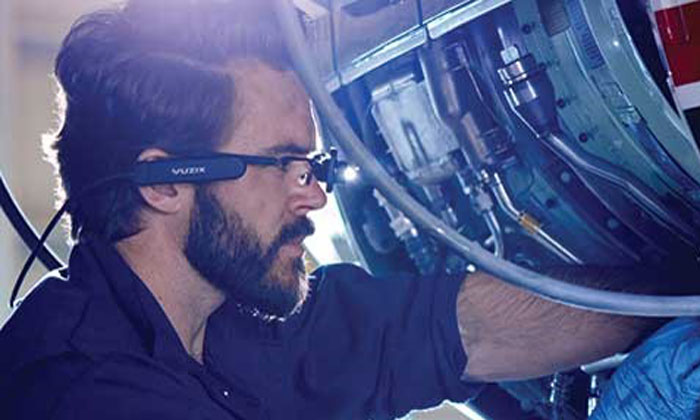 A LEAP FORWARD: Augmented reality is increasingly sought after
The summit will provide an opportunity for aviation industry stakeholders to connect with VR/AR manufacturers and developers to foster collaboration, share best practices and use case studies to encourage greater adoption of the technology in the industry, including airlines, airports, regulators, technology providers and start-ups.
Vuzix will be participating at IATA AVARS 2018 Summit to share the experiences of the company in the aviation industry as well as other examples of main players in the aviation industry and how they are adopting AR/VR technologies.
Here are a few examples:
Vuzix delivers M300 smart glasses to Singapore's SATS to use AR to improve efficiency of ramp handling operations
SATS, is a Singapore based leading provider of gateway services and food solutions that provides services at 47 airports and 14 countries across Asia and the Middle East.  SATS, the chief ground-handling and in-flight catering service provider at the Singapore Changi Airport has started using Vuzix M300 Smart Glasses to digitise its ramp handling operations and has begun introducing the technology to 600 of their staff, which should be deployed across their network by mid-2018.
Using Vuzix smart glasses, SATS ramp handling staff will be able to scan visual markers such as QR codes on baggage and cargo containers to improve the baggage handling process. SATS ramp handling staff will receive real-time loading instructions, as well as allow the ramp control centre a real-time view of on-ground processes.  SATS expects the increase the accuracy and improvement in efficiency of baggage and cargo handling processes for larger wide-body aircraft on average can shorten loading times by 15 minutes per flight.
Vuzix smart glasses highlighted in Accenture Post on Airbus Aircraft Assembly
Vuzix was highlighted in an Accenture article focused on wearable technology used to optimise the assembly of Airbus aircrafts.
Airbus was tasked with helping operators reduce the complexity of assembling cabin seats and decrease the time required to complete this task.  Accenture and Airbus collaborated to develop a state-of-the-art application for wearables in aerospace using Vuzix industrial-grade smart glasses to improve the accuracy and reduce the complexity of cabin furnishing. 
Accenture and Airbus delivered this initiative in less than a month and Vuzix smart glasses were used to improve the accuracy and reduce the time required to complete the cabin seat marking process.  The initiative between Accenture, Airbus and Vuzix smart glasses marked the first industrialised usage of wearable technology on the final assembly line for a major aircraft manufacturer.
Accenture's article titled "Airbus Soars With Wearables," can be viewed through the following link: https://www.accenture.com/us-en/success-airbus-wearable-technology.
Airbus went ahead with this application: Technicians today use Vuzix smart glasses to bring up individual cabin plans, customisation information and other AR items over their view of the cabin marking zone. The solution also validates each mark that is made, checking for accuracy and quality. The aerospace giant is looking to expand its use of smart glasses to other aircraft assembly lines and other Airbus divisions.
General Electric Aviation
General Electric, an American multinational conglomerate successfully piloted Vuzix Basics Video (VBV) within GE's Aviation operations.
A hands-free, out-of-box solution that allows engineers and technicians to communicate in real-time, both voice and video, is important to GE.  The time spent exchanging documents, images and data can slow down critical repairs, approvals and collaboration, which means higher cost and lost opportunity. 
"The Vuzix M300 is a great fit for a broad set of use cases, and combined with Vuzix Basics Video, the wearable solution allows us to eliminate delays in communication creating big ROI.  Our pilot has shown there is immediate value when engineers and technicians can communicate live, while working hands-free and heads-up.  We can see a wide range of use cases across GE businesses and look forward to expanding our use cases.  Best of all, the Vuzix Basics Video solution can be deployed in minutes, literally," commented John Klingler, Advanced Manufacturing Digital Leader, GE Digital.    
Vuzix Basics Video is built to work right out of the box: click, connect, collaborate.  "A lot of my time at GE was spent driving the Digital Transformation, and eliminating barriers to real-time communication between the field techs, manufacturing teams and engineers is the shortest path to harvesting big returns on investment and improving overall performance.  Feedback from GE and our other pilot customers validates Vuzix' value proposition; that the ability to put the Vuzix M300 into productive use, quite literally in minutes, is transformational.  We are excited to hear of GE's success, and are looking forward to expanding our relationship in the weeks and months ahead," said Paul Boris, COO of Vuzix.
Vuzix and Headapp partner for wearable solution in aviation
Vuzix has partnered with HeadApp to produce Eye4Flight, an application for pilots that connects a FDL (Flight Data Logger), an integrated system that collects and communicates every significant aircraft and flight data item in real time and links the data with Vuzix M100 Smart Glasses, creating a Virtual Glass Cockpit. 
Boeing tests augmented reality in the factory
Installing electrical wiring on an aircraft is a complex task that leaves zero room for error. That's why Boeing is testing augmented reality as a possible solution to give technicians real-time, hands-free, interactive 3D wiring diagrams – right before their eyes.
Every Boeing plane contains thousands of wires that connect its different electrical systems. Workers construct large portions of this wiring – "wire harnesses" – at a time—a seemingly monumental task demanding intense concentration. For years, they worked off PDF-based assembly instructions on laptops to locate the right wires and connect them in the right sequence. This requires shifting one's hands and attention constantly between the harness being wired and the "roadmap" on the computer screen.
In 2016, Boeing carried out a smart glasses pilot with Upskill (then APX Labs,) in which the company saw a 25 per cent improvement in performance in wire harness assembly. Today, the company is using smart glasses powered by Upskill's Skylight platform to deliver heads-up, hands-free instructions to wire harness workers in real time, helping them work faster with an error rate of nearly zero. Technicians use gesture and voice commands to view the assembly roadmap for each order in their smart glasses display, access instructional videos, and receive remote expert assistance.
Boeing believes the technology could be used anywhere its workers rely on paper instructions, helping the company deliver planes faster. AR/VR are also significantly cutting training times and assisting with product development. For instance, HoloLens is proving useful in the development of Starliner, a small crew transport module for the ISS.
Lockheed Martin 
In early 2015 it came out that Lockheed Martin was doing a test with smart glasses with partner NGRAIN, to provide real-time visuals to its engineers during assembly of the company's F-35 fighter jets and ensure every component be installed in the right place. Previously, only a team of experienced technicians could do the job, but with Augmented Reality an engineer with little training can follow renderings with part numbers and ordered instructions seen as overlay images through his/her smart glasses, right on the plane being built.
In the trial, Lockheed engineers were able to work 30 per cent faster and with 96 per cent accuracy. Those workers were learning by doing on the job as opposed to training in a classroom environment, which amounted to less time and cost for training. And although increased accuracy means fewer repairs, the AR solution could be used to speed up the repair process, too, from days- to just hours-long, with one engineer annotating another's field of view. At the time, however, Lockheed acknowledged that getting the technology onto actual (secured) military bases would be difficult.
Lockheed is also interested in Virtual Reality, seeing AR/VR as key to lowering acquisition costs (all costs from the design/construction phase of a ship to when the vessel is decommissioned.) The company is applying VR to the design of radar systems for navy ships. The challenge lies in integrating the radar system with a ship's other systems, which requires very precise installation. VR can help identify errors and issues during the design stage and prevent expensive corrections.
Using VR headsets, engineers can virtually walk through digital mock-ups of a ship's control rooms and assess things like accessibility to equipment and lighting. Lockheed is also using head mounted displays to assist young naval engineers with maintenance tasks at sea—much more effective than a dense manual.
Lockheed is allegedly saving $10 million a year from its use of AR/VR in the production line of its space assets, as well, by using devices like the VR headsets to evaluate human factors and catch engineering mistakes early. For the Orion Multi-Purpose Crew Vehicle and GPS 3 satellite system, Lockheed ran virtual simulations in which a team of engineers rehearsed assembling the vehicles in order to identify issues and improvements. A network platform allows engineers from all over to participate, saving the time and money of travelling.
Vuzix is a leading supplier of smart glasses and augmented reality (AR) technologies and products for the consumer and enterprise markets. The company's products include personal display and wearable computing devices that offer users a portable high quality viewing experience, provide solutions for mobility, wearable displays and virtual and augmented reality. Vuzix holds 66 patents and 43 additional patents pending and numerous IP licenses in the near-eye display field. The company has won Consumer Electronics Show (or CES) awards for innovation for the years 2005 to 2018 and several wireless technology innovation awards among others. Founded in 1997, Vuzix is a public company (NASDAQ: VUZI) with offices in Rochester, NY; Oxford, UK; and Tokyo, Japan.