Why Peru, Lima is South America's new airport city
For International Airport Review, Milagros Montes Morote, Manager of Public Affairs and Regulatory Compliance at Lima Airport Partners (LAP), writes about Lima's new airport city, the preparations being made to create the city, and its future goals.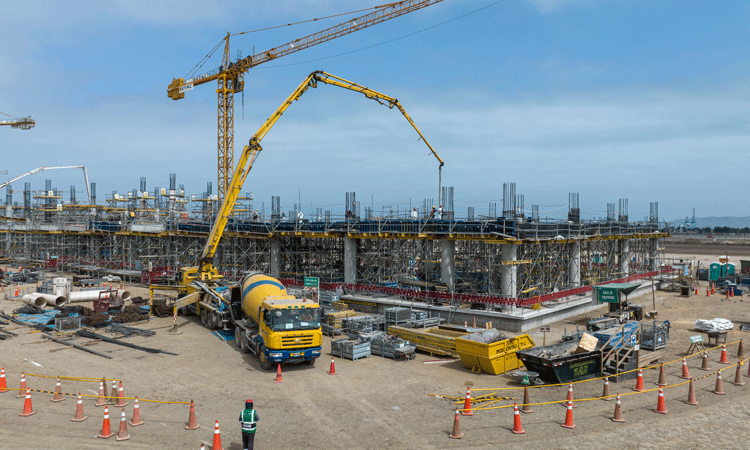 c: Lima Airport
Why Lima, Peru was chosen
Peru is preparing to have the first airport city in South America, a unique concept in the region that aims to be more than just an airport. It will be a new airport infrastructure integrated with the city and a commercial hub attracting new services. Peru will have a commercial, tourist, and logistics development platform that will contribute to the urban modernisation of its capital, Lima.
Being centrally located in South America, Lima is not only a strategic air connection point but is also projected as an attractive platform for the development of new businesses and a new ecosystem where cargo areas, logistics and transportation, business centres, hotels, offices, and other airport/port-related businesses can coexist. This is all thanks to Lima's proximity to the Port of Callao.
The vision
The new airport city will operate in an approximate total area of 935ha, three times larger than the current airport size. Already delivered to the Peruvian state is a new control tower and a second runway, which started its operations in April 2023. This first phase, completed in August 2022, corresponds to the 'airside' of the Jorge Chavez International Airport Expansion Project; it is already operational and has been gradually serving flights during a familiarisation process of all the operation actors, including the aviation authority, airlines, the control tower operator, and LAP as the airport operator.
Peru is getting ready to open the doors of the New Jorge Chavez Airport by January 2025. With the operation of a modern and unique passenger terminal – which will have an area of 210,000sqm at its opening,  and will be able to serve 30 million passengers per annum, initially. This new passenger terminal, with a global investment of $2 billion, is almost 50% completed. Currently, we envision five levels (one basement and four floors) and three piers for passenger boarding and disembarking, one exclusively for domestic flights, and another for international ones. This differentiation of levels will allow us to harmonise passenger flows and adapt to future demand.
Passengers passing through Lima Airport will have the opportunity to experience a renewed way of travelling, with ample space available for check-in processes, retail, food, and beverages, and waiting areas. Additionally, a call-to-gate system will promote relaxed and pleasant waiting times. The goal is to position Jorge Chavez as one of the main airports in the region, designed with a focus on passengers, airlines, and service providers. It will provide the terminal with a unique, efficient, and functional travel experience.
Overcoming challenges
However, the challenges of launching a new operation are complex and require dedicated coordination with all stakeholders of the airport's ecosystem as well as the state – which is a strategic point in this operational transition. To be ready by January 2025, spaces will be enabled for stakeholders to conduct tests; install their systems; understand the flows and operational requirements, and adequately train their personnel, prior to the opening of the new terminal. This will allow them to accurately predict the size of the new operation.
Moreover, it is also important to view the growth of the country's main airport in a systemic and organic way, and to consider not only the expansion of Lima Airport, but also the growth of it parallel to other airports in Peru. This is essential to respond in a timely fashion to new capacities and offer adequate service levels.
An integrated infrastructure system has proven, time and again, to be a fundamental platform for the social and economic development of a country. The aviation sector is no exception, as its benefits impact the population's quality of life, business opportunities, and connectivity in a context where users demonstrate constant and increasing demand. This must be considered along with an integrated alignment of public investment plans in infrastructure with private investment initiatives, which is fundamental for the medium-to-long-term future.

Milagros Montes Morote is a Lawyer, with an MBA, Master in Public Services Regulation and Infrastructure Management and Master in Public Affairs, with more than 20 years of professional experience in the private and public sector. Milagros is a specialist in airport and regulatory issues. She has worked at the Civil Aviation Authority of the Ministry of Transportation and Communications, and she is currently working as Manager of Public Affairs and Regulatory Compliance at Lima Airport Partners (LAP), Concessionaire of Jorge Chavez International Airport in Lima, Peru.