Creating a green passenger experience at the world's busiest airports
Enoch Opare Mintah, PhD candidate at Kingston University, London and Associate Lecturer of Governance at the University of Lincoln, UK, writes exclusively for International Airport Review on why providing a green passenger experience at airports is just as important as any other innovations.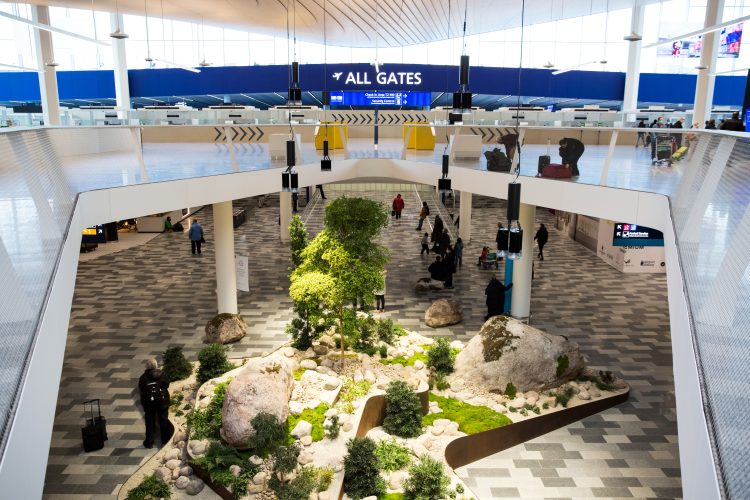 Enoch uses Helsinki-Vantaa International Airport as a case study for providing a "green passenger experience".
The aviation industry, by default, was arguably the most affected by the COVID-19 pandemic; the industry battled with significant financial loss amidst several government lockdowns and travel restrictions. Passengers' travel-phobia and choices of alternative transport further wounded the  already struggling industry, making recovery to pre-pandemic levels a headache for every aviation top management. While airlines have had to embrace the reality of their loss, airports have not been spared as the inseparable matrimony between the two businesses naturally evoke a rippling effect.
Little has been said of how sustainability efforts can be translated into a green passenger experience"
While recovery in the industry has not experienced a sharp turn in terms of passenger traffic in surpassing pre-pandemic levels and even performing better, it is soothing to learn of the industry's achievement of an important milestone in passenger carriage.
Airports Council International (ACI) World airport traffic
According to the ACI World airport traffic report1, the year 2022 recorded some significant highlights, including a 6.6 billion global passenger traffic, representing a 43.8% increase rate from 2021 passenger figures. Notably, the adjudged 20 busiest airports globally using passenger traffic data from over 2,600 airports from 180 countries, showed an 18% (1.2 billion) representation of global traffic. 
While these figures are indicative of a good amount of cash flow into the airport economy, especially with ground operations, shop sales and businesses on the airport premises, there is an opportunity for service user experience, engagement and education which is presented to these international hubs owing to the huge numbers that visit and use these airports.
Passenger service experience: The digital effect
Passenger service experience post-pandemic has drifted from the usual definition of passenger relations and service delivery, as this traditional measurement of service experience has become the minimum general requirements. Thus, the human interface of smiling and relating well with passengers as benchmarks for passenger satisfaction is not the case anymore. Pressure from cyber-security issues, data protection and privacy (GDPR) concerns and most recently, health and safety requirements especially during and after the pandemic have reconfigured the definition of service experience. This new era definition of service experience thrives on the integration of digital technologies and innovation (see artificial intelligence) and how these enhance passengers' flying experience. The incontestable impact of digital technology on service experience and airports' processes have revolutionised the way passengers travel and interact with the different facets of airport operations. Whereas the industry has given a lot of attention to the digital passenger experience owing to the numbers that flock into the busiest airports in the world, little has been said of how sustainability efforts can be translated into a green passenger experience.
Green passenger experience
It is easy to notice a digital passenger experience but more noticeable is a green passenger experience when there is a conscious creation of one. I will use my experience of travelling to Finland and using the Helsinki-Vantaa International Airport (HEL) as a case study.
On landing in the airport, I was met with open green scenery. I immediately put my sustainability hat on, delayed my pace to the immigration point to observe passengers' reactions to this green experience. The look on passengers' faces, the refreshing moments, and the first time I have ever seen passengers slowing their pace to go through immigration and baggage collection, was intriguing to me. Apart from the visual appeal, the tactile effect this green ambiance offered, according to a passenger I interacted with said, "Touching these live plants and smelling them is a good start for jet lag therapy". Another passenger, who eavesdropped on our conversation, also opined, "Yes, it is therapeutic, especially with the smell. I always look forward to passing through this airport". Lastly, I made my way to the washroom and, instead of hearing music being played from the top of the ceiling as usual, I heard birds chirping. Upon looking up quickly, a co-passenger asked me, "Ah, you like it?", and I responded in the affirmative.
Hearing birds chirping at the airport's restroom, it is further evidence on how biodiversity-related concerns have been crafted into the art of sustainability discourse. This provides a compelling experience for passengers who may be unaware of such sustainability initiatives by airports.  
What is the big opportunity here for the world's busiest airports? For the over 1.2 billion passengers travelling through the 20 busiest airports globally, hosting millions of enplaned, deplaned and transit passengers every year, can create and promote, with the same energy for the digital passenger experience, a green passenger experience that does not only create a green ambiance but educates and sells airports' sustainability credentials to passengers. Like my personal evangelism of my Helsinki experience, these passengers will not need to wait for airports' sustainability campaigns and PR to learn about some of the fantastic initiatives and achievements the industry has chalked and is actively engaged in to enhance sustainability communication and the greening of our airports. This can be a huge selling point for airports.
A green passenger experience is not only good for airports, but active operation of this by the world's busiest airports which attracts massive passenger traffic will be critical in selling airports' sustainability credentials to passengers, while empowering them to be ambassadors and evangelists of their green experience.  
References
ACI World confirms top 20 busiest airports worldwide. ACI World [Internet]. 2023 [cited 2023 Aug 4]. Available from: https://aci.aero/2023/07/19/aci-world-confirms-top-20-busiest-airports-worldwide/#:~:text=Global%20total%20passengers%20surpassed%206.6
About the author

Enoch Opare Mintah is a PhD candidate at Kingston University, London and an Associate Lecturer of Governance at the University of Lincoln, UK. He holds an MBA (University of Liverpool, UK), MSc Governance (University of Lincoln, UK), Cert. Hospitality and Tourism Management (Florida Atlantic University, USA) and BA English (KNUST, Ghana).
He is a member of the British Accounting and Finance Association (BAFA), European Accounting Association (EAA), Institute of Corporate Responsibility and Sustainability (ICRS-UK), Chartered Governance Institute UK and Ireland (GradCG) and Association of MBAs (AMBA).
His research interest revolves around environmental, social and governance (ESG) disclosures; sustainability reporting; corporate social responsibility; non-profit leadership and education for sustainable development.
Enoch has worked with multi-nationals, including large and small for-profit and non-profit organisations across the globe. Continents include Africa, Europe and Asia and he has successfully delivered several international projects – to global recognition.