Helsinki Airport's next-gen security control: Revolutionising passenger experience
Ari Kumara, Vice President of Security at Finavia Corporation, explains how the operator has been working to improve the experience through security and improve efficiency through leveraging new technology.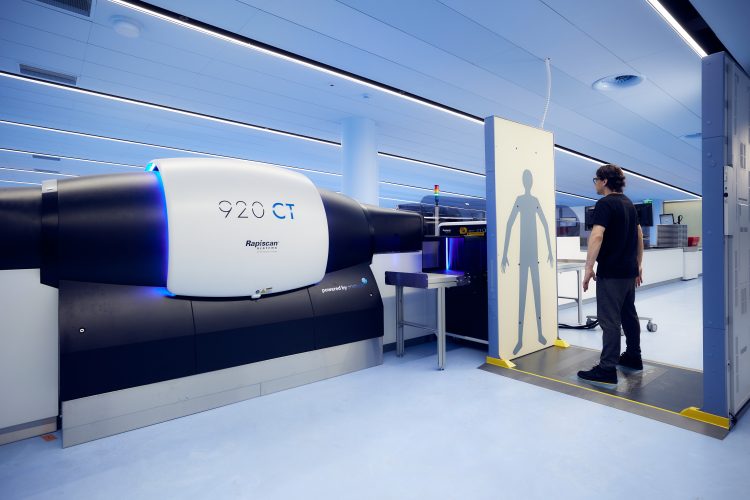 Finavia's new and enhanced security controls. CREDIT: FINAVIA
As part of the largest extension project in the history of Helsinki Airport, the airport company Finavia implemented next-generation security control technology at the airport in spring 2022. This modern and revamped security control plays a major part in Helsinki Airport's improved capability in serving up to 30 million passengers every year.
The new security control technology has enabled Finavia to make changes unique in the airport industry and revolutionise the way security control operates at Helsinki Airport, providing passengers with a smoother and more relaxed start to their journey. Passengers no longer need to remove electronics or bags containing liquids from their hand baggage, and the transport of liquid up to an amount of two litres is now allowed.
Unlike in most airports worldwide, laptops, large SLR cameras or other large electronic items no longer need to be taken out of carry-on bags. 
Finavia's commitment to customer experience and passenger comfort led to the comprehensive development of Helsinki Airport's services, with the opening of the new and advanced security control being a crucial part of this service reform. The entire Helsinki Airport development programme, costing over €1 billion and spanning a decade, aimed to position the airport's services among the best in the world. We have now completed the portion of the development project which aimed at smoother and more stress-free security controls. 
Phase one
The first phase of the reform saw the opening of completely new security control at the airport in the summer of 2022, featuring eight state-of-the-art security control lines equipped with cutting-edge technology based on computed tomography. The 920CT equipment, manufactured by the security screening provider Rapiscan Systems, creates 3D images which allows security staff to rotate the images from a full 360 degree view. This CT technology, originally utilised in the medical field, has revolutionised the way security screenings are conducted at Helsinki Airport.
One of the most significant improvements brought about by the new technology is the elimination of the need for passengers to remove electronics or bags containing liquids from their hand baggage. Unlike in most airports worldwide, laptops, large SLR cameras or other large electronic items no longer need to be taken out of carry-on bags. This not only enhances passenger convenience, but also allows security staff to work more effectively. At full capacity, the new security control lines can service twice as many passengers as the old ones, further streamlining the airport's operational processes and improving the passengers' travelling experience.
Phase two
The second phase of the reform, completed in June 2023, saw the opening of two more security control lines at Helsinki Airport, making all 10 lines fully operational. This allowed us to fully utilise the possibilities of the new technology, making it possible for us to increase the amount of liquid that may be carried in hand baggage. Passengers are now allowed to transport liquid up to an amount of two litres through security control. This is a significant step forward since the worldwide adoption of the EU liquid regulations in 2006.
These improvements in Helsinki Airport's security control have garnered positive feedback from passengers, as well as received notable attention in domestic and international media. These enhancements, along with other improvements brought along via the development programme, have also contributed to Helsinki Airport being recognised as one of the top airports globally. The latest recognition has been the award for best European airport of 2023 in its size category granted by the Airports Council International (ACI). Earlier this spring, Helsinki Airport also received the international ASQ (Airport Service Quality) award for Europe's best airport, an award based on passenger interviews and assessments of passenger satisfaction and airport service quality.
Experience and security improved
The forward-thinking approach to service development has not only elevated the passenger experience, but also significantly bolstered our security measures at the airport. The integration of CT technology has not only expedited the screening process, but also enhanced threat detection capabilities. The 3D imaging capability provides improved security identification of potential threats and reduces the frequency of manual inspections, leading to smoother and more efficient operations.
Finavia is at the forefront of security control development, as similar new technology is currently used only at a very limited number of major European airports and at some airports in the United States. Helsinki Airport's experience serves as a shining example of how investments in technology and infrastructure can yield substantial returns, not just in passenger satisfaction, but also in operational efficiency and security.
As a leading figure in our industry regarding service development, our commitment to serving passengers as effectively as possible has resulted in a significant step forward for the aviation industry. The implementation of next generation security control technology at Helsinki Airport sets a new standard for enhancing passenger experience and reinforces the airport's position as a leader in innovation and passenger satisfaction. As other airports observe the success of Helsinki Airport's advancements, they may seek to adopt similar cutting-edge technologies to elevate their own passenger experiences to new heights.

Ari Kumara is a Vice President for Security at Finavia Corporation.
Ari has been with Finavia since 2011 and leads the company's security unit. He runs the Security Management Systems (SeMS) at Finavia.
Ari is a member of the Airports Council International/Europe Security Committee and a member of the Strategy Working Group on Aviation Security.
He is also the chairman of The National Emergency Supply Organisation´s Air Transport Pool.