Cleaner, Greener Airports: making aviation more sustainable at Finavia
For International Airport Review, Mikko Viinikainen, Vice President, Sustainability & Environment, and Tuija Hänninen, Environmental Specialist, at Finavia Corporation, explains more on upkeeping sustainable airport maintenance in a changing climate.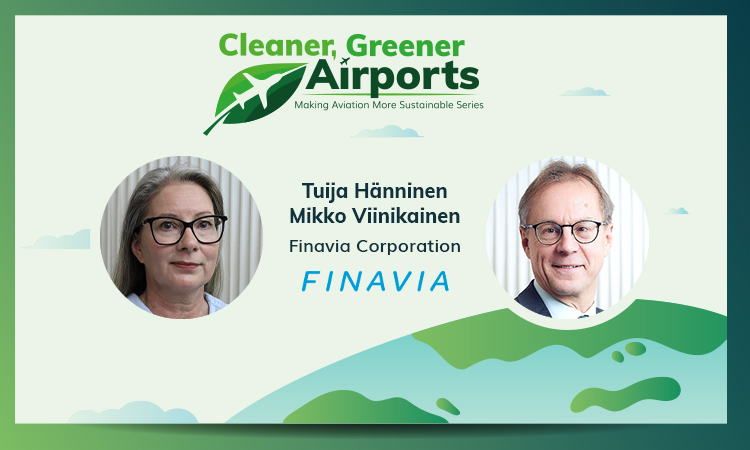 Finavia explains upkeeping sustainable airport maintenance.
Finavia discusses upkeeping sustainable airport maintenance during changing climates. Climate change mitigation, reduction of biodiversity loss and minimising environmental impact are at the core of sustainability strategy of modern companies. Airport companies are investing in control measures to combat local environmental impacts but also improving operational efficiency to reduce carbon emissions from aircraft.
At northern airports, surface and aircraft de-icing is a major environmental aspect due to risk of water pollution. In Finland, the airport company Finavia has constructed a unique sub-surface flow wetland at Helsinki Airport to manage effluent waters.
During wintertime, runway and aircraft de-icing is crucial to maintain flight safety. De-icing substances are biologically degradable but may reduce water quality by consuming oxygen reserve. As a result, biota in airports' stormwater outlet brooks suffer from low oxygen concentration in water.
Trouts have returned to spawn at Helsinki Airport
Finavia has collected aircraft de-icing chemicals for treatment at Helsinki Airport since the 1980s. Now, aircraft de-icing is restricted only to areas connected to a sewer. The airport has two large remote de-icing areas. Close to terminals de-icing is allowed only on few designated stands.
In addition to a sewer, glycol containing waters are collected with glycol recovery vehicles from de-icing pads. The high concentration glycol water collected is utilised either in a biogas plant or in the process of the municipal sewage plant. Glycol containing snow is collected to specific tarmac areas also connected to a sewer.
The water quality in brooks nearby Helsinki Airport has been greatly improved by allocating de-icing operations to designated areas only and by investing a total of 80 million euros in improving the infrastructure, e.g. installing a ground water protection membrane at stands of the new non-Schengen terminal. As a concrete sign of the successful measures, mighty trouts have started to spawn again in the main airport brooks after three decades of absence.
Climate change will challenge tarmac de-icing practices
According to forecasts, climate change will rise average temperatures and increase wintertime precipitation especially in the northern parts of Europe. Rapidly varying weather conditions during winter will cause problems for friction control on runways and will likely increase consumption of runway de-icing agents at airports.
Over the years, Finavia has been working hard to optimise the use of runway de-icing agents. Advanced surface sensors are in use to detect the changing conditions on tarmac. Based on local observations and tailor-made weather forecasts, airport maintenance staff can predict the correct timing of friction controlling measures, including the use of chemicals. Knowledge and long-term experience of circumstances are key to minimise chemical volumes.
Despite all efforts, the trend in consumption of de-icing chemicals is rising and therefore new measures are necessary to control the quality of runway stormwaters. Even though substances used are biodegradable, several challenges remain.
In the north, winter is cold and biological action in soil and surface water is negligible. Large paved areas lead to vast volumes of cold stormwater running from airports during winter and snow-melting months in the spring. The variation in the concentration of de-icing agents in water is also huge. Stormwaters cannot be stored in open-surface pools near airports as such areas attract birds which can create a safety hazard for aircraft. At airports, like in Helsinki, the availability of land area for large storage pools is also limited.
High hopes on sub-surface flow wetland improving effluent water quality
During spring 2023, Finavia completed construction of the first aerated subsurface flow wetland in the Nordic countries at Helsinki Airport. Development of the installation was a major R&D project. It was based on scientific work by Aalto University with pilot-scale laboratory tests and comprehensive technical designing by Sitowise Engineering. Only a few similar wetland constructions for airport stormwater treatment have been built globally, e.g., at London Heathrow and Buffalo Niagara International Airport.
Stormwater containing runway de-icing agents, as well as some glycol residues from taxiing aircraft, is conducted via canals to the surface layer of gravel-filled wetland. Since there is no open-surface water in the wetland, the risk of tempting birds is low and the risk of freezing during winter is negligible compared to conventional wetland systems.
The surface area of the wetland totals 2,600 square metres. There is a separate aerated section (600 square metres) and water detaining storage section. A microbiological film will be formed on pieces of gravel media and the bacterial activity will decompose the organic substances (formates and propylene glycol).
The depth of the basin is 2.5 metres and it is built on a water-tight clay layer prohibiting effects to groundwater. On the top of the basin, there is a 0.7 metre thick growth layer of mould and peat which also works as thermal insulation and decreases the risk of freezing in wintertime. 
Microbial activity is improved by effective aeration. Water is aerated with pressurised air blowed via aeration pipes from the base of the basin. In wintertime, the air flow also warms up the basin and thereby increases biological activity and purification of the water. Aerated water is conducted to an outlet ditch. A fraction of the water volume is circulated back to the storage section to improve oxidation and increase wetland delay.
The subsurface flow wetland at Helsinki Airport has been operational since March this year and has already been proven to work according to plans. Oxygen concentration in the water is monitored by online sensors in different parts of the wetland.
For further analysis of the operation, water samples are taken according to monitoring plans for laboratory analysis. The results show that the aeration is effective and water exiting the wetland has high oxygen concentrations. However, final conclusions of the performance of the wetland cannot be drawn before two years of normal winter operations. Based on the final reports, Finavia will assess the feasibility of constructing similar systems for effluent water control at Helsinki and other airports in Finland.

Mikko Viinikainen is Vice President, Sustainability & Environment at Finavia Corporation.
Mikko has been with Finavia since the 1990s and leads the company's environmental unit. He runs the Airport Carbon Accreditation Scheme at Finavia and the certified ISO14001 environmental management system.
Mikko was the Vice-Chair and Chair of Airports Council International/Europe Environmental Strategy Committee in 2018 –2022 and is a member of the Nordic Working Group on Aviation and the Environment.
Mikko has been a speaker in many international events e.g. ICAO, UNFCCC, EASA and ACI.

Tuija Hänninen, is an Environmental Specialist at Finavia Corporation.
Tuija has worked at Finavia for over 20 years, specialising in the impact of airport operations on groundwater and surface waters. Tuija coordinates water monitoring and manages water quality surveys and impact mitigation planning projects at Finavia.
Tuija is a liaison member in SAE G-12 subcommittees. She has been a speaker at the Clariant De-Icing Conference 2016 and the SAE G-12 committee meeting 2018.