Aeropuertos Mexicanos: The new entrance to paradise
At the Routes Americas 2023 conference in Chicago, International Airport Review Editor, Holly Miles, spoke with Alejandro Altamirano, Chief Financial Officer, and Juan Calderon, Chief Operations Officer of Aeropuertos Mexicanos about their two exciting airport projects.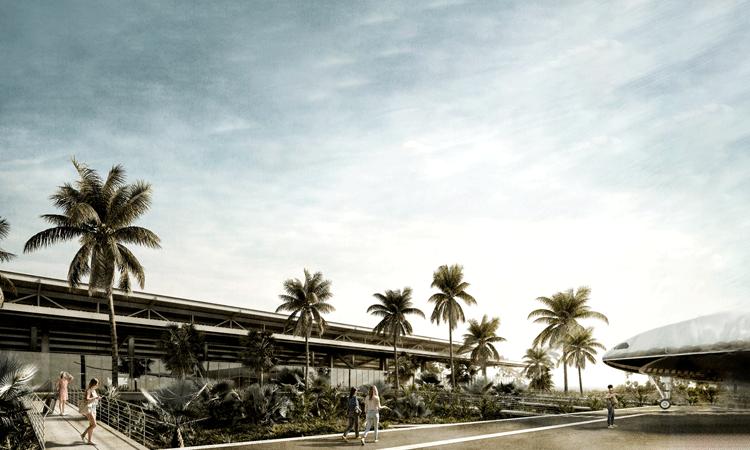 c: AMEMX
Aeropuerto Internacional De La Riviera Nayarit (TPQ) and Aeropuerto Internacional De Puerto Escondido (PXM) are two airports that are the signature of a newly-formed group: Aeropuertos Mexicanos. It's a group that joins the best of two worlds; the public-private partnership between Aeropuertos y Servicios Auxiliares (ASA), the state company that owns 19 airports in Mexico, and the Mota-Engil Group that has more than 75 years in the construction of infrastructure.
Aeropuerto Internacional De La Riviera Nayarit (TPQ)
TPQ Airport is being touted as 'the new entrance to paradise', and it is easy to understand why. The destination is said to have some of the most exclusive hotels in the world, 100 miles of golden coast and eight world-class gold courses. The destination is already attracting three million tourists per year.
Right now, the airport is called Tepic Airport and is situated in the capital city of the state of Nayarit. Tepic has received investment for enhancements such as the expansion of its main terminal building, extended runway, and a new control tower, as well as upgrades to equipment and furniture.
But the airport has higher ambitions to become a 'beach airport', as outlined by Alejandro.
"We want to make TPQ a beach airport that communicates with the coast. To transform the airport from 'Tepic Airport' to 'Riviera Nayarit Airport', we must connect it with the coastline. To do that, we are developing a series of infrastructure, roads that will take you from the airport to the beach, in 30 minutes."
An airport that can conveniently transfer you to the beach in 30 minutes all via one air fare will be very attractive for sun-seekers. The airport will connect multiple Mexican cities and is expected to attract many tourists from other countries who are eager to discover one of Mexico's best beach destinations.
A passenger could fly direct to Nayarit from North American cities like San Francisco or Atlanta within four hours, or Vancouver, New York and Toronto within a five‑hour flight time – a whole region of possibility.
By 2024, the highway system will be fully operational to grant fast and efficient connectivity to the area.
Aeropuerto Internacional De Puerto Escondido (PXM): A tourism destination on the rise
Puerto Escondido is the most populated city on the Oaxacan coast and one of the main tourist destinations in the state. Tourists are already coming to this area from Mexico, Canada and the United States to enjoy its beautiful beaches, world‑class surfing and lively nightlife.
The city centre is located just 15 minutes from the airport offering world-class gastronomy and the best accommodation for surfers, families and the discerning traveller.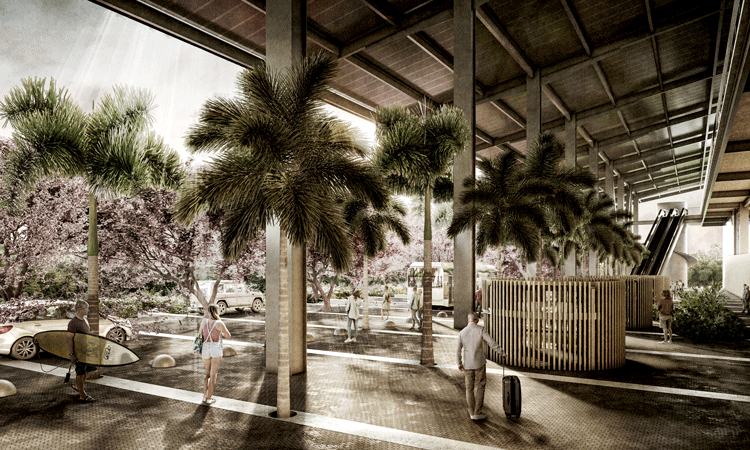 Right now, Puerto Escondido does not have international flights. It is served only from Mexico City International (MEX). Therefore, tourists that do go to Puerto Escondido must make a long trip via a Mexico City connection first.
With a direct flight, Panama and Bogota can be reached in just a four-hour flight time. But if they are lucky, passengers can buy a flight from their home city to Puerto Escondido making a connection with one ticket. However, most of them are buying two tickets because the connectivity to Puerto Escondido has not been there. This is something that Juan says that they are looking to change: "Our ambition with Puerto Escondido is to be an international airport with direct flights. So currently passengers are spending about seven to eight hours to reach Puerto Escondido, and with direct flights you can do it in just four to five hours."
There are plans to expand runways for larger aircrafts and international flights. The airport will also have new hangars and a renovated control tower, as well as a large parking lot, car rental area and commercial and gastronomic spaces that will fulfil the experience of all its users. A three million passenger capacity is predicted, and to support continued growth, roads have been modernised and the airport, upgraded. The renewal of the highway system linking many beaches along the Pacific coast of Oaxaca, and the restoration of the international airport have directly contributed to the growth of the destination and improved the experience of thousands of travellers.
The destination is already attracting 800,000 tourists per year and this is only projected to grow according to Juan.
"Puerto Escondido is the new destination that's replacing the tourism that was in Riviera Maya, in Cancun, Tulum. A lot of people are migrating from those areas that are already saturated with tourism and they're searching for new kinds of spaces. In Escondido we get a lot of surfers there that come from California, from the U.S., and people from Canada that like nature and like beaches in the Pacific. You also get the best sunsets in the Pacific. Come see for yourself!"
Technology and experience
Despite not being large airports, both are going to be equipped with the latest technology according to Juan: "Even though these airports will only be attracting around 3.5 million passengers per year, the idea is to have all the technology that a small airport doesn't have in the market. We want them to be very homely for passengers, staff and for our air carriers."
Alejandro added "We're equipping the airport management system and passenger procuring system with Amadeus technology, and we're using Alstef for the baggage handling system. Both suppliers have been working in Mexico in other airports, and we think it's the best of the best, top of the line, and will give the best experience for air carriers and for passengers."
Security technology is also being upgraded including the CCTV system to identify threats inside the airport. A new Building Management System (BMS) is also being employed to run intelligent buildings. The BMS will administrate air conditioning, lighting and ventilation, to make the occupants comfortable and to lower the expense of the operation for the airport.
"This means that we can have low fares for the air carrier. We want to be a low-cost airport for legacy and low-cost air carriers, but with all the technology and all the comfortable areas that you need to give a good experience for everyone," said Juan.
Check-in will be streamlined with self-service kiosks and online check-in to create an efficient and stress-free experience. New screening technologies will be implemented to speed up security and reduce wait times. The staff will be trained to go above and beyond to help passengers with any questions or concerns that they may have.
Sustainable airports
In terms of achieving sustainability targets, this has been taken into consideration within the new designs of the buildings.
The architect for Riviera Nayarit airports is Victor Marquez who has designed the building like an upside-down umbrella in order to catch rainwater. The water will then be reused to supply the whole building.
In Puerto Escondido, the airport concept is being developed by Alberto Kalach, and he has made sure that the building makes use of open spaces with natural ventilation so the need for air conditioning will be minimal.
Both airports are implementing solar panels in order to have most of the energy supplied by solar power.
"We know that when an airport starts growing, it can be difficult to adhere to sustainability principles, but our policies are to talk with the air carriers too and have very clear policies inside the airport for all the operation and to keep growing sustainably, respecting everything in our surroundings," added Juan.
Route development
Airports of Mexico see themselves as the 'new kid on the block' and attended the Routes Americas conference in Chicago to let air carriers know they are open for business with two new airports in Mexico and that they will be fully operational by summer 2024.
As with any new route, there is implied risk.
"It's really important for us that the airlines understand that when they start with a flight to a new destination, there is risk but we share that risk with them. We know that we need to walk together and be partners until the flight is completely mature and it grows by itself," replied Alejandro.
In terms of new routes, Juan informs me that a demand study has highlighted that there is a lot of interest in the U.S. and in Canada. "Cities or states like California, Dallas, Ontario, Vancouver are our targets and we are here to get them."
So, why should an airline want to open a new route to one of the two airports?
"We are placed in specific, very strategic regions of the country. We have the most beautiful sunsets in the world and the best beaches in the coast of the Pacific. We're ready to welcome them. We have the best technology, the best infrastructure, and we're preparing to be aggressive and to welcome them."
It seems that the best of Mexico is yet to come.
Watch the exclusive interview here

Alejandro Altamirano has held the position of Business Development Vice President of Aeropuertos Mexicanos since 2022. Before joining the team, Alejandro was Structuring and Financing Deputy Director in a prestigious investment banking institution in Mexico. He also served as Chief of Advisers for the Under-Secretary of Planning, Assessment and Development in the Ministry of Social Development, as well as senior Project Finance specialist in an investment banking boutique focused on infrastructure development. With more than 15 years of experience in the infrastructure development and financing sector he has been involved in the execution of many major projects in Mexico. Alejandro earned an M.Sc. in Corporate Finance from ESCP-Europe and a B.S. in Economics from ITAM.

Juan Calderón is Chief Operations Officer of Aeropuertos Mexicanos. Past organisations have included Aeropuertos y Servicios Auxiliares, the Mexican government agency in charge of 56 Mexican airports, Airport Director for Bahias de Huatulco International Airport (350,000 pax/ year), Puerto Vallarta International Airport (1.6 million pax/year), Tijuana Airport (3.8 million pax/year), Acapulco Airport, (2.1 million pax/year), Aeropuertos del Sureste (ASUR) as Cancún international airport director (eight million pax/year). In 1999, Juan invited to participate in Aeropuertos del Sureste (ASUR) as Cancún International Airport Director, where he was in charge of the development of the airport original master plan, the IPO in 2001, the remodelling and expansion of the whole airport, the total commercial concept the installation of the airport operations data base and the CUTE system for three terminal buildings, working with SITA on t the "Airport in the box" system which integrates all the operations from the slot programming, aircraft positioning, fees, check-in, boarding, etc, involving all the processes from the landing to the billing for the airline.