Universal accessibility at Aena: a personalised experience
Roberto Martín Davara & Daniel de la Hoz, responsible for passenger experience and accessibility at Aena, tells International Airport Review about their vision to transform airports towards a personalised and accessible experience.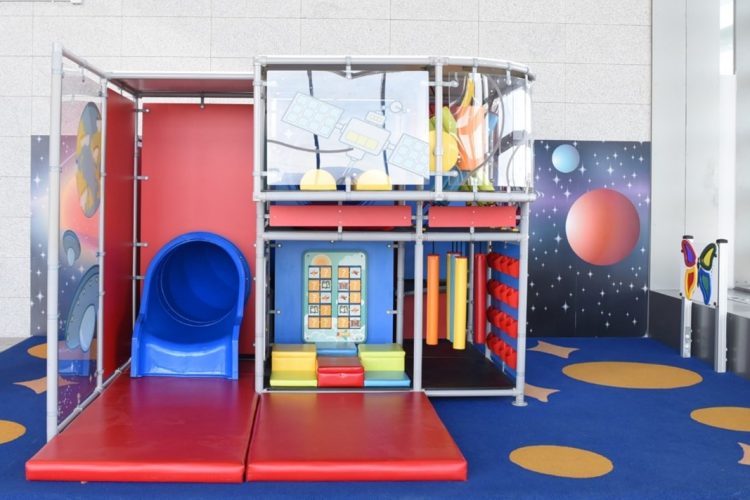 Some play facilities available at Aena's airports for passengers with accessibility issues. CREDIT: AENA
Passengers first
The passenger is your boss. This is the first and foremost important principle that you learn when you start working at Aena: all our decisions must be passenger-oriented; they are at the heart of our operations and what moves our daily work, regardless of the specific tasks or responsibilities that any one of us could have. This is why understanding not just our passengers' needs and expectations, but also their behaviours and emotions, means so much to us.
With 46 airports and two heliports in Spain, Aena welcomed almost 250 million passengers in 2022, representing 88.5% of 2019 figures. In 2023, we have closed the first quarter with an increase of 1.6% compared to 2019, our best year. Internationally, we are proud of being present in the UK and in Latin America, especially in Brazil, where we will be managing 17 airports by the end of 2023, making Aena the first airport operator in the world per volume of traffic.
An airport for everyone
From a passenger experience perspective, this big variety of airports represents a big opportunity and an interesting challenge. Aena's network includes big hubs such as Madrid or Barcelona, airports in holiday destinations such as the Balearic or Canary Islands, Málaga and Alicante, and airports that are best known by domestic business travellers, such as Pamplona or La Coruña. 
But aside from the classical vacationers and business passengers, our airports are visited and enjoyed by all types of people – who can no longer be categorised in the same way, prior to the COVID-19 pandemic; from so called "workationers" travelling with their families, to digital nomads and mindful explorers, who are looking for a sustainable and local travel experience. These are some of the new personas in need of their own space and personalised experience at the airport. Working pods, silent rooms, a wider commercial offer, 5-star restaurants, environmental commitment, playgrounds and high-speed Wi-Fi are only some of the expectations that must be fulfilled to assure all our passengers find what they are looking for. Our approach is clear and simple: your transit at one of our airports has to blend into your daily day instead of disrupting it – making the airport your office, an extended shopping mall or even a favourite coffee shop. 
Every passenger is unique
All of the above applies to every passenger. In short, we are all different and every one of us is unique. This is our standard, the premise we work with daily in relation to universal accessibility. We focus on raising awareness among our staff and adapting our facilities to the special needs of passengers, families and companions.
In collaboration with various disability associations, we regularly seek advice on the needs of different groups and evaluate and test tools designed to enhance accessibility in airport facilities. Our goal is to ensure that all passengers, including those with other needs, can exercise their right to enjoy air transport on equal terms.
People with disabilities or reduced mobility
In 2008, the Aena Barrier-Free Service was launched to assist people with disabilities or with reduced mobility. To date, this service has provided more than 18 million assistances at our airports. Despite the highly variable traffic demand resulting from the COVID-19 pandemic, we have adapted, going from assisting 1.9 million passengers in 2019 to 775,000 in 2021, while consistently maintaining a high level of user satisfaction, and an average rating of 4.92 out of 5.
All the airports with commercial flights in Aena's network – specifically 43 airports and two heliports – have meeting points, both inside and outside the terminal buildings, where people who need assistance can announce their arrival at the airport and initiate their way through our facilities.
There is no single way to help a passenger; we tailor our assistance to meet the individual needs of each person throughout their entire journey, including during departures, arrivals, connections, and at various processing points such as check-in, security, boarding, baggage claim, and terminal transfers. We understand that each person has unique requirements, and as a result, we provide specific resources, both technical and human, to ensure everyone receives appropriate assistance.
Invisible disabilities and dealing with stress
Beyond physical barriers, airports are spaces which, due to their structure, organisation, signage and all the social interactions they require, can make it difficult or prevent people with other types of needs from travelling by plane.
For this reason, our objective is to assist these individuals, not necessarily through specific services, but by reducing stress and anxiety that they may experience during the airport departure and arrival processes.
Based on this premise, Aena has implemented a series of initiatives with two main objectives: to address the majority of our passengers' needs and to offer them autonomy to, if desired,  navigate the airport without having to rely on staff assistance.
Knowing the airport before the flight
Getting to know the airport before the flight is crucial. Going through an airport, especially for infrequent travellers, often involves facing unfamiliar, uncertain, or complex situations that can be challenging and uncomfortable. Therefore, providing passengers with more information allows them to better adapt to these circumstances.
With this in mind, we have developed social scripts that utilise concise texts and visual support to outline the step-by-step process from airport arrival to boarding the plane and reaching the destination. The available materials include a checklist of common airport milestones, social scripts explaining airport procedures, information brochures detailing the services offered and an illustrative video.
Invisible disabilities badge
To prevent individuals with invisible disabilities from encountering barriers such as a lack of understanding or negative attitudes towards their behaviour, Aena has introduced an 'Invisible Disabilities Badge'. This digital accreditation can be requested through the Aena website and enables airport staff to identify individuals, thereby enhancing their experience. The badge indicates that the person may require support, assistance, or simply understanding and a little extra time during any airport process.
Technology and infrastructure
Furthermore, our personalised services are complemented by the implementation of new features in terms of infrastructure and technology. Over the years, Aena's airports have introduced dedicated facilities, such as restrooms for passengers with ostomies and adult changing rooms, as well as low sensory stimulation rooms. We have also developed native accessibility applications and indoor guidance systems with accessible routes that prioritise elevators over stairs or ramps.
All of these efforts have been developed in response to suggestions by our passengers. We have conducted pilot projects and carefully evaluated the viability of each initiative to ensure we meet the demands of our passengers.
Everyone on-board and involved
None of these achievements would be possible without the necessary structures and processes in place. At Aena, we ensure that everyone, from front-line workers to management, is involved in developing a unique passenger experience that caters to all types of passengers, including PRM (Persons with Reduced Mobility).
To facilitate this collaboration, we have established cross-sectional working groups and high-level committees that bring together individuals from various departments across the entire airport network. These groups work together to identify and implement initiatives that enhance the passenger experience.
Additionally, we have set quality Key Performance Indicators (KPIs) for every service provided at the airport. These KPIs serve as benchmarks to measure and improve the quality of our services, and ensure they meet the highest standards.
To support our staff in providing exceptional assistance to people with disabilities or reduced mobility, we have developed specific training programmes. Aena's manuals on good practices for assisting people with disabilities or reduced mobility, as well as airport infrastructure accessibility, serve as valuable resources for our employees.
Continuous learning is a fundamental component of our commitment to excellence. We actively encourage staff to participate in training programmes, workshops and seminars to enhance their knowledge and skills in serving passengers with diverse needs.
By involving everyone in our organisation and fostering a culture of continuous improvement, we strive to deliver an exceptional passenger experience that goes above and beyond expectations.

Roberto Martín Davara is responsible for the passenger experience within the Aena network, including 46 airports and two heliports in Spain. Applying a holistic data-driven approach, he and his team work towards setting new standards in the airport experience. Roberto manages the Airport Service Quality (ASQ) survey programme at Aena and he is a member of the ACI World's ASQ Subcommittee and the ACI Europe's Facilitation and Customer Services Committee. He holds a degree in Aeronautical Engineering (M Sc) from the Polytechnic University of Madrid.

Daniel de la Hoz has held the role of the Head of the Accessibility Department at Aena since 2019. His main responsibility is to ensure the accessibility of infrastructures and services at all airports in the Aena network; one of the main challenges being the management of the Aena Barrier-Free Service (demand for which increases every year due to population aging).
With more than 15 years of professional experience, his profile has been always focused on airport theme: airport infrastructures development, airport masterplan, feasibility studies, investment analysis (CapEx), traffic forecasts studies and airport transactions.
Since he joined Aena, he has carried out work in several areas related to passenger experience, such as ground handling and accessibility.