Zurich Airport's comprehensive approach to sustainability
Flughafen Zürich AG has a long tradition of sustainability. With its new ESG strategy, the company has given itself a compass for where it wants to go in the future. For International Airport Review, Christian Ruf, Project Leader for Sustainability and Environmental Protection at Flughafen Zürich AG, explained more.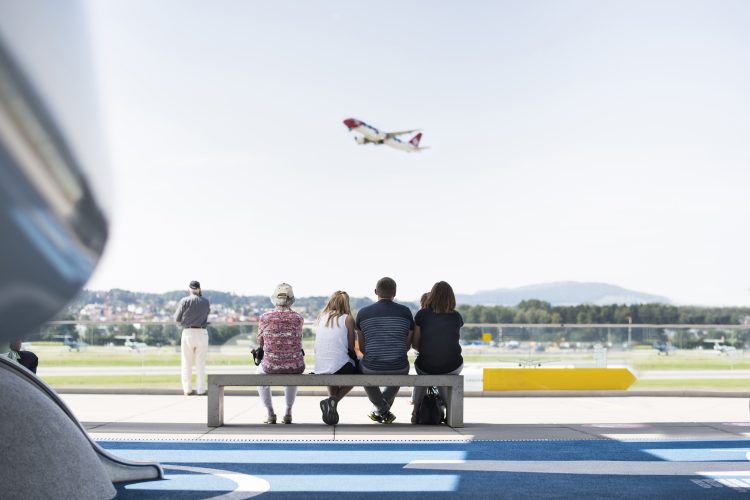 The airport serves as a leisure and meeting place for people , for example with the spectacular spectator terrace. CREDIT: ZURICH AIRPORT
Flughafen Zürich AG operates Zurich Airport in Switzerland as its most important airport. It is also active in Latin America and India. The company operates the airports in Florianópolis, Vitória and Macaé in Brazil and those in Antofagasta and Iquique in Chile with a majority holding. In addition, the airport is under construction in the south of Delhi, Noida and will add a new airport promising growth prospects from 2024. Aside from its commercial interests, the company is also fulfilling its responsibilities in the local, environmental and social context at all these locations.
The outstanding position of airports as mobility hubs and points of attraction for a region also brings comprehensive responsibility. In drawing up its new ESG strategy, Flughafen Zürich AG has analysed where it has the largest impact, as well as opportunities. From a sustainability perspective, the essential topics are Climate, Regional Contribution, Noise, Occupational and Aviation Safety as well as Business Ethics. To fulfill its responsibility and to provide a clear guideline for all employees, Flughafen Zürich AG has formulated ambitions to reflect the company's direction and aspirations. And as a proud signatory to the UN Global Compact, the company is also committed to its 10 fundamental principles.
Climate is our most prominent issue
Zurich Airport has set a net zero ambition for its own emissions by 2040. In addition, the company, currently accredited with Airport Carbon Accreditation at level four 'Transition', supports the decarbonisation of aviation in general. This includes supporting the introduction of sustainable aviation fuels (SAF) at the airport, which the company sees as key for the decarbonisation of the industry.
Flughafen Zürich AG has already almost halved its own greenhouse gas emissions in Scope 1 and 2 at Zurich Airport since the early 1990s, while at the same time doubling passenger numbers (pre-pandemic level). With the ambition to reduce the remaining 27,000 tons of CO2 annually to zero, the company is primarily focusing on reducing the demand for fossil fuels. The largest proportion of emissions by far comes from our combined heat-power plant. Buildings are therefore being renovated and equipped with new energy systems. In addition to the use of geothermal structures, which are being harnessed by means of borehole heat exchangers, a concrete project is being driven forward to use water at a depth of around 200 metres underground as a large-scale seasonal heat storage: a major step towards a fossil-free future. The electricity purchased at Zurich Airport is already carbon-free.
By 2033, the existing passenger Pier A will be replaced by a new pier, certified with LEED, that will largely use wood as a load-bearing structure and whose outer shell will be largely equipped with photovoltaics. The new dock is characterised by low energy consumption during operation and a special focus during construction on keeping grey energy, as well as emissions, low.
In addition to the building sector, Flughafen Zürich AG is pushing ahead with a switch to e-mobility, by investing in the charging infrastructure, both for itself and for its airport partners, who operate the greater part of the vehicles in Zurich. Flughafen Zürich AG's own fleet of common passenger vehicles is being converted to battery-electric drives on an ongoing basis and the introduction of electric passenger buses is also planned from 2025.
Besides climate protection and energy, Flughafen Zürich AG also includes the circular economy and biodiversity among its focus topics in the ecological spectrum. The targeted promotion of individual animal species on its site, which covers 74 hectares of protected area, is just as much a part of this as annual maintenance measures to preserve and enhance ecological value. Zurich Airport applies the same spirit at its other airport locations. In Noida, for example, over 1,800 trees of 68 different species were transplanted during construction and thus preserved.
Responsibility toward direct neighbours
Flughafen Zürich AG sees itself in the local context as a responsible player with a regional impact that has a positive effect on the economy and society through its immediate business activities and beyond. Zurich Airport makes valuable contributions as a hub for land-based transport, as a meeting, leisure or shopping place, and as a partner for research and education. Finally, Flughafen Zürich AG contributes to a diverse cultural life in the regions where its sites are located through regional sponsorship.
Flughafen Zürich AG also addresses aircraft noise nuisance by applying technical, structural, operational and financial measures to tackle aircraft noise, all of which are aimed at reducing noise at source and along propagation pathways. A modern noise protection hangar for engine test runs or the noise-based landing fees are just two of the numerous measures to reduce noise. The company also operates a noise hotline where residents can obtain information on operating concepts around the clock and submit queries, which are then answered by the company's experts. The noise abatement programme also includes various passive noise abatement measures that Flughafen Zürich AG is obligated to implement at the Zurich site as the source of the noise. These include the installation of soundproof windows on properties with noise-sensitive rooms.
Focus on safety
An indispensable prerequisite for an airport is safe operation and thus the integrity of all persons and the infrastructure. That is why safety and security are also among the key sustainability issues at Zurich Airport. The company operates an Integrated Management System (IMS) for the systematic management of all safety and security aspects in connection with flight operations at Zurich Airport. In addition to safety and security, this also includes occupational health and safety. The cooperation of all parties involved, namely the airport's partner companies, is essential. These meet in various committees.
Through training courses, in some cases with subsequent tests, the company ensures that all persons who have access to the airside operating areas of Zurich Airport are properly trained. The company also conducts periodic awareness campaigns to highlight individual safety aspects. Another important point is how incidents and violations are handled. At Zurich Airport, an emphasis is placed on fostering a just culture that encourages the reporting of critical or potentially critical incidents. The aim here is to identify and implement opportunities for improvement.
Ethical conduct
Compliance with the law, respectful treatment of all people and fair and reliable conduct as a business partner are among the fundamental values of Flughafen Zürich AG. In its revised Code of Conduct, the company sets all relevant expectations; zero tolerance of child labour and corruption are among them, as is respect for human and labour rights. The company is working to systematically review its supply chain and ensure that ethical behaviour is also guaranteed here.
Biography

Christian Ruf works as a project leader for sustainability and environmental protection at Flughafen Zürich AG with a focus on environmental communications and ESG reporting. He has been working on these issues at the airport for over 12 years and is driving the development of the company's ESG concepts and reporting. He holds a Master of Science in Geography and has completed advanced training in corporate responsibility and communication and leadership.