People are a top priority says, new Edmonton Airport CEO Myron Keehn
Myron Keehn, became official President & CEO of Edmonton Airport on 1 January 2023 and speaks with International Airport Review's Editor, Holly Miles about his plans for the airport and its exclusive CEO series.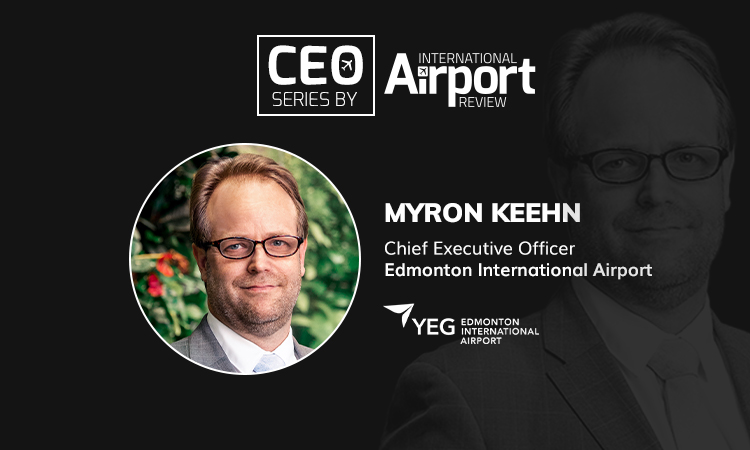 Congratulations on the new role as CEO! What is on your hit-list/agenda for 2023?
Our people are top priority, and they know I will continue supporting their vital work. I've spent a significant amount of time talking and listening to as many people in our organisation as possible to understand what they think works, what we can do better and what big ideas they have. Fostering a culture of innovation means we have a safe place for our people to speak up and be heard.
I have also been immersing myself in our airport operations, whether it's out meeting passengers, service providers, or the businesses within our airport ecosystem. We all depend on working together to provide the best service for our passengers. By identifying key areas for improvement and collaboration, we can offer tangible solutions not just for us but for the sector at large.
I'm excited about discovering new opportunities to drive value for the aviation industry and turning big, lofty ideas into reality – many of these initiatives centre around decarbonising our airport operations. Two immediate projects on the horizon include breaking ground on the world's first airport solar farm and starting construction on the largest cargo expansion in Edmonton International Airport's (YEG) history.
What is your airport's most distinguishing feature that gives passengers a sense of place, and why?
YEG has many distinguishing features, like our iconic central tower, which bears distinctive sculpted steel ribbons reminding passengers of our windswept prairie landscape.
But it's inside the terminal where we wear our hearts on our sleeves. We recently opened the Indigenous Interpretive and Retail Centre, which is the first of its kind in an airport. Passengers can experience Indigenous history and culture from our region, including themes related to navigation, traditional travelling routes and territories, the land, animals, and more. We are honoured to authentically celebrate and share the incredible Indigenous culture that has shaped our region.
What are your expectations for passenger numbers in 2023?
We expect things to continue to recover while staying flexible and nimble to adjust to factors out of our control. For 2023, we estimate YEG will serve 7.2 million passengers, almost a 90% recovery from pre-pandemic passenger numbers.
Have you witnessed a change or shift in passenger behaviour since the pandemic?
Safety and creating a positive passenger experience have always been our top priorities. We've witnessed a shift in what passengers want for their journey, from booking their trip to boarding the plane. They want their experience to be simplified and are open to using technology to speed up processes such as check-in, baggage and immigration.
How does the airport provide and pivot to accommodate a personalised passenger experience?
Statistics show that passengers are willing to use technology to improve the convenience of their airport experience. Our technology and innovation teams are embracing these trends, supporting efforts to streamline certain elements off-airport, such as checking-in, immigration procedures and baggage. Historically, we have been a first-mover in these spaces and welcome interested partners to learn about how they can accelerate new technologies at YEG.
We're also an airport that serves a massive geographical region of the Canadian North. We've put considerable thought into how we best serve these communities – and have partners delivering on just that. For example, shoppers at YEG's Premium Outlet Collection shopping mall can access door-to-door shipping of their purchases before, or after, they venture around the world. We also have been an accelerator for a drone delivery company that could revolutionise e-commerce for the North. We recognise that we are an airport for everyone – and that we need to support innovations for the benefit of all.
What are three future challenges you foresee for the aviation industry?
The biggest challenge we face today is the inflationary pressure on business costs. Soaring gas and energy prices and a looming economic recession are headwinds in our pandemic recovery and could weaken the aviation industry's recovery in the short-term. Also, the low unemployment rate in our region, tight labour markets and a shortage of skilled workers are likely to create barriers when strengthening the aviation industry.
We all depend on working together to provide the best service for our passengers"
We are hedging these risks from all angles to remain resilient and diversified amidst these pressures. One of our biggest assets is our massive footprint of serviceable real estate with access to logistics networks, utilities, rail and a major highway. Diversifying our revenues on-site will ensure we can weather many types of storms, and we encourage a broad array of industries to consider YEG's natural advantages in terms of low-cost, high-potential real estate for their future sites.
How is the airport leveraging digital transformation to improve the airport experience?
Digital options are transforming YEG's mission to ensure an accessible journey for everyone. We became part of the Aira Airport Network for passengers who are blind or have low vision. Aira is a visual interpreting service accessed through an app. Using the camera on their smartphone, passengers can call a trained agent who will visually interpret their entire airport journey.
We have also implemented a visual paging system for individuals who are deaf or hard of hearing. The system displays text on our Flight Information Display System monitors throughout the terminal to provide messages such as flight status, boarding information and gate location.
What is your sustainability journey, so far?
I could talk about this all day, as it positions YEG as an airport of the future. Being dedicated to sustainability is one of our five core values and is what we believe will attract new business and opportunities to YEG. Every business decision we make is driven by the environmental, financial and social aspects of sustainability. We are a global leader in sustainability with many firsts including:
The first airport in the world to sign The Climate Pledge, an initiative led by Amazon, pledging to be carbon neutral by 2040
YEG and Air Canada signed the world's first sustainability agreement between an airline and an airport, focusing on initiatives promoting a cleaner environment like the electrification of ground handling equipment, hydrogen fuel cell technologies, green power generation and more
The first airport terminal in Canada to receive LEED® Gold certification. The energy intensity of our terminal was reduced by almost 50% while doubling the size of the building
The first airport in Canada to begin regularly scheduled drone delivery operations in a controlled airspace, using zero-emission drones to conduct final-mile delivery service.
How crucial is the workforce to the airport environment and overall ecosystem? How can we abate issues around recruiting and retaining skilled employees?
Recruiting and retaining skilled employees means investing in the long term. You can have the very best strategic plans, but if you don't have talented, engaged employees to carry them out, then it doesn't matter. We know a good wage and work-life balance are key to this, but we also know how important it is to create a culture of purpose and mastery in our business.
We do this by offering opportunities for education and growth for employees, fostering an innovation culture where it's safe to challenge the norm, and communicating our ambitions and goals regularly within all business areas. We encourage our teams to show up in the community and support sports, cultural and arts events that make Edmonton a great place to live and visit.
What is your most exciting future development, that will change how the region is seen by travellers?
Alberta's natural advantages in clean-hydrogen production will be a game changer for our economy and the global aviation sector. Our province has abundant resources, mature infrastructure, suitable geology for Carbon Capture, Storage and Utilisation (CCUS), and expertise in energy production. Because of these natural advantages, Alberta airports will have access to some of the cheapest hydrogen products in the world, unlocking a plethora of opportunities to decarbonise a traditionally hard-to-abate sector.
Diversifying our revenues on-site will ensure we can weather many types of storms"
We believe airlines will strategically align with these efforts, allowing passengers and shippers to market a more sustainable product – with Alberta's travellers and economy benefiting in the long run. We also see ourselves as a natural hydrogen hub, where many traditional fuel users such as heavy machinery, fleet vehicles and heavy-duty trucks will be able to refuel and carry on throughout the region.
What would you tell smaller, emerging airports to capitalise on the most?
From a purely operational perspective, stay nimble. Ensure your strategy has off-ramps to adjust to speed up or slow down based on factors outside of your control. Remember, the most valuable asset at any airport is its people.
Also, I'd encourage airports of any size to connect to their region, people and history. We are working with partners like Indigenous Tourism Alberta (ITA) to bring Indigenous stories, traditions and truth to our region and beyond. Our work with ITA supports our commitment to economic reconciliation, and we hope the entire aviation industry takes note of those successes.
Three upcoming industry trends that will change the 'future of aviation':
Using hydrogen to reduce carbon emissions across all facets of aviation – from air service and ground handling to ground transportation and building operations.
Personalising the passenger journey, and accelerating novel technologies, through innovative digital solutions.
Airports becoming 'more than an airport' by diversifying their revenue streams from areas such as real estate development, cargo, research, innovation and sustainability.
About the author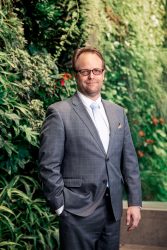 Myron Keehn is President and CEO of Edmonton Airports including Edmonton International Airport (YEG) and Villeneuve Airport (ZVL).
His 30 years of experience working in the private and public sectors in North and South America, Asia and Europe, helped him see and implement new and effective approaches to airport business development.
In his 15 years working for Edmonton Airports, he led many innovative developments, including creating the Airport City Sustainability Campus vision at YEG. Airport City is an integrated ecosystem of companies driving innovation in e-commerce, cargo/logistics, advanced manufacturing and pharma. The campus is designed to foster innovation, attract investment and create jobs. Myron's vision and tenacity have helped attract over $1.5 billion of private investment to YEG, and the campus is now one of only two of its kind in Canada. Myron's mission as CEO is to recast the role of airports, evolving beyond utilities into economic engines for cities, regions and countries.