How Airports & Passengers Benefit from Seamless Tech
There's more to seamless airport technology than improving safety and efficiency. Read to discover the benefits for both airports and passengers.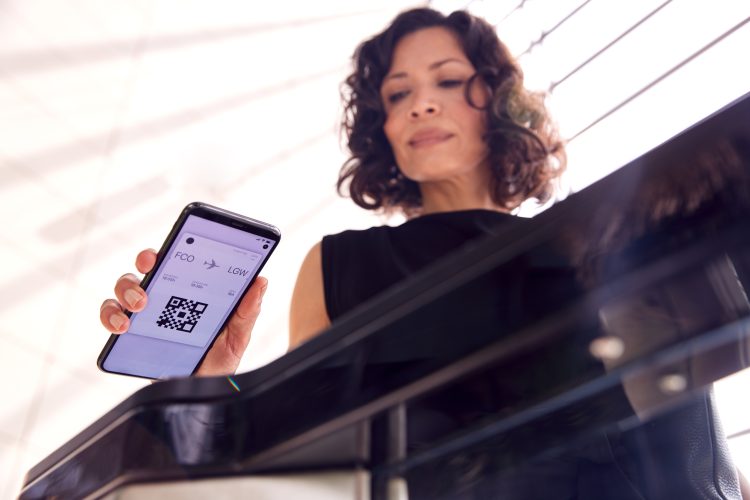 Businesswoman In Airport Departure Lounge Scanning Digital Boarding Pass On Smart Phone
'Seamless' – it's the buzzword on everyone's lips right now, particularly in the airport industry, where operators are busy making the journey through their terminals appear effortless.
We're moving on from the touchless airport experience that was paramount at the height of the COVID-19 pandemic. Airports recognise that passengers' expectations have changed. They don't just want to pass through the airport touch-free for a safer experience but for a faster, stress-free and more enjoyable experience. Passengers don't want to queue when they could be sipping on a pumpkin spice latte or shopping duty-free. And if there's a chance to get through security that little bit faster, you can bet they'll take it, even at a small extra cost.
Here we will uncover the airport technology making the seamless passenger experience possible while examining how both passengers and the airport can benefit.
What technologies are used in airports?
While the pandemic is said to have 'brought about years of innovation in a matter of months,' the airport industry was implementing innovative technologies long before COVID-19 reared its ugly head. A great example is the self-service technology that has become commonplace at many airports, enabling passengers to check in and do their own bag drop to avoid queuing up. However, over the last few years, we have seen more airports investing in ecommerce. With desires to diversify, increase non-aeronautical revenue and improve the passenger experience, airports are investing in ecommerce solutions, like the Rezcomm Marketplace, for a competitive advantage.
What's more, with a drive to offer safer and more hygienic travel, there has also been an increase in airports' adoption of contactless technology. One of the most obvious solutions is biometric technology, like facial recognition, which screens passengers and automates the process of verifying photo identification at the airport.
But this isn't the only contactless airport technology on offer.
Seamless airport technology like Rezcomm's Contactless Fast Track and Queueless Journeys also enable passengers to limit the surfaces they touch in the airport, avoid queueing and enjoy a quick and easier journey. For example, with Contactless Fast Track, passengers scan a QR code to purchase an e-ticket via their smartphone and access an airport's fast track lane. The e-ticketing works similarly for Queueless Journeys. In addition, passengers can pre-book a time of arrival anywhere queues typically exist in an airport, queue virtually, using their smartphones, and use their increased dwell time more effectively.
Airports can also extend this idea of a seamless or contactless experience to customer service. For example, airports can offer Contactless Customer Service via QR code scanning and a digital portal instead of having customer support desks taking up valuable space in the terminals. As a result, passengers can get answers to their questions quickly, without queueing or unnecessary face-to-face contact.
How can passengers benefit from seamless technology in airports?
Seamless airport technology like biometrics, Contactless Fast Track and virtual queueing offer a safer passenger experience. Limiting touching, face-to-face contact, crowding and improving passenger flow helps stop the spread of COVID-19 and other illnesses in the airport.
Additionally, passengers can benefit from a faster journey through the airport. Offering self-service online check-in, automating identity checks and opening up fast track lanes speeds up passenger processing, enabling them to get from the curb to the gate easily.
Using seamless airport technology to create a safer and quicker passenger journey makes for a more enjoyable experience. By eliminating queues or offering fast track options, airports give passengers more dwell time to shop, dine and relax in the airport lounge. It can also go a long way in reducing passengers' stress at the airport. Seamless airport technology, like the Rezcomm Marketplace, puts passengers in control of their experience, ensuring their needs are catered for before, during and after their visit to the airport.
How do airports benefit from seamless technology?
We all know that a happy passenger = a happy airport. All the benefits of seamless airport technology we've mentioned above, including improved passenger flow, minimised congestion, increased efficiency and additional safety layers, benefit the airport too.
However, you might be interested to hear how seamless airport technology can help reduce operational costs. While adopting disruptive airport technologies may require a significant investment, it's worth considering how much money airports can save by reducing the number of staff needed to operate various checkpoints and freeing up staff for tasks only a human will do.
Along with better use of airport staff, digital technologies also enable airports to optimise their available space. For instance, by replacing airport customer service desks with a Contactless Customer Service system, airports free up significant space for more retail stores, restaurants and relaxation areas, all of which contribute to a more positive passenger experience. For more on this, check out our article, 'How to make the most of your airport environment to improve passenger experience.'
And we couldn't discuss the benefits of seamless technology for airports without mentioning revenue because there's a direct correlation between digital technology, passenger satisfaction and spending. Essentially, by improving efficiency and reducing wait times at the airport with seamless airport technology, you'll see an increase in non-aeronautical revenue. Why? Because instead of feeling stressed out standing in lengthy queues, passengers will be happy, satisfied and in the mood to spend money in your retail stores and restaurants.
Federico Cabrera, Airport Operations and Customer Experience Manager at Carrasco International Airport, gave a great example at the IAR Online Summit. He reported, "at the passport control checkpoint, when we measured up to 30 minutes waiting times, the sales in the stores right after dropped by 30% and some days up to 50%. However, when we reduce those waiting times up to 10 minutes, the same stores reached the maximum sales at that point." And it doesn't end there. By offering a safer, more efficient and enjoyable passenger journey through the airport with seamless technology, airports increase passenger loyalty and lifetime spending. What's more, with nurturing and encouragement with customer relationship management, personalised airport marketing and incentives, you can transform your loyal passengers into brand advocates who encourage more people to visit your airport.
Innovating for the future with seamless airport technology
As Nazareno Ventola, CEO & MD of Bologna Guglielmo Marconi Airport, said at the IAR Online Summit, "digitalisation must be one of the pillars of airport strategies for the next few years to enable us to be more flexible and more adaptive to business evolution."
Seamless airport technology is the way forward, not just because it is meeting passengers' demands for a more effortless and enjoyable experience at the airport. Or because it helps airports reduce their bottom line and boost non-aeronautical revenues. But because this digital transformation will go a long way in futureproofing the airport environment and ensuring that next time there are unforeseen circumstances (and there's bound to be a next time), we'll be ready, more resilient and able to come back better.
Are you interested in learning more about the benefits of seamless airport technology? Download the Rezcomm Marketplace brochure to discover our vast range of solutions, and book a meeting with our experts to find out how we can support your airport.