Soaring to new heights of passenger experience and sustainability
Terry Daly, Executive Director of Guest Experience at Etihad Airways, tells International Airport Review about the airline's new Airbus A350 and how it will be a game-changer for passenger experience and sustainability.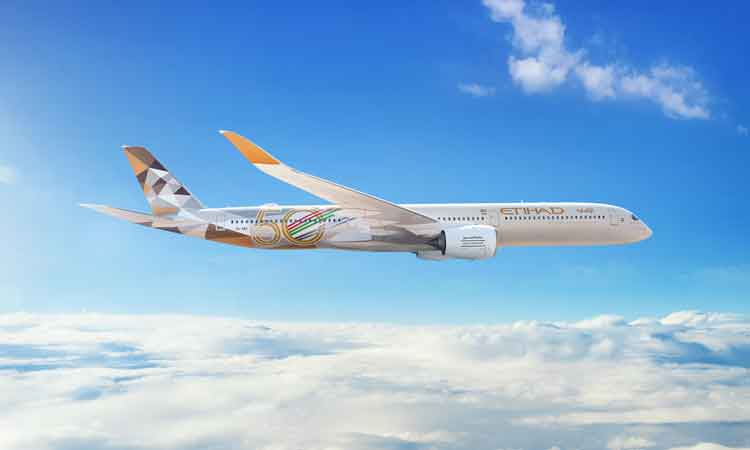 When the first of our Airbus A350s took off on an inaugural flight from Abu Dhabi to Paris in March 2022, it was a proud and thrilling moment for me personally and all my colleagues at Etihad Airways. Not only did we become the first UAE airline to operate the aircraft, but the flight was also a milestone step forward in guest experience – my particular focus – and sustainability, a priority for everyone in our industry.
Unique passenger experience
At Etihad, we pride ourselves on high-quality aircraft and an exceptional passenger experience. One look at the interior design of our A350s proves the point. Think 'stylish' and 'calm'. The signature lighting detail is inspired by the shadows cast by palm trees in our home of Abu Dhabi, creating an ambient setting to optimise passengers' sleep quality and minimise the impact of jet lag. The A350 also offers the quietest cabin experience on a widebody aircraft, a quality so important to passengers whether working or relaxing.
Our E-BOX entertainment system fights jet lag too, with a 'dark mode' designed to minimise the levels of light pollution to which passengers are exposed. To keep our guests entertained, we provide mobile and Wi-Fi connectivity throughout the aircraft, and we also make sure every passenger has blankets, pillows, and amenity kits on longer flights. Our guests in economy class enjoy our signature headrests, with USB charging ports and Bluetooth headphone pairing.
I know how much our passengers appreciate all the efforts we make to ensure they arrive relaxed and refreshed at their destination. The flying experience isn't just about the seats or the food, but about how everything comes together. How do people feel when they leave your care?
Each of our A350 aircraft is also equipped with 44 business class suites with sliding doors to ensure each passenger has the privacy and security they expect and deserve. Every seat has direct aisle access and the option to convert into a fully lie-flat bed, and guests can enjoy an 'à la carte menu' or a 'dine anytime' option on longer flights.
Too many airlines think too little about children's inflight experience. At Etihad, we believe all passengers matter, and we've introduced our 'Little VIP' programme with Warner Bros. World Abu Dhabi, providing a family-friendly flying experience and offering children a bespoke section on our inflight entertainment system with access to shows such as Scooby-Doo, Looney Tunes and The Flintstones.
Through our carefully thought-out features (and COVID-19 gave everyone time to think!), our priority is to ensure all passengers' needs are met – whatever their age, requirements, or cabin choice. The key is to listen. Only by understanding our guests can my team and I deliver exactly what they want in a flight experience.
Our pioneering 'Sustainability50' aircraft
We've called our first A350 the 'Sustainability50', not just to mark the 50th anniversary of the federation of the UAE, but also to reflect Etihad's commitment to achieving net-zero carbon emissions by 2050. Sustainability drives everything we do these days. Decarbonising aviation is critical.
Through our partnership with Airbus and Rolls-Royce, our fleet of A350s will be used as flying test beds for new initiatives, procedures, and technologies to reduce carbon emissions. It's a project similar to our hugely successful 'Greenliner' programme with Boeing's 787 aircraft, which combined sustainable aviation fuel and operational efficiencies to reduce CO2 emissions by 72 per cent.
Rolls-Royce Trent XWB-powered A350s operate incredibly efficiently, with 25 per cent less fuel burn and CO2 emissions than previous generation twin-aisle aircraft, which means A350s are not just great now, but are also ideal for testing future sustainability initiatives.
Working together on a greener future
Everybody wins when we improve aviation's environmental footprint, from the passengers on the aircraft, to the global population on the ground.
Forming sustainability partnerships is very important to us and so with Airbus, for example, we've created a formal framework to work on several green initiatives alongside the A350 project. Together, we're working on the promotion and commercialisation of sustainable aviation fuel, waste and weight management, and the development of data-driven analysis.
I believe great things are ahead. Through this partnership, our primary goal is to use the Sustainability50 aircraft to trial innovative ideas for the benefit of the whole industry.
A350 and UAE: An exciting new chapter
Over the coming months, I'm pleased to say we'll be introducing four more A350 aircraft into our fleet, operating short- to mid-range routes including Mumbai and Delhi. We'll then use the aircraft for ultra-long-haul operations to New York and Chicago in July 2022.
Helping to bring this A350 fleet to the world fills me with pride. We're starting such an exciting chapter in UAE aviation and we're really looking forward to expanding our network and working with Airbus for many years to come.
The initial public and media response to our A350 programme has been so positive and so rewarding for all of us involved. We hope and believe our guests will continue to love our technological innovations as much as we do, enjoying an exceptional – and increasingly sustainable – flying experience in these extraordinary aircraft.

Terry Daly was appointed Executive Director Guest Experience, Brand & Marketing for Etihad Aviation Group in November 2020. In this role, Daly is responsible for leading the Customer Experience & Service Delivery department; the Marketing, Brand and Commercial Partnerships department; Etihad Guest, the airline's award-winning loyalty programme; and its global Contact Centres. Prior to joining Etihad, Daly held the role of Divisional Senior Vice President Service Delivery at Emirates Group, with accountability for all aspects of the inflight customer experience. He was instrumental in establishing the airline's award-winning service and oversaw 22,000 front-line staff. He holds an MBA from Lancaster University in the UK.