Optimising baggage handling at MCO
Scott Goodwin, Assistant Director of Airport Operations at Orlando International Airport for Baggage Handling Systems, tells International Airport Review about their unique baggage operations.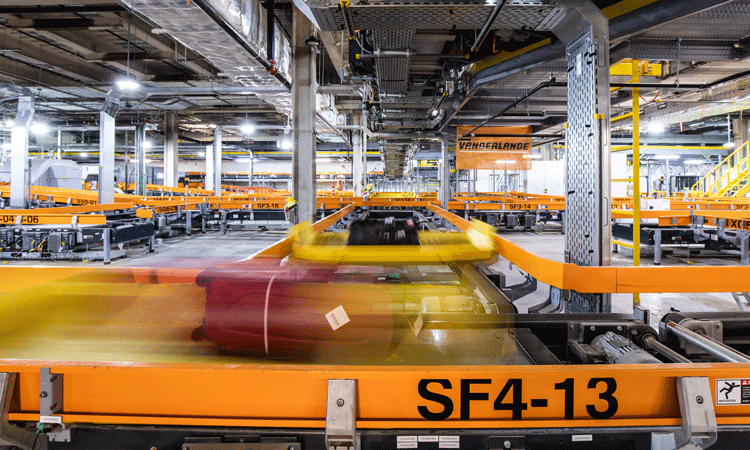 Credit: Vanderlande
Baggage handling at Orlando International Airport (MCO) is unlike any other airport because of the unique customer demographics. Being primarily a destination airport versus a transfer hub, Orlando sees a large number of passengers utilising the terminal's check-in counters and baggage claims. In regard to baggage activity, Orlando is a leader in baggage diversity with a large quantity of golf clubs, car seats, strollers, and mobility devices in the mix. In addition, as a popular leisure market, guests tend to pack more for longer stays. Altogether this makes for a complex operating environment, with many unique opportunities to optimise baggage handling.
Prior to the COVID-19 pandemic, Orlando International Airport operated one the world's largest offsite Remote Screening Facilities (RSF). During peak times the facility removed upwards of 15 per cent of checked outbound baggage from the main terminal which was processed offsite and taken directly to outbound aircraft after remote security screening. This was possible as approved vendors would collect baggage with sufficient lead times from area resorts, cruise ships, and convention facilities, which allowed passengers to check-in their bags prior to arriving at the airport.
A new terminal
During the COVID-19 downturn, the RSF activity diminished as business models evolved, which resulted in all check-in baggage returning to the main terminal. However, the experiences of the past provided a solid foundation to how Orlando International Airport would plan for its future with design and construction of the new Terminal C.
With several recapitalisation and capacity projects, it was time to break ground on a new facility to support the growing demands. The new facility known as Terminal C, will include a state-of-the-art baggage system utilising the Individual Carrier System (ICS) or tote system by Vanderlande. This replaces the traditional conveyor baggage handling system and provides Radio Frequency Identification (RFID) for accurate tracking and virtually eliminates bag jams, resulting in higher reliability. In addition, an early bag store (EBS) is also part of the in-line system providing batching and storing of over 1,700 bags to optimise the baggage processes.
The EBS is a game changer, especially for the unique Orlando market. As guests depart from various hotels, cruise ships, or other accommodations mid-morning, they frequently arrive at the airport sometimes many hours prior to departure. This creates an operational challenge as facility and staff models can restrict the acceptance of baggage many hours in advance. Historically, a good portion of this was handled via the RSF in Orlando. However, to fully optimise processes and resources, an integrated solution was needed within the terminal. The ICS and EBS provide that platform in the new Terminal C.
The EBS in Terminal C is totally automated allowing nine cranes to independently store and retrieve any of the bags as needed. Regarding optimisation, the EBS will serve as more than an early bag storage facility as it will also function as a flight batching process. Instead of positioning personnel in the baggage make up areas several hours prior to departure, the EBS will collect and batch bags and dispatch on demand and/or at set intervals to optimise ramp deliveries in a structured manner. In conjunction with RFID tracking and type sortation and dispatch, baggage deliveries to the baggage make up areas will be organised and planned, reducing the chance of error, in addition to being more efficient.
Inbound luggage to Orlando
For baggage destined to Orlando, the ICS platform will use its return path from baggage make up areas to the main terminal as the transit path for inbound baggage claim, allowing for an efficient process and design of the same resources and infrastructure. In addition, the inbound baggage system incorporates an inbound sortation design allowing each of the six independent ramp offload points to deliver bags to any of the eight domestic or international claims. With this design, multiple offload points can be utilised simultaneously for the same claim facilities without a need to wait in line for the previous activity to be completed.
A new concept is also being rolled out for inbound offload areas, where a single bag will be placed in each tote directly by the baggage handler. This nearly eliminates bag placement and hygiene risk, therefore improving the overall reliability and service throughput levels. In addition, a user interface replaces a standard start button to ensure accurate data on flight assignments is captured and sorted accordingly. The user simply validates the applicable flight and status, and the pre-loaded flight assignment sorts the applicable bags to their baggage claim destination. As an added check, automatic tag readers marry the tag data to the transporting RFID tote for tracking and an automated secondary check against handler inputs is verified to ensure accuracy.
The ramp side baggage facilities are also scattered throughout the facility so motorised transit times and distances are minimised allowing the ICS to provide the main transport process within the terminal. The baggage make up areas and inbound baggage facilities are never more than a few gates away from applicable aircraft. Each gate essentially has a 'line of sight' to applicable baggage areas allowing the optimisation of personnel and resources around aircraft activities.
With a fully intergraded Vanderlande ICS system for inbound and outbound baggage transits along with in tote TSA screening and EBS, Orlando International Airport is leading the way in North America in airport baggage handling. The current activity within Terminal C is just the first phase of a comprehensive growth plan that allows the airport to easily expand as needed with a solid foundation in state-of-the-art baggage handling.
Biography

Scott Goodwin is the Assistant Director of Airport Operations at Orlando International Airport for Baggage Handling Systems (BHS) and airport Ground Support Equipment (GSE). Goodwin has over 33 years of experience in commercial aviation in numerous U.S. airports with 18 years at a major U.S. passenger carrier. In Orlando, Goodwin oversees all baggage operations which includes approximately 20km of conveyor belts, passenger boarding bridges and airport GSE. Goodwin is the key driver in adapting new technologies to the uniqueness of the Orlando demographics to ensure a seamless customer experience. He is a graduate of Embry Riddle Aeronautical University with a Bachelor's in Technical Management and a Masters of Commercial Aviation (MCA) from Delta State University.