Airlines flock to MIA for the winter travel season
With the U.S. opening its borders to vaccinated travellers from foreign destinations from 8 November, departing seat capacity at MIA from October to December 2021 is already 10.1 per cent above its 2019 level. Greg Chin, Communications Director for Miami-Dade Aviation Department, explains more about MIA's success.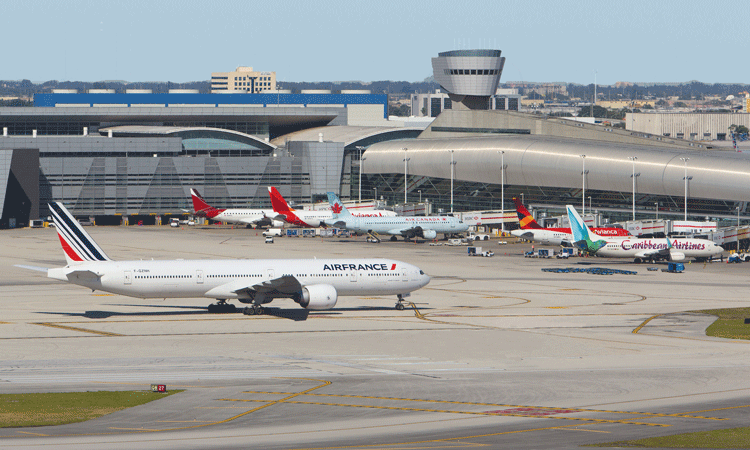 Credit: Miami Dade International Airport (MIA)
Miami International Airport (MIA) entered November with three airlines re-launching Miami service for the first time since the pandemic began, two other airlines making their MIA debuts, and four more scheduled to arrive by January.
Finnair began a twice-weekly Stockholm service on 23 October and will restart Helsinki service three times per week on 30 November. Fellow European carrier Scandinavian Airlines (SAS) also returned to MIA this month with three weekly flights to Copenhagen and twice‑weekly flights to Stockholm on 8 and 9 November respectively, followed by a weekly Oslo service scheduled to restart on 11 November. Air Canada brought Canada flights back to MIA on 1 November with daily Toronto service, which is scheduled to expand to four daily flights in December. Air Canada is also scheduled to restart the Montreal-Miami service back on 6 November with two weekly flights, followed by an increase to two daily flights in December.
A pair of charter passenger airlines kicked off November with Miami service launches as well. New U.S. charter airline Global Crossing Airlines (GlobalX) began three weekly charter flights to Santo Domingo, Dominican Republic on 1 November, and plans to start five weekly flights to Punta Cana, Dominican Republic and daily flights to Havana, Cuba later this month. In December, GlobalX is scheduled to launch daily flights from MIA to Las Vegas and Nassau, Bahamas. Dominican carrier RED Air started charter service at MIA on 1 November with daily flights to Santo Domingo, with plans to add a second daily flight on 21 November.
Five more airlines are set to begin flying south this winter, with Aer Lingus (Dublin), KLM (Amsterdam), Royal Air Maroc (Casablanca) and Sunwing (Toronto, Montreal, Quebec City) scheduled to make their returns to MIA in December and January, and Canadian carrier Air Transat scheduled to enter the Miami market with Montreal service in December.
Expansions by several existing airlines are also expected to boost passenger numbers at MIA. American Airlines is adding two new international destinations and six new domestic routes at MIA in November and December. With those eight new routes and other frequency increases, American will offer more than 130 nonstop destinations and 340 peak daily flights from MIA by the end of the year – the most of any carrier. By January, Spirit Airlines will complete its debut at MIA with 31 nonstop routes, including 12 international and 19 domestic destinations. In November, Frontier Airlines launched nine new non‑stop Miami routes, including plans to begin its first‑ever service to Aruba, for a total of 36 non‑stop domestic and international destinations served from MIA – its most ever.
The Miami service launches come as the U.S. government begins to allow vaccinated non‑U.S. citizens from foreign destinations to enter the country after 8 November, for the first time since early 2020. According to published airline schedules, departing seat capacity at MIA from October to December 2021 is already 10.1 per cent above its 2019 level. MIA has been the busiest U.S. airport for international passengers this year, with nine million of its 25 million passengers through September traveling internationally.
Biography

Greg Chin is the Communications Division Director for the Miami-Dade Aviation Department, responsible for overseeing media relations, advertising, and internal communications for Miami International Airport and Miami-Dade County's four general aviation airports.