Cleaner, Greener Airports: Making Aviation More Sustainable – Newcastle International Airport
Nick Jones, CEO of Newcastle International Airport, writes about the airport's sustainability plans and how they will achieve net zero by 2035, in the latest instalment of International Airport Review's exclusive series.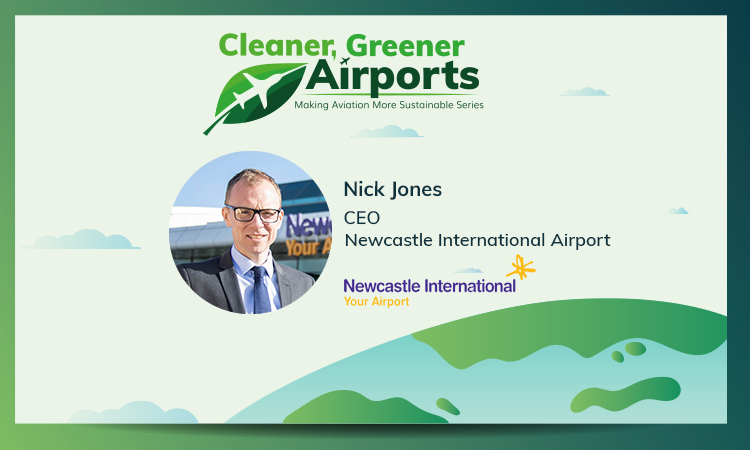 Decarbonisation is a critical global issue, and the aviation industry is playing its part in supporting this agenda. Many airports across the world have committed to becoming net zero and, as part of the pledge, airports are identifying a range of measures to both reduce and offset carbon emissions under their control.
In January 2020, the second largest airport in the North of England, Newcastle International (NCL), announced plans to become net zero by 2035 and positioned itself ahead of many airports across UK and EU.
Newcastle International's Net-Zero Carbon 2035 initiative
The airport's Net-Zero Carbon 2035 strategy aligns with the end date of its masterplan and what will be its centenary year, as well as supporting the organisation's commitment of being a good neighbour. The aim of the strategy is to reduce scope one and two emissions to zero, and to be carbon neutral for those scope three emissions that the airport can influence (passenger surface journeys).
The strategy is also consistent with Newcastle City Council's 'Carbon Net-Zero Newcastle – 2030 Action Plan' and contributes to the UK government's 'Jet Zero Policy' objectives and the widespread ambition to build back greener, as the UK emerges from the COVID-19 pandemic.
The Sustainable Aviation Roadmap
Newcastle International is a member of Sustainable Aviation, an organisation made up of airlines, airports, aerospace manufacturers and air traffic service providers, to work towards the common goal of cleaner, quieter, and smarter aviation.
The Sustainable Aviation Roadmap shows how airports can accommodate a 70 per cent growth in passengers by 2050 whilst reducing net carbon emissions levels from just over 30 million tonnes of CO2 per year down to zero, through smarter flight operations, new aircraft and engine technology and the use of sustainable aviation fuels (SAF).
To help deliver its Net-Zero Carbon 2035 strategy, Newcastle International has also developed a roadmap, identifying key deliverables to achieve the target. Despite the significant impacts of the COVID-19 pandemic on travel over the past 18 months, the business remains on track to achieving this goal.
An industry first – operating an electric airside bus
Procuring a new fleet of electric vehicles formed an important part of the strategy and, in December 2020, the airport took the first step by becoming the only airport in the UK to operate a fully electric, zero emission airside bus. The bus has been used during the COVID-19 pandemic to coach passengers to and from the terminal, in an environmentally friendly way.
Alongside a new fleet of electric vehicles, the ability to generate renewable energy was also identified in the roadmap as critical to achieving the 2035 goal.
Planning permission for an airport solar farm
In August 2021, Newcastle International announced plans to submit a planning application for a solar farm on airport land.
Alongside detailed environmental and ecological impact assessments, an eight-week public consultation was undertaken to gather feedback on the plans from local stakeholders, ahead of the planning application, which has now been submitted.
Social media posts about the project were viewed 120,000 times, and the dedicated website visited over 1,700 times. Over 100 individual comments or responses were collected, with 98 per cent of respondents supporting the Airport's Net-Zero 2035 strategy and 96 per cent supporting the use of airport land for a solar farm.
If approved, the solar farm will be built in four phases between 2022 and 2035, to provide renewable energy for the airport now and in the future. The farm will be capable of generating up to 16MW of electricity and will seek to provide 100 per cent of the airport's electricity requirements through sustainable means. The scheme will also feature battery units to store excess energy for use during the evening or days with less sunshine.
Using woodland to reduce airport emissions
In addition to the solar farm project, large areas of woodland planting are planned on airport land. These areas will contribute to the offsetting of Scope three emissions.
"Decarbonising the Airport before 2035 will be a challenge, but this is something that we feel strongly about," said Jones.
"Newcastle international Airport is an extremely important asset to the Northeast and we pride ourselves on being a good neighbour. The people of our region are at the heart of everything we do, so it is vital that we make the changes needed to be able to grow the airport in a sustainable manner, that protects the environment we all live and work in.
"We will also play our part within the aviation sector to ensure that this globally important industry makes the transition that will enable it to serve the future low carbon economy."

Nick Jones is the Chief Executive of Newcastle International Airport, having joined in 2015. Prior to arriving at the airport, he spent six years at the private equity-backed Aesica Pharmaceuticals, a pan-EU contract manufacturing business.
He began his career at PricewaterhouseCoopers LLP where he spent 13 years, latterly as a Corporate Finance Director in its Manchester office.