Kansas City International Airport: Setting the bar for inclusivity and accessibility
Lily Mae Pacey, Junior Editor of International Airport Review, spoke with Justin Meyer from Kansas City Aviation Department, and Dan Moylan from Edgemoor Infrastructure & Real Estate, to discuss the exciting new developments at KCI which will transform the airport into a space accessible and inclusive to all passengers.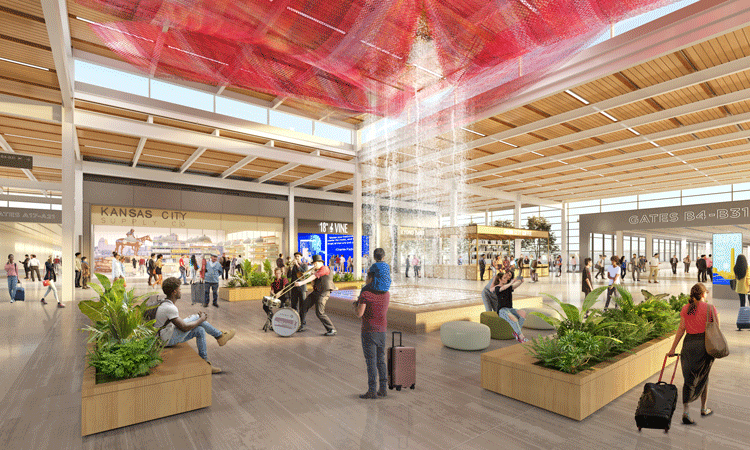 Credit: Kansas City International Airport
Why are you undergoing the project and why is it important for airports to make changes like this?
Dan Moylan, Senior Development Manager, Edgemoor Infrastructure & Real Estate: When Kansas City International Airport (KCI, IATA: MCI) opened on 11 November 1972, the unique three terminal layout featured a "drive-to-gate" design that became quickly out of date just 26 days later when, following increasing trends of aircraft hijacking, the Federal Aviation Administration (FAA) mandated U.S. airports to begin screening passengers and bags before boarding.
With over 50-years of use, the limitations of the existing terminals have become more evident, which include cramped gate areas, insufficient restrooms, and concessions.
At just over one million square foot, the New Terminal is the largest single infrastructure project in the city's history. With 39 gates and the ability to expand to 50 in the future, as well as a 6,100-space parking structure, the facility will support more efficient airline operations and allow airport users to enjoy the convenience of modern air travel in a facility with updated technology and amenities, close parking, spacious gate areas, and ample food and beverage options.
The $1.5 billion New Terminal at KCI will set a new high bar for inclusivity and accessibility.
Our goal is to provide a seamless and pleasant travel experience for all who come through Kansas City International Airport. The major airlines that are financing the New Terminal Project want to eliminate obstacles that have kept some people from choosing air travel. 
We want all our visitors to be seen, heard, and to feel welcome here."
The New Terminal positions Kansas City as a major regional leader and will have the improved ability to attract more flyers, new businesses, and national events to the region. It will open in March 2023, as Kansas City plays host to the NFL Draft.
How will the new developments improve passenger experience for those who are fearful of flying and struggle with anxiety?
Dan Moylan: The New Terminal at KCI will have an airplane simulation room to help travellers with anxiety or other conditions, such as a fear of flying. It takes the guest through the experiences of the ticketing kiosk, gate door, passenger boarding bridge and aircraft cabin.
The room will feature a retired airliner. Inside the cabin, guests will become familiar with the seats, aisles and other features people would experience on a flight.
The simulation is just one part of a larger walk-through experience for people interested in learning more about how to navigate the airport and flying. That broader tour includes passing through security.
Additionally, the New Terminal at KCI will include a Meditation Room – for travellers to rest and recharge their mind, body, and spirit.
With the new airport's inclusivity of the

Americans with Disabilities Act (ADA)

requirements, what facilities will be accessible to improve passenger experience for those who have a disability or require added help?

Dan Moylan: We recognise that travelling can be stressful. Our goal is to create an environment where all travellers feel included while at KCI. To achieve that, the New Terminal Project relies on partners like The Whole Person and Dementia KC to ensure we are providing accessibility features for all, throughout the terminal.

The New Terminal at KCI will include visual paging boards, which allow deaf visitors to see information about flight rescheduling at all major information displays.

Adult changing tables will be available in the restrooms to assist caregivers travelling with adults who require assistance.

The New Terminal will have nearly triple the count of post-security restrooms than the current terminals, which means greater access by travellers who require wheelchair-accessible stalls.

All service desks will be at an ADA accessible height, with features such as recessed toe-kicks for approaching customers, and adjustable height monitors for employees.

Raised crosswalks will provide an easy transition for wheelchair users, persons with reduced mobility, and for the added safety of all visitors.

The benches will feature arm rests to support standing up from a seated position.
What features can families travelling via KC Int'l Airport expect to see? What is the aim/goal of these added facilities?
Justin Meyer, Deputy Director of Aviation – Marketing and Air Service Development, Kansas City Aviation Department: The New Terminal at Kansas City International Airport will feature several unique experiences for travellers of all ages and abilities.
We are proud to provide family-friendly features in all restrooms, which will include infant changing stations with integrated waste receptacles, lower height sinks and integrated shelf and varied height hooks in each stall.
The New Terminal's private infant feeding rooms will allow privacy for parents or caregivers to pump, nurse or feed infants in a quiet environment that is not located in a restroom.
The multi-sensory room is a quiet and secure place to encourage a sense of exploration and discovery for children and adults with autism, dementia, or sensory processing disorders. 
The Kansas City Aviation Department has partnered with Variety KC to develop an inclusive play area for children of all abilities. It will feature a simulated aircraft and air traffic control tower, sensory boards, and exercise videos.
We hope that the delivery of a more accessible and inclusive travel experience will help make Kansas City International Airport the preferred airport in the four-state region for passengers of all abilities.
As one of your new features, inclusive restrooms including an 'all gender' restroom will be constructed. What is the main reason behind this new development and how important is it for airports to include all gender restrooms into passenger travel experiences?
Justin Meyer: All gender restrooms are incredibly helpful for people who are travelling with a caregiver of a different gender, as well as for members of the transgender and non-binary gender communities.
These restrooms will include changing rooms, diaper changing tables, adult changing tables, and stalls with higher partitions for more privacy. Our goal is to reduce travel barriers, so that more of the public can enjoy the benefits of air travel.
What support will the new airport offer passengers travelling with service animals?
 Justin Meyer: There will be an indoor pet relief area for service and working animals, as well as outdoor pet relief areas for all other travelling animals.
With this new inclusivity and accessibility offering, what effect will this have on the way you train your airport staff?
Justin Meyer: The new terminal provides an opportunity to enhance the training programmes offered to aviation department employees and all airport stakeholders. The aviation department plans to not only train employees on the location and function of these new amenities, but also implement training to improve all airport employees' ability to identify and assist passengers, who may need additional assistance.
Biographies

Dan Moylan provides director-level management and oversight for the planning and execution of public-private partnership projects around the country. Dan brings over 25 years of experience to the development of large, multi-building and multi-phase projects, from planning, design, and entitlements, through bidding, construction, and turnover. He currently serves as Senior Development Manager for the KCI Airport New Terminal and Parking Project and served in a similar capacity on the University of Kansas Central District Development. He holds an M.B.A. from the University of Kansas, a B.S. in Civil Engineering from the University of Nebraska and is a licensed professional engineer.

Justin Meyer is a 24-year veteran of the U.S. aviation industry and rejoined the Kansas City Aviation Department in April 2014. As the Deputy Director of Aviation – Marketing and Air Service Development, Justin leads the marketing, communications, and customer service efforts for the Kansas City Aviation Department's two airports. Additionally, Justin works with airline planners to increase flights and add new routes from Kansas City International Airport. Justin has been actively involved in the planning for Build KCI, the $1.5 billion new single terminal at Kansas City International Airport, where he advocates for the customer experience to be one of high accessibility and inclusiveness.