How private aviation has become the new normal
David Gitman, President of Monarch Air Group, examines how the executive air industry has evolved during the pandemic to the point where it is the first option for passengers who are seeking full control of their travel experience.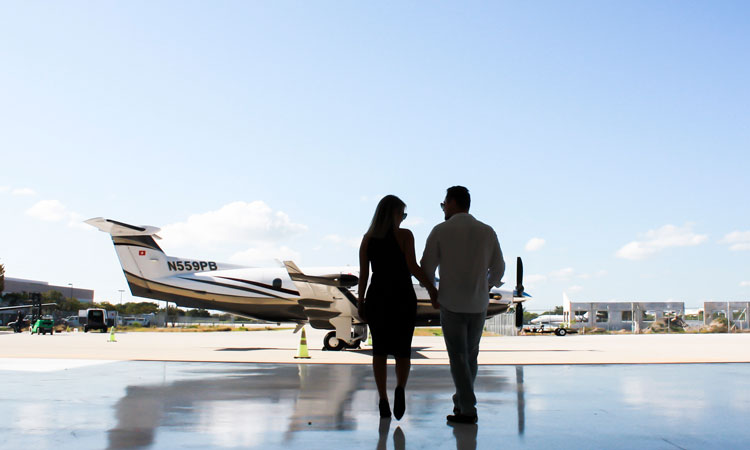 As reported by WINGX's latest weekly Business Aviation Bulletin, June is curving 12 per cent above pre-COVID levels, a trend that continues since the start of 2021. Private jet company Monarch Air Group shows higher than the industry growth rate at 177 per cent year over year, and projects that those numbers will continue to increase thanks to a surge in demand for leisure travel during summer in the Northern Hemisphere, although heavily pushed by domestic flights. International travel is expected to regain shape once restrictions are lifted, potentially at the end of 2021.
Commercial aviation uncertainty
The decrease in scheduled airline operations throughout the pandemic also opened the door for an increase of new passengers in the private jet charter segment. Considering commercial aviation numbers are still 40 per cent below the pre-pandemic normal for this time of year (WINGX), those still in need to fly continue opting for the reliability of private flight. In effect, that same fact has attracted an increasing number of first-time flyers, as registered by Monarch Air Group's charter flight quoting platform during the first semester of 2021, specifically for domestic movements.
Shift in consumer behaviour
The increasing number of first-time flyers learned how to invest in their own comfort and safety, acknowledging the added value of doing so. More people started to realise that investing in the safety of family and loved ones is the most important thing. Consequently, that is why private aviation nowadays can be considered not as a luxury, but as a standard and the only possible choice for people who need a reliable travel solution. 
Control and flexibility
Regaining control of travel itineraries seems a distant reality for those passengers still flying commercial. Private aviation has delivered that promise throughout the pandemic, granting clients with the power to adapt their flights to their schedules and not the other way around. That flexibility has been the differentiator for this travel segment since its beginnings, although during uncertainty it has become a safety net for those in need of urgent travel.
A new safety standard
Air travel is the safest means of transportation known to date. Although executive aviation has taken that statement up a notch during the pandemic. With less touchpoints, a controlled cabin and private boarding, the process of flying in a private jet has attracted thousands of customers thanks to a lower risk of infection. And private jet companies such as Monarch Air Group have thrived with its messaging to stakeholders, reassuring that flying on a private aircraft is, in fact, the safest way to travel during the outbreak.
More domestic, less international
The connection between range and travel limitations is clear; domestic sectors are back to 2019 levels, while international executive jet sectors are still down by 20 per cent contrasted with 2019. The gap should decrease at the end of 2021, strongly tied with vaccination drives in countries that lead in annual business aviation operations.
Smaller jets in the sky
More domestic flights are tied with a surge in bookings of light and very light jets, which are flying more than in 2019, same with the super midsize jets. This supports the fact that domestic private jet travel is leading the way with aircraft suited for a comfortable three to  four hour flight, precisely the flight time from Miami to New York. Flights between Florida and New York have increased almost 70 per cent on 2019, while departures in Florida are now a stunning 30 per cent higher in 2021 than in 2019 (WingX).
What do these key facts show us? That private aviation has been a constant during the pandemic, reaching unprecedented heights and confirming that it is a new normal. The industry has been tested, adapting to diverse requirements from the industry, from repatriation flights at the beginning of the outbreak, to new clients who are just experiencing private flight today, guiding them through the process and expectations. And numbers should only continue to grow as global business regains shape in late 2021 and early 2022.

David Gitman is the President and Owner of Monarch Air Group, a Ft. Lauderdale, FL-based private jet charter provider. The company combines an unrelenting dedication to safety, unmatched customer service, and in-depth industry knowledge with cutting-edge technology to provide a hassle-free and encompassing solution for each flight.