The future of carbon neutral air cargo transportation
For International Airport Review, Dorothea von Boxberg, Chief Executive Officer and Chairperson of Lufthansa Cargo, and Thorsten Meincke, Board Member for Air and Ocean Freight at DB Schenker, discuss the collaboration between the two companies that resulted in commercial aviation's first carbon neutral freight flight, as well as what the future holds for the partnership and how Sustainable Aviation Fuel can support aviation in achieving its ambitious emission reduction targets.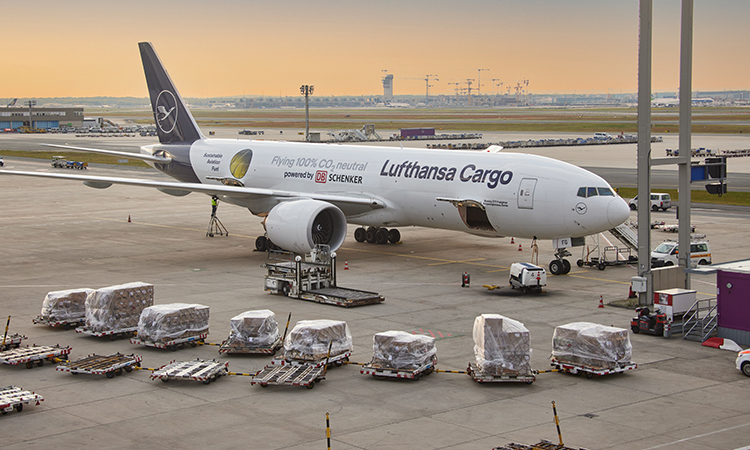 Credit: Lufthansa Cargo
In November 2020, Lufthansa Cargo and DB Schenker operated commercial aviation's first carbon neutral freight flight. How did this collaboration come into existence and what were the results of the flight?
Thorsten Meincke (TM): Sometimes, everything falls into place. In summer 2020, Lufthansa Cargo awarded DB Schenker the Lufthansa Cargo Excellence Award to recognise the great collaboration between the two companies.
Following this recognition, Lufthansa Cargo engaged us to collaborate on groundbreaking research around Sustainable Aviation Fuel (SAF). This was an obvious 'yes' at our side, and we wanted to bring this offering to our customers immediately. After only four months, the historic first SAF flight was launched! 
In 2021, Lufthansa Cargo honoured us with the 'Excellence Award' for the second time in a row. We thank Lufthansa Cargo for the repeated recognition and the excellent cooperation.
Personally, it was an exciting moment to see the DB Schenker logo appearing on the aircraft. Since May 2021, this has become a reality for everyone to see as we drive awareness of our sustainability partnership worldwide.
Even in the worst crisis that has ever hit aviation, we were doing the right thing, confidently taking vital steps into a greener future.
This product creates extra value for industries with a customer base that are willing to invest in carbon neutral supply chains. These are, among others, consumer electronics, the pharmaceutical industry and luxury retail brands. 
Despite some doubts in the very beginning, the result is more than satisfying.
So, it wasn't an easy start?
TM: Truthfully, in the beginning, the conversation wasn't easy at all. As one could imagine, there had to be tough decisions made regarding the pricing of the flight. And yes, it is true, clean logistics comes with a surcharge. That's why not every customer is willing to pay more for SAF.
It is very important to us to introduce a truly 100 per cent carbon neutral flight, and not only to offer a pay-per-use option. We had thus decided that, if there aren't enough customers for our climate-friendly offer, DB Schenker will make the financial commitment to pay the difference. This is a testament to the dedication of our duty to strive towards a sustainable future.
More recently, in April 2021, Lufthansa Cargo and DB Schenker launched a weekly Frankfurt to Shanghai carbon neutral cargo flight connection. What are the sustainability benefits of this?
Dorothea von Boxberg (DvB): The general term for sustainable, synthetic kerosene is 'Sustainable Aviation Fuel' (SAF). SAF is the first real alternative to fossil aviation fuel. It is the key to climate neutral air traffic and can be fed into regular flight operations without infrastructure adjustments. By replacing fossil kerosene with Sustainable Aviation Fuel, we take CO2 from the atmosphere, reducing CO2 emissions from the outset. With the sustainable freight flight connection, DB Schenker and Lufthansa Cargo are reiterating their call to other companies in the logistics industry, as well as politicians, to jointly expand production and infrastructure for Sustainable Aviation Fuel and thus drive forward decarbonisation in logistics.
Are Lufthansa Cargo and DB Schenker looking to launch additional carbon neutral cargo flight connections?
TM: I want to take this opportunity to emphasise how unique our weekly flights are. For the very first time in aviation history, carbon neutral supply chains are feasible with air freight. This is one of the cleanest available air cargo transport products between China and Europe, with a weekly volume of SAF, which corresponds to 174 metric tonnes of kerosene. We are delighted that so many of our customers support our vision of green flights. To mention a few, Mercedes-Benz, ZF and Merck are among some of the first customers.
At the same time, we are aware that SAF is about three to six times more expensive than fossil kerosene, and the quantity available on the market is limited. That's why we'd like to reiterate our call to other companies in the logistics industry and politicians to strengthen their decarbonisation agenda and join us in expanding production and infrastructure for SAF in logistics.
In all of our best interests, the demand continues to develop in the positive way that it has, and we will continue to promote our green offering as a signal that the industry is ready to take this step. We need the industry and politicians' support to take charge and create more capacity or demand for regenerative fuels and clean aviation.
When everything goes as we expect, we are happy to discuss an expanded range of CO2 neutral cargo flight connections. Naturally, one thing goes without saying: in the end, the decision is made by our customers.
What are the benefits of using sustainable aviation fuel to power aircraft?
DvB: The usage of SAF leads to the avoidance of new fossil CO2 emissions in our supply chain. As Sustainable Aviation Fuel is today mainly produced from biomass waste – for example, from used vegetable and cooking oils – the CO2 released during the combustion in the engine was previously removed from the atmosphere during the growth of the plants. The CO2 balance is thus considered almost neutral – a closed CO2 cycle remains. During Lufthansa Cargo's summer flight schedule, about 16,200 tonnes of CO2 emissions are avoided due to the usage of SAF during the weekly DB Schenker flights between Asia and Europe.  
What is the widespread feasibility of SAF?
DvB: Due to lower availability and more complex production, SAF is currently about three to six times more expensive than regular kerosene. Since SAF is the first real alternative to fossil aviation fuel and the key to climate-neutral air traffic, further research and provision of the fuel is essential. We assume that the demand for SAF will increase in the future. We are therefore in close contact with suppliers and the government in order to expand the existing infrastructure of production facilities. We see the future in the so-called "power to liquid" technology, where sustainable energy and CO2 build the basis for kerosene.
Will the adoption of SAF significantly contribute to the decarbonisation of the air cargo industry?
DvB: To operate our cargo business carbon neutrally is our objective in the long run. We are convinced that Sustainable Aviation Fuel is essential to achieving this goal. Compared to fossil fuels, SAF today reduces CO2 emissions by up to 80 per cent. The Lufthansa Group is therefore involved in various research institutions and industry associations and is in constant exchange about further developments in the field of Sustainable Aviation Fuel. We are also currently working on offering other customers the option of transporting their cargo in a CO2 neutral way in the future.   
Are there any other initiatives that Lufthansa Cargo and/or DB Schenker are working on in order to become more sustainable?
DvB: The biggest levers you have as an airline are to reduce kerosene and to replace kerosene with alternative fuels. Investment in modern aircraft fleets is decisive to reduce kerosene. By the end of 2021, we will have a pure B777 fleet. That is the most fuel-efficient cargo fleet you can have with the best environmental balance. We also have a long history of working on ways to reduce fuel in operations, e.g. with landing approach procedures that reduce fuel burn. For an airline, weight reduction is also key to reducing CO2 emissions. That is why, since 2020, we have only been using lightweight containers. In order to reduce the carbon footprint of the fleet even further, we will also equip all B777Fs with the new Sharkskin technology from 2022. The surface coating, which resembles the structure of sharkskin, reduces the frictional resistance of our freighters in the air and thus reduces fuel consumption. In the Lufthansa Cargo fleet, this will enable annual savings of around 3,700 tonnes of kerosene and almost 11,700 tonnes of CO2 emissions.
TM: We are committed to becoming the leading green logistics provider within the industry. Sustainability is our declared strategic goal and top priority. Or, in other words: Within Schenker, sustainability is no longer a question of choice, but it is, beyond doubt, a necessity.
For decades, we have been facing a continuously increasing demand for transportation services. Despite this growth, our CO2 footprint per transported unit becomes smaller and smaller, and we continue to have climate neutral growth since 2006.
To give you some examples of how we operate sustainably: Schenker offers Eco Solutions, allowing customers to reduce or compensate for CO2 emissions along the entire supply chain. This is possible by utilising an optimised combination of vehicles and routing, so we can cut CO2 emissions in all modes of transport by 50 per cent and more per transport. We have extended our e-vehicle fleet in land transportation, and our eCanter fleet is now the world's biggest.
In terms of sustainable cities, we utilise electric cargo bikes for last-mile city logistics in a growing number of European cities. Scandinavia is a real role model, as well as France, which is doing just as well. The concept of Sustainable Cities is now rolled out globally, with integrated social and environmental measures of sustainable transport and logistics. Furthermore, we operate with green warehouses worldwide, including the company's first entirely solar-powered facility in Dubai.
So, we do an awful lot – but, at the same time, there is still a long way to go until we reach climate neutrality.

Dorothea von Boxberg, CEO and Chairperson of Lufthansa Cargo, began her professional career in 1999 at the strategic management consultancy Boston Consulting Group. She worked in various industries and several countries. In 2005, she left to join the Star Alliance management company, where she was responsible for strategy.
In 2007, von Boxberg took her first position at Lufthansa in the Strategy and Subsidiaries division, which she headed from 2009 onwards. From 2012, she was responsible for the customer experience of Lufthansa Passenger Airlines, on board as well as on the ground, in several positions. In 2015, von Boxberg moved to Lufthansa Cargo and headed the Global Sales Management division.
In August 2018, von Boxberg was appointed to the Executive Board of Lufthansa Cargo AG. Her areas of responsibility as Chief Commercial Officer included Global Sales, Revenue Management and Pricing, Product Development, Network Planning and Handling out of the Frankfurt and Munich hubs. The digitalisation of commercial processes and the expansion of multi-channel sales were among the most important tasks.
Von Boxberg has been Chairperson of the Executive Board and CEO of Lufthansa Cargo AG since 1 March 2021. Her responsibilities include Business Development and Cooperations, Legal Affairs, Communications and Corporate Responsibility, Information Management and Digital Transformation, as well as Finance and Controlling. In addition to her role as Chairperson of the Executive Board, von Boxberg also holds a seat on the Executive Board of the German Logistics Association (Bundesvereinigung Logistik e.V. (BVL)).

Thorsten Meincke was appointed to the Management Board of DB Schenker AG on 1 June 2019 and is in charge of Global Air and Ocean Freight. He previously served as the Head of Global Ocean Freight at Kuehne + Nagel and worked in other positions at Kuehne + Nagel, as well as M&M Militzer & Muench, a Swiss-based logistics company, and Arthur Andersen, a U.S.-based consulting company. Meincke was born and raised in Hamburg and holds a Master's Degree in Macroeconomics from the University of his hometown.