Just one look: Biometrics and the passenger journey of tomorrow
Alexander Laukenmann, Senior Executive Vice President of the Aviation Unit at Fraport AG, speaks to International Airport Review about the Star Alliance Biometrics programme that is being adopted by Frankfurt Airport.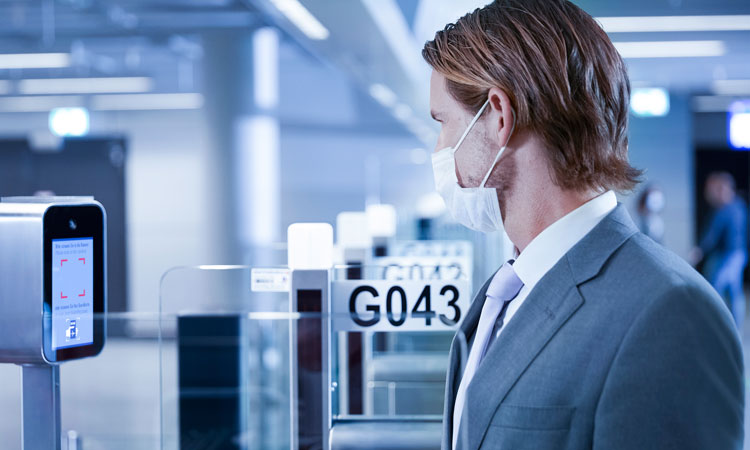 Frankfurt Airport (FRA) is one of Europe's largest aviation hubs and is still a very busy place, even during a pandemic. The large number of people coming and going calls for careful planning and streamlined processes. During peak periods, this creates challenges in terms of terminal management, because passenger flows need to be controlled and bottlenecks avoided. The COVID-19 crisis has exacerbated these issues. Measures to prevent the spread of the virus and to protect passengers and employees are the overriding priority. These steps make travel safer – but they also require additional time and cause inconvenience.
Against this background, Fraport AG – the operator of Frankfurt Airport – continues to seek ways of improving the passenger experience and to accommodate changing needs. Its actions are driven by its mission, expressed by the slogan: 'Gute Reise! We make it happen'. Key to achieving this goal is the deployment of new, innovative technologies that, to some, sound like science fiction. One example is Star Alliance Biometrics – a tool for the automated facial recognition of passengers travelling with member airlines. This accelerates passenger handling processes and makes them easier and more pleasant for travellers. The aim is to continuously improve the passenger journey, and to ensure both safety and convenience.
Fraport is committed to the ongoing enhancement of all processes within Frankfurt Airport's passenger terminals. The pandemic has not changed that – in fact, quite the opposite. The ensuing crisis across the aviation industry has turned the spotlight on the pivotal role of pioneering technologies, such as Star Alliance Biometrics. These systems effectively streamline the passenger journey, cutting waiting times and minimising physical contact with devices and service personnel, and this helps to prevent the spread of infectious disease.
Star Alliance Biometrics: How it works
What does Star Alliance Biometrics entail, exactly? Compared to traditional travel, it sounds futuristic. Thanks to state-of-the-art facial recognition, passengers can verify their identity without having to present their boarding passes at checkpoints. Instead, their face is automatically recognised by the system. Moreover, this biometric process works even when the passenger is wearing a face covering. It simply requires a glance at the camera. There is no physical contact with surfaces, no rummaging through handbags for boarding passes and the checkpoint doors open automatically. The passenger journey is more convenient, safer and, above all, faster. Frequent flyers in particular stand to benefit. So, there are many reasons as to why Fraport and Star Alliance attach great importance to the biometric system – not least as it helps to strengthen customer loyalty.
Usability and data protection
The Star Alliance Biometrics programme is still in its early stages. Since November 2020, it has been deployed for Lufthansa flights at certain checkpoints at Frankfurt Airport. Registering to use the system is easy. If a passenger's flight is eligible for the programme, then they simply need to search for and select Star Alliance Biometrics in the Lufthansa or Star Alliance apps. They are then asked to take a selfie and to scan their passports. After agreeing to general terms and conditions, the passenger can pass through the corresponding checkpoints using facial recognition technology.
Facial recognition is a pioneering and promising tool. That said, it raises some data protection concerns, which Star Alliance and Fraport take very seriously. For example, only essential personal data is collected during the registration process. This includes the expiration date of the passenger's passport; up to five photos of the passenger; the system's PIN code; answers to security questions; and event-related data, such as the flight number. The passenger's name, for instance, is not stored, as it is not required for biometric verification. This data capture process complies with the requirements of European Union (EU) data protection legislation. The airport and airlines themselves do not have access to the data. This is a key safeguard – as a positive passenger experience includes knowing that data remains private.
Frankfurt Airport as early adopter
In Frankfurt, facial recognition has been implemented at six checkpoints in Terminal 1: at three selected boarding pass checks before security and at three selected departure gates. Deployment of this technology will be increased in stages in Frankfurt and at many other airports used by Star Alliance members. The aim is for Star Alliance Biometrics to become a standard aspect of any Star Alliance passenger journey, and not just specific flights. Frankfurt Airport is leading the way.
Implementation of Star Alliance Biometrics was a significant challenge. "We introduced the system during ongoing operations," explains Fraport's project lead, Jens Sanner. "For example, we were working on boarding pass checks while passengers were passing through other checkpoints just a few meters away."
Reduced staff numbers due to COVID-19-related short-time working made the situation even more challenging. "At the same time, the drop in passenger numbers during the pandemic made it easier to install the system while the airport continued to operate," Sanner explains.
The technology has already enhanced the passenger journey. "It is now in use for intercontinental destinations at Gate Z 62," reports Sanner. "This primarily serves flights to America and Asia. Currently, it is experiencing much reduced usage, but, when things pick up again, biometrics will markedly accelerate the boarding process." Despite lower passenger traffic at present, the biometrics system has brought tangible improvements. By late March 2021, more than 6,000 customers had registered for the technology, according to Star Alliance.
Ultimately, all stakeholders stand to benefit from the ground-breaking hardware and software: passengers, airlines, airports and retailers"
The success of the project is also attributable to the good working relationship between the various partners. As its name suggests, Star Alliance Biometrics is a project initiated by the world's largest airline coalition. Moreover, Star Alliance chose founding members Lufthansa and Swiss to launch the technology, with Frankfurt and Munich Airport (MUC) selected as the first airports to put the system into operation. The airlines and airports work hand-in-glove to provide passengers with the best possible travel experience. Initiatives such as Star Alliance Biometrics underline the importance of collaboration for aviation – not just between airlines and airports, but also with and between functions such as IT, terminal management and marketing. Ultimately, all stakeholders stand to benefit from the ground‑breaking hardware and software: passengers, airlines, airports and retailers.
Roll out planned for many applications
While the biometrics system has enjoyed a smooth start in Frankfurt and is already in active use, the passenger journey is about more than seamless boarding pass checks and departures. Fraport is therefore seeking to extend biometrics to other points in the process. Soon, it hopes to initially introduce four biometric bag drops. Once the technology has been installed and integrated with the baggage handling system, it will mark a further milestone in the ongoing digital transformation of Frankfurt Airport.
Additionally, plans exist to roll the system out to participating duty-free shops, eliminating the need to present boarding passes at the cashier desk and allowing payment via biometric authentication. Here, too, the passenger's own face will be the only ID required. At the same time, biometrics is to be retrofitted to other aspects of passenger management, such as access to Lufthansa lounges. In the mid-term, the aim is to use the system for as many applications as possible.
Fraport is also looking to employ biometrics solutions from other airline alliances. The airport operator is currently negotiating with several parties, and concrete implementation plans are taking shape. With future projects, Fraport will be able to leverage the hands-on experience gained with Star Alliance Biometrics.
Looking forward
A flight from Frankfurt Airport may soon comprise the following steps: you check in at home online, then use the biometric bag drop by glancing at a camera. The device greets you by name, scans your suitcase and digitally assigns your biometric data so that it is automatically conveyed to the correct aircraft without the need for any paperwork. Once you have checked in your baggage, you have your boarding pass verified – again, by simply looking at a camera. Then you make your way through security. Now, you have time to browse the duty-free goods, and buy some gifts for your loved ones. At the cashier desk, you just cast your eyes in the direction of the camera and the payment is made. The same procedure could be applied to a restaurant or café. Then, if entitled, you might visit one of the many airside lounges at Frankfurt Airport. You gain access – you have guessed it already – by turning your face to a camera. Aircraft boarding is equally swift and simple. There is no need to show your ticket. You glance at the camera, the boarding gate opens and you can enter the aircraft.
Facial recognition is a pioneering and promising tool"
In the future, Fraport, as an airport operator, stands to benefit from biometrics in other ways, as well. For instance, the system can support improved efficiencies between the various interfaces encountered during departure and arrival processes. It would, for example, be possible to integrate data from Star Alliance Biometrics with the information used by EasyPASS, the automated passport inspection system employed by the German Federal Police, improving coordination.
Overall, Star Alliance Biometrics is a tangible step toward the digital future of Frankfurt Airport, and of air travel generally. But biometrics is not the only forward-looking Fraport project. For instance, there may come a time when flying taxis accelerate the journey between the airport and downtown Frankfurt. Initial proposals have been drawn up, negotiations have begun and there is a plan in place for a test route. Trials are also underway with robots that assist passengers by conveying their carry-on baggage from check-in to their departure gate. This would be especially beneficial for the elderly or disabled. Fraport's largest future-oriented project is currently the construction of Terminal 3. Although the official opening has been put back to 2026 due to COVID-19, the terminal will use the very latest technology – including many biometric systems.
Fraport is continuing to make large strides into the future. For passengers at Frankfurt, it means that they are not just using one of the largest aviation hubs in Europe, but one of the most innovative. Perhaps Frankfurt Airport will be able to welcome you someday soon with Star Alliance Biometrics. After all, it just takes a glance at a camera. 

Alexander Laukenmann has been Senior Executive Vice President of the Aviation Unit at Fraport AG since July 2019. Following his degree in business administration, Laukenmann began his career in 1997 as a credit analyst at Commerzbank AG in Frankfurt. In 2000, he joined Fraport AG, the operator of Frankfurt Airport, supporting the Group's IPO process. Since then, Laukenmann has held various managerial positions within the Fraport Group, both in Frankfurt and for the Group worldwide. His roles included the position of Managing Director at Fraport Ground Services Austria GmbH in Vienna and at ICF Airports, the terminal operator at Antalya Airport in Turkey. In Frankfurt, he served as Fraport's SVP for Corporate Development and Sustainability. From 2016 until 2019, he was Managing Director of Hamburg Airport GmbH. In July 2019, he returned to Fraport for his current position. In addition to his degree in business administration, Laukenmann also holds an Executive MBA degree from the University of Nottingham.