Re-inventing airport non-aeronautical revenue generation in the post-COVID-19 era
On 5 November 2020, AOE's webinar will explore how airports can adopt digitalisation to re-invent Non-Aeronautical Revenue (NAR) generation post-COVID-19.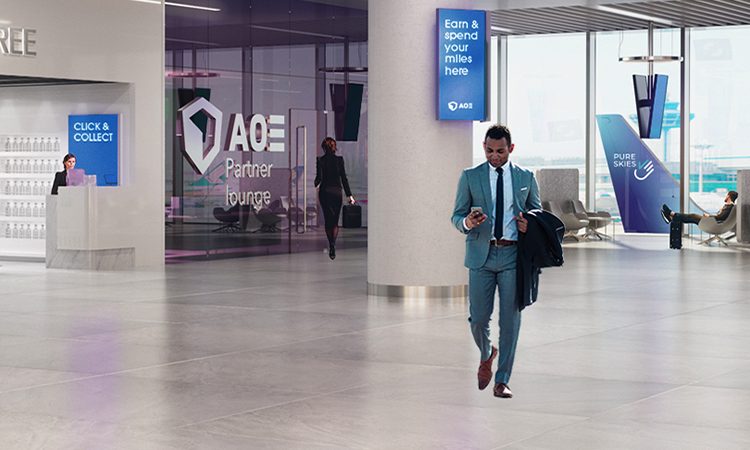 Helping airports to look beyond survival to recovery, and as passenger demand remains uncertain, AOE's webinar – Re-inventing airport non-aeronautical revenue generation post-COVID-19 – is focused on responding to the revenue realities imposed over the critical next two years and beyond.
Unlike past crises, even as passengers return to the terminals, 'normal' will not return, and recovery is not guaranteed this time – but there will also be opportunities. In this climate, how realistic is it for airports to adopt digitalisation to re-invent Non-Aeronautical Revenue (NAR) generation and maximise their returns on lower traffic levels?
While the COVID-19 crisis has devastated the travel retail industry, there are still viable ways for airports to help drive a stronger recovery – whatever the future travel landscape.
Despite continuing uncertainty, planning the recovery must start by recognising that customer behaviour has evolved radically in response to the crisis; airports must, therefore, evolve too. The hard but navigable road to recovery begins by ensuring a full understanding of where we are starting from – and an acceptance that the strategies and tools that got us here, won't get us there.
Time for change?
This crisis is not simply about the current impact of COVID-19. The longer-term implications are exacerbated by a perfect storm of collapsed traffic, internal weaknesses in the industry's operating models and, most critically, some pretty radical shifts in customer needs, mindset and behavior in response to the global crisis.
Additionally, the pace of innovation across the industry has been slow and the limited commitment made to digitalisation hinders the scope for revival. If travel retail was a hospital patient, then the doctors would be deeply concerned by its pre-existing conditions: Low conversion rates, limited responsiveness, narrow communication skills. But recovery is clearly possible.
Consumers' digital escapes
Consumers across all demographics have surged to online options in everything from home working to groceries to luxury goods, perhaps raising the prospect of predatory new entrants into the travel retail market.
This global rush to digitalisation offers airports both threats and opportunities, not only through ever-expanding online retail options, but also through the 'digital cocoon' into which many passengers now retreat.
Currently, these digitally-savvy consumers look more inclined to spend more time on their devices than in the airport stores – behavior that may be further entrenched by the time traffic revives. More positively, the customer's love of digital means airports, too, can adapt to reach them digitally.
A digital response for airports
The webinar will emphasise how airports should now focus on optimising the recovery when flyers return by reinventing their traditional, siloed commercial and operational models and will show how proven digital models can be rapidly and economically established, ranging from a starter model with core functionalities to implementing more fully-integrated 'one platform, one experience' solutions for all travellers – but always offering them the ultimate flexibility of 'anything, anytime, anywhere'.
This digitally-powered revival can be launched from a solid starter platform that enables the airport to provide digital research and marketing capabilities to its retail partners through a joint platform.
Taking a "minimum viable" approach, this can be a relatively simple but still highly effective reserve and collect platform, providing touchless reserve and collect services at the airport, giving the passenger a digital experience that meets many of their re-defined needs. Through enhanced personalisation and deeper CRM, the platform also complements the in-store experience, further driving revenue opportunities.
Easily and quickly implemented without major CapEx spending, this platform gives the airport a stronger route to their customer and, future-proofed, it can be further developed over time, creating a digital foundation for NAR that evolves with the needs of the passenger. From that foundation, the webinar also examines the potential for partnership with airlines to fully exploit passenger data – essentially a proven means of customer acquisition, driving travellers to transactions.
Proven performance
To illustrate this digital potential, the session will share learnings from AOE projects, including transformational digital and transactional platforms for Frankfurt Airport (FRA), Auckland Airport (AKL) and London Heathrow Airport (LHR). In candidly sharing our project learnings – including the mistakes and what didn't work – three key learning points arise to guide an airport's digital strategy:
Major traveller-centric priorities in the post-COVID-19 era impacting airports
Why distinctive and differentiated airport experiences will be imperative
How airports can move from offline to online, from competition to collaboration and from mere attraction to engagement and empowerment.
Adapt and thrive
The COVID-19 crisis has been a shock – but 2021's market scenario can still be planned for. Despite the pressures, airports still have time to prepare by developing an incremental starter model that can be integrated quickly, smoothly and effectively.
The pioneering airports and airlines that adopted digital paths over the past five years maintained some degree of revenue – and customer conversation – throughout the crisis, and some have even expanded the customer offer, placing them in pole position to attack whatever opportunities the near future brings – particularly if those opportunities are digital in nature and not dependent upon travellers actually flying. Most pertinently, the scale and pace of change in the customer mindset makes it imperative that airports find their voice and join them in the digital world.
Incremental revenue has never been so vital as in the year ahead. The proven route is through digitalisation and ecommerce to drive levels of conversion, upsell and cross-sell significantly above in-store performance, potentially further mitigating the likely continuing drop in traffic.
Despite the unique aspects of the COVID-19 crisis, the commercial reality for airports remains the same as for any crisis; the crisis will reward those who best adapt and innovate. The customer has adapted digitally at an unprecedented speed; airports can do the same.
Please do join the AOE webinar to see how airports can do exactly that, as we share learnings and strategies to get started now.