Frankfurt's Route Advantages for Airlines
The international aviation industry continues to develop robustly despite the negative effects and cost pressures of kerosene supply, security controls and other factors. Airports have responded by adapting capacity to the changing market conditions and growth. New international gateways have been emerging, as have new markets. In this ever changing competitive environment, even a top 10-ranked airport like Frankfurt Airport (FRA) cannot rest on its laurels.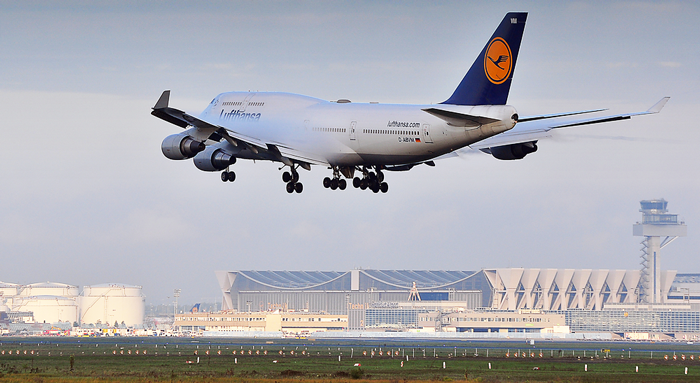 Fraport, the airport's owner and manager, also depends on an active acquisition and sales team to tell airlines the advantages of the Frankfurt global hub and how they will be able to grow their business.
While passenger growth may not be as fast as at some other airports, FRA is growing from a much higher base of 50-plus million passengers. Despite existing capacity constraints, Germany's largest airport welcomed 52,821,778 passengers last year, 1.1 percent more than in 2005. Airfreight grew at a significantly stronger 8.7 percent rate, hitting 2,057,175 metric tonnes. With 489,406 takeoffs and landings, FRA's aircraft movements remained nearly unchanged (down 0.2 percent). FRA achieved several historic traffic records in 2006. In July, the monthly passenger volume reached 5,085,258 and aircraft movements climbed to 43,601; in November monthly airfreight traffic hit 187,307 metric tonnes.
From January through July of this year FRA served 30.9 million passengers, which respresents year-on-year growth of 2.4 percent. Frankfurt Airport (FRA) served 5,191,760 passengers in July 2007 – a new absolute peak figure and an increase of 2.1 percent versus the previous monthly record of July 2006. Never before in Frankfurt Airport's history have so many passengers used Germany's 'Gateway to the World' in a single month. On July 29, 2007, Frankfurt Airport welcomed 181,464 passengers in a single day. Thus, this summer-vacation Sunday ranks third among the busiest passenger days in FRA's history.
The Frankfurt Vision
We strive to highlight FRA's advantages in the context of an internationally competitive aviation environment. While other airports promote their bells and whistles, we have more than just that. We have decades of in-depth operational expertise covering the entire spectrum of airport operations, services, management, planning, marketing, research and development, etc. Our reputation as an operations, management and innovation leader is well respected.
Our three-letter airport code translates into Frankfurt Route Advantage, which means that we must communicate the FRA success story – but more importantly we have to explain our future vision and development of the Frankfurt Airport City. Airlines split their route planning into three different time windows: short, medium and long term. In essence, we need to have permanent dialogue with network and route planners to address these different acquisition windows. It requires patience and persistance from my sales team.
One of the key tasks of our airline sales team is to brief airline representatives here in Germany and at their headquarters around the globe. Specifically, we talk about Fraport's extensive service offerings and expertise at Frankfurt Airport. We discuss the advantages of using Fraport services and facilities: passenger, aircraft and cargo, de-icing, emergency management and planning, VIP services, parking services for airlines and their passengers, intermodal air/rail solutions, rental and leasing of real estate and various facilities at Frankfurt Airport City.
Getting to the Heart of it All
'Location, location, location' – right in the heart of Western and Eastern Europe. Geographically, Frankfurt Airport is the first major hub airport that you reach when flying from the Asia-Pacific region. Although the Gulf States want to serve as the 'Middle Man' between Asia and Europe and the ROW, the 21st century is the 'fast century' and travel distances and times give FRA the definite advantage. High kerosene prices also mean airlines are attracted by the shortest path to Europe.
Via FRA, you can also access a rich high-yield domestic market. We have the largest catchment area in Europe: more than 35 million inhabitants within a 200kms radius of FRA, significantly more than our competitors. FRA is consistently rated as Europe's best major hub in terms of punctuality. Thus, airlines can save time and money by using our location. At 54 percent, we have the highest transfer rate of the major European hubs. We are highly regarded as an efficient transfer hub. Our staff, infrastructure, technology and operations are all finely tuned for meeting the complex operational requirements of international airlines.
Intermodal Feeder
No other airport in the world can match FRA's intermodal air/rail links: three train stations, about 170 intercity trains per day, more than 6 million rail passengers annually. Fraport has been pioneering intermodal travel for more than 35 years. Our train links can serve as a domestic and European feeder system for international airlines, too. FRA's Long-distance Train Station serves as a mainline station in the German and trans-European high-speed rail networks. We even have high-speed trains going to Amsterdam and Brussels. Many airlines use the rail network as a feeder system and have 'rail & fly' and co-sharing agreements with German Rail. Frankfurt Airport has excellent motorway links, with Germany's two most important autobahn routes (A3 and A5) intersecting directly at the airport.
Global Networking
Our timetable shows that Frankfurt Airport is indeed very attractive to the world's airlines and our global gateway continues to gain new carriers and services as well as route expansions. FRA's 2007 summer timetable, which grew slightly over the previous year, features more than 4,600 departures per week offered by 129 scheduled airlines flying to 307 destinations in 109 countries. This includes 138 intercontinental destinations. In fact, non-stop flights to intercontinental destinations have increased by about four percent to 970 weekly departures.
On the cargo side, freighter aircraft are offering 245 scheduled departures per week from FRA, a three percent increase over 2006. Some 31 cargo airlines fly weekly connections to 84 destinations in 44 countries – 56 of these destinations are located outside Europe. On top of scheduled services, we also have a significant number of charter and ad hoc flights. Frankfurt is the home base of Lufthansa and the main European hub for the Star Alliance, which maintains its international headquarters at FRA, too.
Frankfurt's Slot Machine
Fraport has an excellent in-house developed computer tool called Matchbox, which can be best described as an electronic slot search engine. We can request data searches and reports from this system which closely tracks actual slot utilisation against the planned flight schedules. A big advantage is that we can easily identify pockets of 'air time' and proactively help airlines find slot options that they may not have previously considered. Then, the airline can then make their official slot request with the office of the Flight Coordinator for Germany, which also happens to be headquartered here at FRA. We help them exploit the business potential of slots.
Optimising FRA
Fraport's new DMAN-FRA Departure Management System is just one example of how we have been optimising FRA. DMAN-FRA determines the ideal take-off sequence with resulting take-off times on the runways and provides many important benefits. These include intelligent use of airside resources, increased capacity utilisation, increased planning reliability and compliance, improved take-off punctuality and increased slot adherence and reduced average taxiing times for departing aircraft. There are positive effects on the environment due to fewer emissions because of enhanced start-up sequences and the reduction of waiting time with running engines. The service concept 'first come – first served' becomes 'on time service'.
A380 Ready and Tested
In 2005, FRA became the first airport to welcome the A380 for airport compatibility and handling tests. In early 2007, FRA again played host to the A380, this time for a series of route-proving flights with passengers. Indeed, Fraport has successfully positioned FRA as a strategic hub for the new age of superjumbo travel. The A380 is an important element of our capacity enhancement at FRA. The super jumbo will boost passenger and cargo throughput without straining capacities in the air and on the ground. FRA will serve as the home base of Europe's largest A380 fleet and Lufthansa Technik is now building a huge maintenance complex for the A380 here. Many Asian carriers have ordered the A380 and we hope to have them all serving FRA on Asia-Europe routes.
FRA will eventually have a total of 18 superjumbo positions at its passenger terminals. In early August, Fraport completed its fifth A380 terminal docking/parking position: the E2 parking position is served by a superjumbo gate lounge for up to 800 passengers and three passenger bridges (two for the main deck and one for the upper deck for quick boarding and deboarding). By the spring of 2008, FRA will have a fourth A380 parking position available at Terminal 2. At Terminal 1 two parking positions are already available. More are being constructed at the C/D area that links Terminals 1 and 2. The new Pier A-Zero which will start construction in 2008, will also feature A380 gates and the future Terminal 3 at the south side of FRA will also handle A380 jets.
Mobility and More
Meanwhile, the evolutionary development of FRA into the dynamic Frankfurt Airport City – a global junction based on mobility – is progressing at a rapid pace. Fraport's vision calls for redeveloping Terminal 1 (including the Hall C expansion for four million more passengers per year; doubling of retail space at Terminals 1 and 2 and constructing a brand new Pier A0 westwards from Terminal 1 beginning in late 2008). Major real estate developments in and around the airport are taking shape, too. These include the Mönchhof logistics park, the Airrail Centre Frankfurt office/hotel/leisure complex being built on the rooftop of the Long-distance Train Station, Gateway Gardens near the Frankfurter Kreuz. Furthermore, the existing CargoCity South and North areas will be enhanced. At CargoCity North, for example, a new Animal Station is under construction and the Perishables Center Frankfurt is being expanded.
In the coming years, Fraport AG will be implementing the biggest expansion in the history of FRA – the massive ?4.3 billion Airport Expansion Programme (AEP) which is expected to receive government approval later this year. The AEP features two key elements: a fourth runway to increase overall runway capacity by 50 percent and a new Terminal 3. Government approval of the AEP is expected before the end of 2007. Providing extra capacity for at least 25 million passengers per year, Terminal 3 will have a people-mover and high-speed baggage tunnel linking it to the existing terminals and an extremely flexible modular design. With the AEP, FRA will thus be able to handle well over 80 million passengers per year by 2015.
Recent Successes
More and more carriers have been attracted by our 'Frankfurt Route Advantage', including Brussels Airlines, China Eastern, Dragonair, FlyNIKI and Shanghai Cargo Airlines to name a few.
Traditionally, Frankfurt has served as Germany's and the Continent's leading gateway for US air traffic. We have American, Continental, Delta, Northwest, US Airways and United as long-time partners at FRA. In comparison, Heathrow only has two US scheduled passenger carriers. Some of our Asian carriers also like to fly via FRA to US destinations. We are looking with great interest at the new EU-USA Open Skies agreement and opportunities it will bring.
The Motown sound has gotten signicantly stronger at FRA since May and June of this year when Northwest Airlines successively increased its flights on the Frankfurt-Detroit route to twice per day. On Mondays, Thursdays and Fridays, Northwest even offers a 07.15 morning departure – the first US bound flight of the day leaving Frankfurt – that allows business travellers to reach Detroit mid-morning and still have a productive day after arrival. Northwest has been flying from FRA for 23 consecutive years and this expansion underscores how we work to grow our partner's business.
Aegean Airlines increased the number of its daily flights to Greece to twice a day. Asiana Airlines of South Korea, which previously flew four times a week on the Seoul-Incheon to FRA route, moved to daily service this summer. The South Korean carrier also flies six freighter flights per week to FRA. Another airfreight success story has been Qatar Airways Cargo, which started serving the Doha-Frankfurt route in February 2007. They are using a newly deployed Airbus A300-600F to fly to FRA twice a week, on Wednesdays and Sundays.
FRA's airfreight capacity to and from the booming Indian sub-continent is expanding, too. This summer, Air India built up its cargo service between Frankfurt and Mumbai from two to five flights per week. The addition of new A310 freighters in its fleet has made this possible. Three of the FRA flights go from Mumbai onward to Chennai and one onward to Bangalore. Fraport is directly involved in the Indian market as part of the consortium managing and developing the capital city airport in Delhi. This further strengthens our strategic capabilities for Indo-German aviation.
Traditionally, Frankfurt has served as Germany's and the Continent's leading gateway for US air traffic. We have American, Continental, Delta, Northwest, US Airways and United as long-time partners at FRA. In comparison, Heathrow only has two US scheduled passenger carriers. Some of our Asian carriers also like to fly via FRA to US destinations. We are looking with great interest at the new EU-USA Open Skies agreement and opportunities it will bring.
About the author
Roland Weil started his aviation career 21 years ago in the sales department of Air Canada in Frankfurt, Germany. A couple of years later he moved over to Delta Air Lines where he held several positions in Sales Management – the last one as Regional Director of Sales, Southern Europe and Southeast Asia. In March 2005, he joined Fraport where he is the key contact for the airlines' route and network planners, ensuring optimal development of scheduled services to and via the Frankfurt Airport.