Replacing an aging terminal – San Diego's airport development plan continues
Nicole Hall from San Diego County Regional Airport Authority presents how COVID-19 has not put a stop to the airport development plan.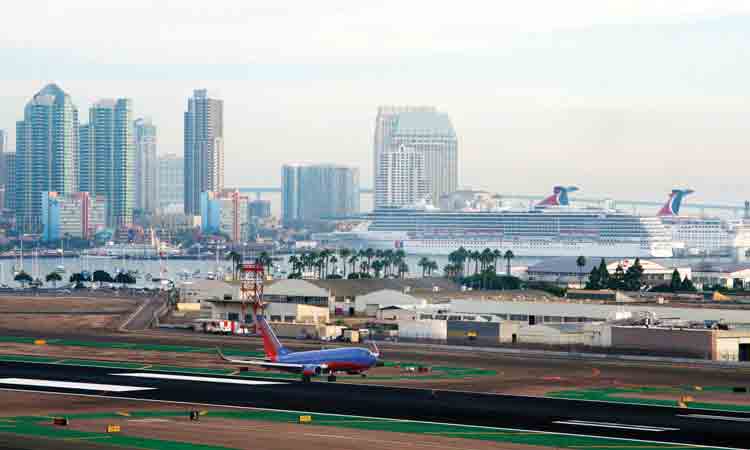 San Diego International Airport is located in a metropolitan area
As the busiest single runway commercial airport in the United States and – pre COVID-19 – servicing more than 25 million passengers including one million international passengers annually, the San Diego County Regional Airport Authority (Airport Authority) has laid the groundwork to replace its 53-year-old Terminal 1 at San Diego International Airport (SAN). This $3 billion Airport Development Plan (ADP) envisions the construction of a modern Terminal 1 and other improvements that will enhance the airport experience and its operational efficiency.
The need for the ADP has been fuelled by tremendous growth in passenger volumes; seen during the last several years. In 2018, Terminal 1 served more than 12 million passengers, which is a drastic jump from the 2.5 million passengers it served in its first year of operation in 1967.
Pre COVID-19, the Airport Authority anticipated increased passenger growth to potentially 40 million passengers by 2035. While air passenger growth is inevitable, the expansion of SAN is not. The ADP is not a plan to expand SAN or increase the numbers of aircraft that land and depart: The FAA and the marketplace dictate how many aircraft can take off and land.
Terminal 1 is located adjacent to SAN's modern, energy-efficient Terminal 2, which is the first LEED Platinum certified commercial airport terminal in the world. For nearly half the passengers arriving at SAN, an outdated and aging Terminal 1 is their first impression of San Diego.
SAN is an urban airport, surrounded by San Diego Bay, the downtown area and residential neighbourhoods. Given the location and geography of the airport, the ADP became a collaborative process and experience with regional partner agencies, stakeholders and the greater San Diego community to identify and ensure the improvements work for all.
The Airport Authority released an initial ADP Draft Environmental Impact Report in July 2018 and then revised and recirculated it in September 2019. During that 14-month period, more than 100 meetings were held to hear public concerns and consequently revise planning. On 9 January 2020, the Airport Authority Board of Directors certified the Final Environmental Impact Report.
Currently the ADP timeline is on track with the goal to break ground on the new terminal in 2021 and open the first phase (19 gates) in late 2024 or early 2025. The opening date is in sync with the air travel forecasts which predict air traffic, industry wide, should be back to normal levels, post COVID-19.
Environmental planning and terminal design
The new Terminal 1 will feature 30 gates (up from 19 in the current terminal) and jet bridges connecting passengers to larger hold rooms with more gate-area seating, new restaurants and shops, a larger ticket lobby, as well as additional security checkpoints with more lanes and a bigger baggage claim area, alongside a host of energy-efficiency upgrades.
A new interior passageway, post security, will connect the new terminal to the existing Terminal 2. This will eliminate the need for passengers to pass through security a second time when connecting through SAN and access all the airport's 61 gates post security. A more efficient baggage handling system will also be added.
"As we develop the design elements of the new terminal, we can't ignore the need to mitigate the spread of any current or future virus," said Dennis Probst, Vice President and Chief Development Officer, Planning and Environmental Affairs. "The safety of all entering our airport is paramount and COVID-19 has given us a lot to consider in our new design. Our goal is to create a facility that promotes a healthy environment and can adapt to social distancing measures, if needed."
The new design will include high ceilings, an abundance of natural lighting and a ventilation system that will increase filtered clean air in the new terminal. It will also include features that allow a contactless experience for travellers, such as self-opening doors and touchless faucets. Plexiglass screens at ticket counters, social distancing signage and seat separation covers are also readily available to set up in all SAN terminals.
Improvements to mobility and access to the airport
One major issue related to the ADP has been transit connectivity to the airport. The Airport Authority believes a strong connection to the region's transit system is extremely important for its passengers, for the people who work at SAN and for the overall traffic circulation in the area around the airport.
Included in the ADP is an on-airport entry road that would remove an estimated 45,000 cars (85 per cent of the traffic) per day from the current airport access roadway. The plan also includes right-of-way and a plan for outbound lanes, when needed. A dual-level roadway in front of the new terminal would separate arriving and departing passenger traffic, helping ease congestion at the kerb front.
A state-of-the-art parking plaza in front of the new terminal will provide close-in parking and minimise walking distances. The parking plaza will replace surface parking lots and provide up to 5,500 parking spaces. With this structure, the airport would have an overall net increase of only 650 parking spaces from current levels.
The Airport Authority has also reserved a location within easy walking distance of the new Terminal 1 and existing Terminal 2 for a future transit station that can connect to any type of regional transit solution identified by regional transportation planning agencies. The Airport Authority has been working with regional agencies including the San Diego Association of Governments, the San Diego Port District, the City of San Diego, Metropolitan Transit System, North County Transit District, California Department of Transportation and the County of San Diego and others to assist in their efforts to analyse circulation around the airport, as well as to determine the best transit solution for carrying people to the airport.
A commitment to sustainability
Aligned with the City of San Diego's Climate Action Plan and Downtown Mobility Plan , the ADP includes expanded electric vehicle charging infrastructure, a multi-use path on the two main artery roadways that surround SAN and new incentives to promote alternative commuting habits among employees. The plan also focuses on air quality.
"Our emissions are now among the lowest in the country," said Kimberly J. Becker, President/CEO of the Airport Authority. "In fact, we are one of only two airports in North America to achieve a carbon neutrality certification under the Airport Carbon Accreditation programme."
Also, a series of airfield improvements, including new, redesigned taxiways, will help reduce aircraft taxiing times, resulting in reduced greenhouse gas emissions.
The Airport Authority considers climate resilience one of the critical elements of its sustainability programme and it has developed a Climate Resilience Plan (CRP) to address impacts from higher sea levels, more intense rainfall and extreme heat. Part of this plan includes a partnership with the Scripps Institution of Oceanography to monitor rising sea levels using advanced sensors in San Diego Bay.
Additionally, there is a plan to expand stormwater systems that provide the ability to capture and reuse more than 39 million gallons of rain annually.
COVID-19 economic impacts
When passenger volumes plummeted at airports globally – at SAN by more than 95 per cent compared to 2019 – the Airport Authority implemented a financial resilience plan and adopted a budget for Fiscal Year 2021 that temporarily deferred approximately $220 million of non-essential capital improvement projects and cut over $23 million from operating expenses compared to the Fiscal Year 2020 budget.
SAN also received federal relief funding in the form of a $91 million award from the CARES Act. In addition, the FAA recently awarded the Airport Authority approximately $11 million for two airside grant projects. SAN's adopted FY2021 budget anticipates $376 million in revenue and $288 million in expenses, which provides excess funds for on-going capital projects, such as the ADP.
"Within the ADP planning, we have built in options to slow down, speed up, or even stop work completely," said Becker. "We are cautiously moving forward with our current timeline for the ADP, however, that could change depending on the speed of recovery in the travel industry. We believe by moving forward there is a potential for cost savings, particularly during this economic downturn."
Benefits to the regional economy
Pre pandemic, SAN's overall economic impact was measured at nearly $12 billion annually. SAN currently employs more than 9,000 people at the airport for the airlines, federal agencies, general aviation, cargo, concessions and the San Diego County Regional Airport Authority. The ADP is poised to provide thousands more well-paying jobs at a time of unprecedented unemployment.
Funding the ADP
In July 2019, the Airport Authority negotiated a new 10-year Airline Operating and Lease Agreement with its airline partners that financially supports the ADP and includes pre-approved funding of more than $500 million for on-airport and off-airport transportation improvements. This $500 million commitment was ultimately instrumental in obtaining support from government agencies, cities and surrounding communities for the ADP.
Funding the ADP is predominantly expected to come from issuance of long-term debt. The current plan assumes about 90 per cent debt financing with the remainder coming from airport cash and FAA grants. Future airline rates and charges and non-airline revenue will be used to repay the debt.
Next steps
Next steps for the project include completion of the federal environmental review and acquiring the Coastal Development Permits from the California Coastal Commission.
"We are proud of the progress we have made with the ADP," said Becker. "We look forward to bringing San Diego a new updated Terminal 1 that will keep travellers coming back, nonstop, to San Diego for years to come."