Building Frankfurt's future
Whilst constructing a third terminal at Germany's largest airport, Holger Hofmann, Vice President of Master Planning and Infrastructure Strategy at Fraport AG, discusses the challenges associated with expanding the infrastructure at Frankfurt Airport.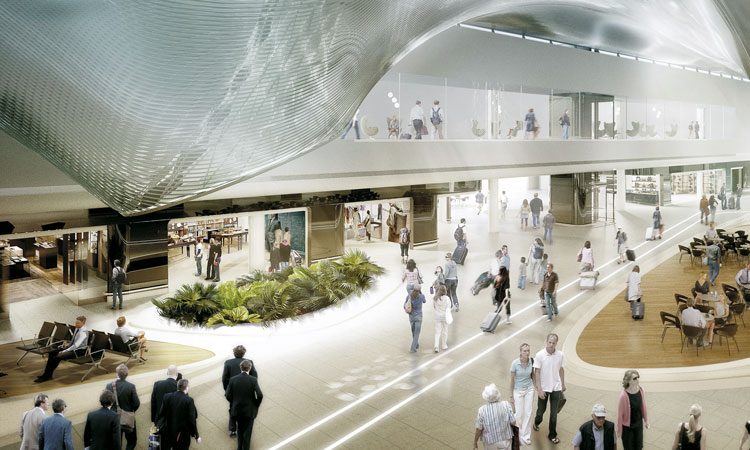 FRANKFURT Airport is Europe's fourth-largest aviation hub and in 2018 welcomed nearly 70 million passengers. To accommodate the persistent traffic growth, Fraport AG began forging plans to expand Frankfurt Airport's infrastructure a few years ago. After examining various alternatives and obtaining expert advice, the company concluded that the best solution was to build a third terminal. By the time Terminal 3 is fully completed, it will add enough capacity for up to an additional 25 million passengers a year.
Planning Terminal 3
Fraport AG began planning the airport's expansion more than two decades ago, in 1997. Between 1998 and 2000, a standard-setting mediation process was implemented in the Rhine-Main Region around Frankfurt to foster a public dialogue on the construction plans that were taking shape. In June 2000, the expansion was politically approved, and Fraport AG's supervisory board gave the official green light for the project comprising of a new runway and new terminal. Of course, various alternatives were explored. But in the north of the airport, there was insufficient space for a large-scale addition, and the heavy traffic around the existing Terminals 1 and 2 ruled out an expansion project on the envisaged scale. The choice therefore fell on the area in the south of the airport. The zoning application was submitted in 2004 and approved by the Ministry of Economics of the German state of Hesse in 2007; providing the basis for building the Northwest Runway and the future Terminal 3.
The new runway has been operating since the 2011/2012 winter season. Fraport AG initiated the actual planning process for Terminal 3 in 2001 by holding a multi-round, Europe-wide architectural competition. The aim was to identify the best solution in terms of urban planning, functionality, cost-effectiveness and public acceptance. London-based architectural firm of Foster and Partners prevailed in the initial round. The next step, in 2005, was to seek the best possible detailed design solution. Architect Christoph Mäckler of Frankfurt persuaded the jury with a concept that optimally combines aesthetics and functionality. It involves a modular structure with parts that can be altered as required without detracting from the terminal's overall appearance. Work to build Terminal 3 kicked off with a groundbreaking ceremony in October 2015, and the foundation stone was laid on 29 April 2019 to mark the start of above-ground construction.
A modular construction
The plans called for Terminal 3 to be built in several independent phases. This would provide flexibility when modifying it to meet any new requirements that might arise. The first phase is focusing on the main building with arrival and departure levels, a security check area, an automated baggage conveyor system, and extensive retail and lounge areas. It also comprises Piers H and J. While Pier H, with a length of 400m, will be devoted to flights within the Schengen Zone, all other flights will use Pier J, which stretches 600m. The two piers combined will have 24 adjacent aircraft docking positions and capacity for 14 million passengers a year. Four positions will also be able to accommodate wide-body aircraft like the Airbus A380.
The second and third phases involve building two additional piers, G and K, which will add another 23 adjacent positions and increasing the overall capacity of Terminal 3 to 25 million passengers annually.
This modular approach has enabled Fraport AG to move the second phase (Pier G) forward while complying with the approved zoning plan. Pier G is currently expected to be completed and begin operating in 2021 – thus alleviating traffic at Terminals 1 and 2 well before the completion of T3's first construction phase in 2023. Pier G will initially provide enough capacity for between four and five million more passengers, increasing to between six and seven million once it is fully completed.
Pier G will have its own check in, arrival areas and baggage claim. Since the main terminal building will not be completed until later, the pier will be fully equipped to permit its independent use.
Functionality and design
The new main terminal building, together with Piers G, H and J, will have a total footprint of 149,000m². Christoph Mäckler's architectural vision calls for Terminal 3 to be a place where passengers and visitors can spend time in a modern feel-good ambiance. Despite its large size, it will always be easy for travellers to get wherever they need to go via direct paths. For example, passengers can proceed from the drive-by platform straight to a departure gate in Pier J without needing to change levels. Even if their flight leaves from a gate at the far end of the 600m-long pier, numerous moving walkways will let them get there in minutes.
The arrival and departure levels are designed to include all relevant facilities. If travellers have time to spare, after clearing security, they can relax and enjoy themselves in a spacious 6,000m² marketplace between Piers H and J, which will contain numerous restaurants, cafés and shops. A lounge area will also be available, spanning 6,200m² above the marketplace. Terminal 3 will feature innovative modern technologies for the security and border checks and other functions. In conjunction with the terminal's clear, passenger-friendly structure, these will accelerate processes and reduce wait times.
Considerable attention was also paid to sustainability issues while planning Terminal 3. The building is designed to be energy efficient and consumes only half as much energy in comparison to Terminals 1 or 2. This is enabled by intelligent climate control and a displacement ventilation (DV) system. Various roof areas of the new terminal will also be used to generate electric power.
Connecting the transport network
Being located in the south of Frankfurt Airport, the new Terminal 3 is separated from the two existing terminals in the north by two runways. This posed challenges for linking them. The solution found was to supplement the existing Sky Line train with an additional driverless people-mover system connecting the north and the south. The new people mover will travel a distance of 5.6km in about eight minutes, equivalent to an average speed of 80km/h. The trains will be spaced a maximum of 120 seconds apart to ensure that passengers can quickly get to and from Terminal 3. Up to 4,000 people an hour will be able to use the system in each direction.
In the future, the existing Sky Line will mainly be used to get between Terminals 1 and 2. The new system will provide an additional possibility for getting to and from the train stations at Terminal 1. Frankfurt Airport is one of Europe's most intermodal facilities and is excellently integrated with the rail network of Deutsche Bahn. Over 260 local and regional trains stop at the regional train station each day, plus more than 170 intercity trains at the long-distance train station. It will take only a few minutes to walk between the new people-mover station at Terminal 1 and either of these.
Terminal 3 will also have direct access to the road network. Two of Germany's most important motorways intersect right next to Frankfurt Airport. One of them is the A5, which passes by the site of Terminal 3 and will have an exit for conveniently reaching it just a kilometre away.
A parking guidance system will quickly and efficiently guide drivers to available spaces. Directly opposite Terminal 3, a new multi-story parking structure will have capacity for up to 8,500 vehicles, including spaces with charging terminals for electric cars. This is sufficient to meet the anticipated parking requirements of the new terminal. Paths will also be available for cyclists, for whom there will be 100 bicycle parking spaces, including 30 equipped for charging e-bikes.
Building the future
By building Terminal 3 and expanding Frankfurt Airport – one of Europe's foremost traffic hubs – Fraport AG is ensuring the long-term viability, competitiveness and economic potential of its home-base airport in Frankfurt while meeting future requirements and challenges in the aviation industry.
Biography

HOLGER HOFMANN is in charge of master planning and infrastructural development at Frankfurt Airport. Since 2013 his responsibilities have also extended to infrastructural strategy and facility development. This includes the role of initial general project leader for the construction of Pier G for Terminal 3. Since 2000 he has also coordinated numerous other conversion and rebuilding projects at Frankfurt Airport.