Aviation must "transform or die", states industry leaders
Strong aspirations and inspiring opinions from global aviation leaders were shared and discussed to officially open the 29th ACI Europe Annual Congress.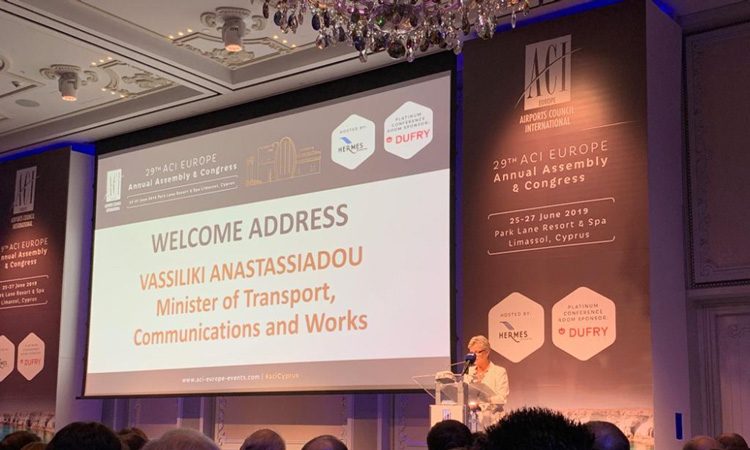 In the opening address of the 29th ACI Europe Annual Congress, four renowned figures reviewed the current state of the aviation industry, and investigated the measures that are needed to secure a sustainable future.
Welcoming attendees to the conference, Minister of Transport, Communications and Works, Vassiliki Anastassiadou emphasised that "air transport services are vital to the economic prosperity" of Cyprus. She described the air travel industry to be "at a critical junction between sustainability and growth", and sustainable improvements were highlighted as a necessity if the benefits of air travel want to be reaped in the future.
CEO of Hermes Airports Ltd., Eleni Kaloyirou, supported this notion. "Our airports need to mitigate the way they impact on the surrounding ecosystem" to ensure both the island, and the aviation industry, is left in good stead for the generations to come. Kaloyirou's enthusiasm was felt with strength as she concluded: "Hermes Airports aims to develop the country's aviation business more than ever before."
Asking attendees "where do we stand?", Olivier Jankovec reviewed the increasing growth traffic and overall solid financial state within the aviation industry. "Geopolitical instability and fading freight momentum" were mentioned as issues to consider, but how "new aircraft technology pushes industry boundaries" and how the "airport is never complete" offered an exciting look into the future.
The majority of the opening addresses – linked to the umbrella instruction to transform or die – mentioned sustainability. Corporate activism is required to ensure an industry-wide commitment, and it has begun, with new sustainable strategies and a movement from B2B, to B2C to B2P (business to people).
Michael Kerkloh, on his second-to-last day as President of ACI Europe, encouraged this with the belief that "the aviation sector needs to up its game with collective action". Although many airports are embracing environmental initiatives and reducing their impact on the planet, it is not yet an emergency for all, "which needs to change".
Attendees and exhibitors of ACI Europe Annual Congress have been promised that new strategies and progress within the field of sustainability will be revealed at the 2019 conference. To conclude with a quote from Kerkloh: "There's a lot more change coming."