Manchester Airport reveals the finer details to PremiAir terminal
With a range of options for guests to choose from, PremiAir is designed to add an extra level of convenience, comfort and style to the airport experience.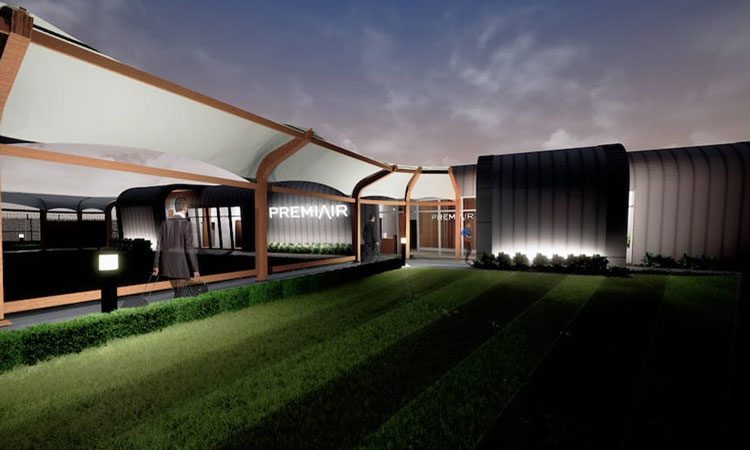 MAG has announced more details regarding what passengers can expect from its new and innovative private terminal at Manchester Airport, PremiAir, which will open its doors to guests travelling with partner airlines in September 2019. 
There will be a number of packages available to suit individual passengers' needs.
The Priority package is tailored for passengers jetting off on a weekend break or travelling for business with just  hand luggage, offering the convenience of arriving at the airport just 60 minutes before their flight, a personal welcome, a dedicated security channel and a luxury transfer across the airfield to their aircraft. 
For ultimate comfort and style, passengers can choose the Premium package where guests can relax before their flight in elegant lounge space with panoramic views of the airfield. Their hold luggage will be processed while they enjoy complimentary food prepared by a resident chef and a wide selection of beverages, alongside complimentary Wi-Fi, newspapers and magazines. When it's time to board, Premium guests will  benefit from PremiAir's dedicated security channel and a private, luxury transfer across the airfield.
PremiAir isn't just for departing passengers. Guests can experience the Arrivals package and benefit from a private transfer to the PremiAir terminal and dedicated passport control channel when they arrive back into Manchester Airport. For added comfort, guests can enjoy all the comforts of the PremiAir lounge, whilst their hold luggage is personally returned to them.
Guests can also opt to book a round trip of their chosen package, which will give guests all the advantages of the Priority and Arrivals products, with further upgrades available.
For a truly unique experience, PremiAir offers groups of between five and 50 access to one of its three private suites. Suites are all located before security, meaning non-travelling guests can also join group events and meetings. Business travellers can enjoy well-equipped professional spaces, making international business meetings easier and more accessible than ever before. Guests can also use the private suites as an elegant lounge space for departure or arrival, making it the perfect location to wish a loved one well on their travels or reunite with family from across the world. 
MAG has appointed an experienced leader in high-end hospitality to manage the PremiAir facility. Mart Louwerse will be PremiAir's General Manager and joins from Rookery Hall Hotel & Spa in Nantwich, Cheshire, where he was General Manager. Prior to Rookery Hall, Louwerse held various General Manager positions at high-end hotels, as well as being Hotel Manager at the landmark Midland Hotel in central Manchester.
Louwerse said: "This is an exciting project to be joining and it is great to see the PremiAir facility starting to be built. I am confident that passengers will be enticed by the products on offer. As MAG promised, PremiAir will offer affordable luxury and we are proud to be able to provide a private jet experience from just £50 per person. The Premium package will represent some of the best hospitality in the North West and will allow guests to start and end their trip in style, with personalised service and top-quality food served alongside fine wines and champagnes.
"PremiAir has been launched following specific feedback from passengers that it is a facility that they would welcome. It is unlike anything else offered at UK airports and we are convinced it will be welcomed by passengers at Manchester, whether they are flying off on the holiday of a lifetime or on business."
Secure parking will be available for an additional fee and the PremiAir team will be on hand to assist guests in adding any extras, such as onward transfers, to their experience.