Hong Kong International Airport receives recognition for cargo capabilities
HKIA has been recognised by IATA for its capability in the transportation and handling of perishable cargo, through its efficient, dedicated facilities and services provided in a stringent temperature-controlled process at globally assured standards.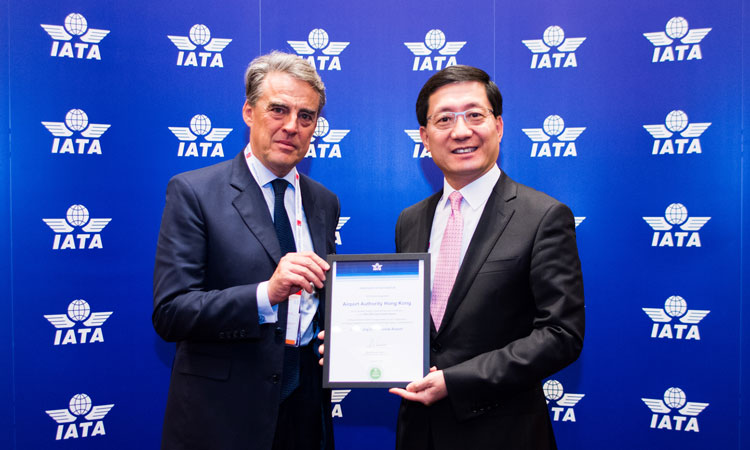 Alexandre de Juniac (left), Director General and CEO of IATA presents the IATA CEIV Fresh Airport Partner recognition to Fred Lam, (right) CEO of the Airports Authority Hong Kong
The accreditation has been pioneered at HKIA, with Airport Authority Hong Kong (AA) working closely with members of the airport community including Hong Kong Air Cargo Terminals Limited (HACTL), Cathay Pacific Services Limited (CPSL) and Cathay Pacific. The programme is aimed to improve the handling and the transport of perishable products to ensure food safety, as well as reduce food wastage and loss along the supply chain.
In addition to HKIA being recognised as the Partner Airport, HACTL and CPSL have also achieved IATA CEIV Fresh Certification, testifying to their IATA-compliant standards in handling perishable products, in respect of both facilities and operations. The two cargo terminal operators offer cold rooms set at tailored temperatures for various kinds of perishable cargo, such as live seafood, fruits and vegetables, and frozen meat. Their staff training and handling process have also been assessed and certified for their compliance with the global industry standards. Cathay Pacific, the home-based carrier at HKIA, is expected to complete validation of the certification later this year.
Alexandre de Juniac, Director General and CEO of IATA, stated: "Perishable goods is a growing market for air cargo. Ensuring that these delicate and short shelf-life products reach the customer unspoiled with minimal waste and loss is essential. Shippers will have assurance that CEIV Fresh certified companies are operating to the highest quality and standards in the transport of perishable products," 
Fred Lam, Chief Executive Officer of the AA, said: "We are delighted to be the first airport community worldwide recognised by IATA under the IATA CEIV Fresh programme, which is a big encouragement to and affirmation of the capability of the Hong Kong airport community in handling perishable products. HKIA is the world's busiest cargo airport since 2010. With the new certification, HKIA is well-placed to capture the increasing growth opportunities in the market for fresh and perishable goods."   
In 2018, HKIA handled over 380,000 tonnes of perishables, accounting for approximately eight per cent of the total cargo volume of HKIA, marking a year-on-year increase of 12 per cent from 2017.
To support the continuous growth, the AA will ensure high-quality speciality facilities and services for perishable air cargo. The AA is providing additional cool dollies to make a total of over 30 for use by the whole airport community. The AA is also building apron shelters to protect the perishables from ambient weather elements.
Lam continued: "With the affirmation of Hong Kong as an international aviation hub in the Outline Development Plan for the Guangdong-Hong Kong-Macao Greater Bay Area recently promulgated by the Central Government, HKIA as the leading cargo hub will continue to support the Greater Bay Area's development. In view of the continuous growth of the economy and rise in living standards on Mainland China and Asia, we expect increasing demand for high-end temperature-controlled products, such as perishables and pharmaceuticals, for which HKIA is fully geared up as part of our business strategy to capture the expanding opportunities." 
Since 2017, HKIA has been recognised by IATA as a Partner Airport of IATA's Centre of Excellence for Independent Validators in Pharmaceutical Logistics (IATA CEIV Pharma), a global programme designed to assure consistent cold-chain management standards and product integrity. HKIA is one of the few airports to achieve this airport-wide certification, under which HKIA's three cargo terminals, three ramp handling operators, along with a local base carrier have also been certified.