Stansted Airport invests in new seating area within the departure lounge
As part of the £600 million transformation project at Stansted Airport, seating capacity in the departures lounge has been increased with the addition of 550 new seats.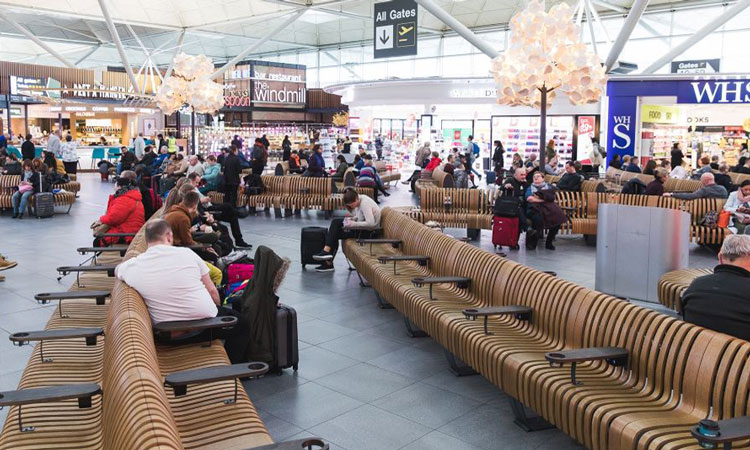 Credit: Stansted Airport
New passenger seating at Stansted has increased the airport's seating capacity by 40 per cent through the creation of three brand new seating areas in the departure lounge. 
The improvements, part of the ongoing £600 million Stansted Transformation Project, have created a more attractive and comfortable seating area with room now for over 1,000 passengers in the main departure lounge area which includes 436 new USB and USC charging points.
A dedicated family seating area has been created within the departure lounge, offering smaller and colourful child-friendly bench seating for groups travelling with younger children.
There is also a newly-created quiet seating area downstairs from the departure lounge and away from retail units and passenger thoroughfares. It has 208 seats and offers a more peaceful environment to passengers preferring to spend their pre-flight time away from the hustle and bustle of main departure lounge. A third new seating area offers 160 additional seats, on the way to Satellite 3 gates. 
Linsey Miller, Head of Terminal Operations, said: "We are delighted with the fresh look of the main departures lounge and, most importantly, I'm confident passengers will also be very pleased with the changes we have made. It has updated the area and offers much-needed additional seating and device charging points, while the curved design and layout of the furniture means passengers feel a sense of space while seated.
"The quiet seating area is something new we're pleased to be able to offer. This is on a lower level floor with no shops or TVs and no one passing through, so it is a calmer environment for those who may find that more appealing than the busy central areas. We are in a really exciting time for London Stansted and this is just one example of the many planned developments in the terminal building which will transform the experience for millions of passengers travelling through the airport."