Manchester delivers global connectivity for the North with route to Ethiopia
A landmark route into the heart of Africa has taken off from the North, underlining Manchester Airport's pivotal role in connecting the North to the world's most important markets.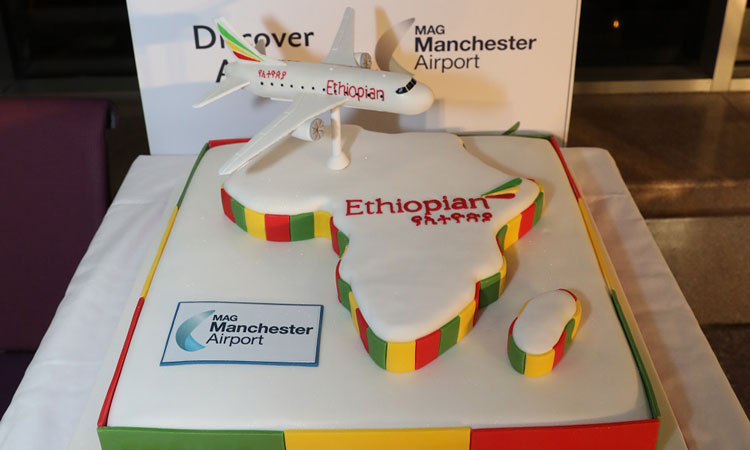 A landmark route into the heart of Africa has taken off from the North, underlining Manchester Airport's pivotal role in connecting the North to the world's most important markets.
Ethiopian Airlines' inaugural flight to Addis Ababa will leave the UK's third largest airport 100 per cent full and will unlock more than 60 connections across Africa.
The four times a week service is set to benefit 400,000 people across the North who currently access Africa via other means. A celebration to mark the first flight was attended by Jeremy Lefroy MP, the Prime Minister's Trade Envoy to Ethiopia as well as hundreds of guests from across the region. 
The new service has been welcomed by Northern businesses and organisations who will benefit from reduced journey times, unlocking vital economic, trade and investment opportunities.
Jeremy Lefroy MP said: "Ethiopia is a key partner as we look to expand our trading relationship with the wider African continent. This new flight route from Ethiopian Airlines will allow UK companies to build strong ties with their Ethiopian counterparts, increasing the accessibility and affordability of doing business for businesses in both countries. The Department for International Trade has a range of support available to businesses looking to make the most of the new flight route. Support includes finance through our award-winning export credit agency, UK Export Finance, and market advise from our in-country HM Trade Commissioner, Emma Wade-Smith."
The route opens up 60 seamless connections across Africa including South Africa, Zimbabwe, Kenya and Tanzania.
Andrew Cowan, CEO of Manchester Airport, said: "We're delighted to have Ethiopian Airlines launching its service to Addis Ababa. It will provide a vital route into Africa for businesses across the North, as well as helping attract visitors and potential investors to the region. This route highlights the important role Manchester Airport continues to play in connecting the North with key global markets. I want to take this opportunity to welcome Ethiopian Airlines to Manchester and look forward to working with them to ensure the success of this flagship service."
Tewolde Gebremariam, CEO of Ethiopian Airlines, said:"We are elated to start our service to Manchester, our second destination in the UK next to London Heathrow which we have been serving since 1973. As the leading African carrier with the widest network in the continent, passengers from Manchester will enjoy convenient and seamless connectivity options to 60 African destinations operated with cutting-edge fleet like the B-787 and A350 which offer our passengers unparalleled comfort on-board our flights, along with our African flavoured Ethiopian hospitality. The socio-economic implication of the new flight is immense. With vast investment and trade potentials between Africa and the UK, the upcoming flight holds the promise of boosting trade, investment and tourism with ample business opportunities for investors and business people from both regions."
Mick Bonney, Director of Sales and Business Development, for EDM Limited, said: "Since delivering a comprehensive suite of cabin crew training equipment in 2016 EDM continue to support Ethiopian Airlines as they continue to move towards being the most competitive, leading aviation training centre in Africa. Ethiopian Airlines' new Aviation Academy sets a highly impressive new standard in the provision of aviation training and we were privileged to play a part in this fine accomplishment."
Chancellor of The University of Manchester, Lemn Sissay, said: "I have a very personal connection with Ethiopia and, through my work as Chancellor, The University of Manchester now offers scholarships to Ethiopian students with a desire to come and study in the UK. Having a direct Manchester-Addis Ababa flight route will open up these opportunities even further and that is something to be celebrated. To be considered a truly global city Manchester needs to be open to the world, especially Africa, and this is a massive step forward in that regard. Both from a cultural and economic perspective, unlocking the doors to Ethiopia is another way for Manchester to embrace its place on the international stage."
VisitBritain Director Patricia Yates said: "Inbound tourism is one of the UK's most valuable export industries and we want to provide a world-class experience to the millions of visitors who travel here every year, more than 70 per cent of whom arrive by air. Growing airline connectivity, route development and seat capacity into key regional gateways such as Manchester are crucial to our competitive tourism offer, with the new Ethiopian Airlines flights making it easier for visitors to travel here, explore further and stay longer, boosting the economy."
The route launch comes after a strong month of growth for the UK's third largest Airport. A new service to Mumbai started as the airport welcomed more than 1.85 million passengers through its three terminals in November 2018 – an increase of seven per cent year on year.