Manchester to Mumbai route will unlock £400 million in economic benefit
The North of England will see benefits from the influx of trade and investment deals, as a direct consequence of the new route between Mumbai and Manchester.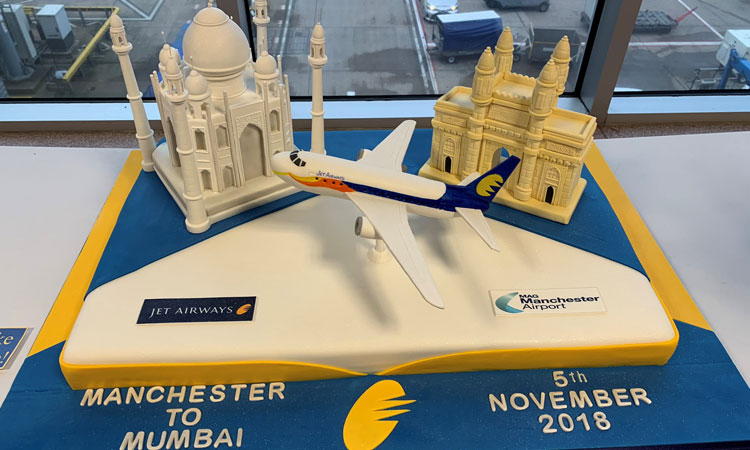 Manchester Airport to Mumbai inaugural cake. Credit: Manchester Airport
The route will unlock hundreds of millions of pounds of trade, investment and tourism benefits, according to a report released to coincide with the launch of the new Jet Airways' five-times-a-week route.
The new route follows a sustained push from Manchester Airport and regional partners to establish the first ever link between the North of England and Mumbai, driven by the increasing economic ties between the two regions and an increasingly strong demand to travel between them.
The study, called The Northern Powerhouse and India: Unlocking the Opportunity, predicts an economic boost to the North of at least £400 million in the next five years.
It describes the North as the "ideal collaborator" with India, with its strengths in areas like digital technology, advanced manufacturing and energy, which perfectly align with Indian Prime Minister, Narendra Modi's economic priorities.
Aviation Minister, Baroness Liz Sugg said: "Connections like this one are key to Britain's economic future and will help to drive economic growth and trade both here in Manchester and right across the North. Cooperation, trade and tourism with India is set to grow over the coming years, and we are committed to helping build the links we need now, so that all areas of the UK can be well placed to make the most of that growing relationship."
India is the UK's seventh largest trade partner in goods outside of Europe and third largest exporter of services to the UK. 
India's current economic growth (nearly eight per cent per annum) has seen foreign direct investment into the UK create around 6,000 new jobs. This highlights the importance of securing a direct service which has been a long-term priority for both Manchester Airport and the region, leading to the formation of an award-winning public/private body, the Manchester India Partnership (MIP), earlier in 2018.
The MIP was launched in both the UK and India earlier this year and is chaired by Manchester Airport CEO Andrew Cowan, who said: "The launch of this service is an important moment for Manchester Airport and the wider region. India is one of the world's most important markets and this route will unlock huge opportunities for economic and cultural collaboration with the North. It underlines the importance of direct connectivity, which helps businesses export their goods and services, attracts investors to the UK and encourages tourism in both directions. I want to take this opportunity to thank Jet Airways and all those involved with the Manchester India Partnership for making this long-held ambition a reality."