LAX $1.86 billion Tom Bradley terminal modernisation to begin this autumn
Delta's plan is to modernise, upgrade and connect Terminals 2, 3, and the Tom Bradley International Terminal (Terminal B).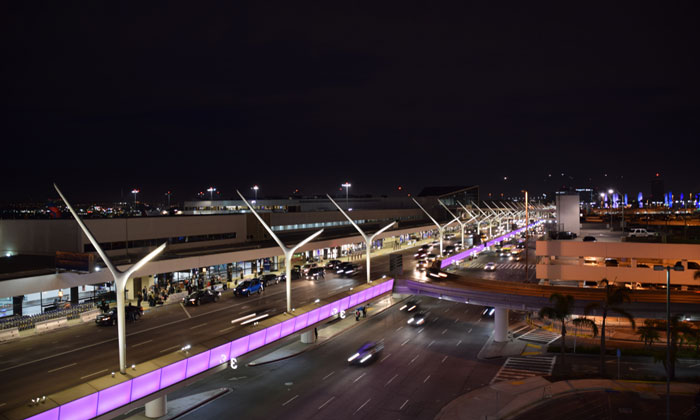 HOME AWAY FROM HOME: Delta has its main hub and headquarters at Hartsfield-Jackson. LAX is its seventh biggest hub by daily departures
Work on Delta Air Lines' US$1.86 billion modernisation project at Los Angeles International Airport (LAX) will get underway this autumn after it was officially 'kicked-off' at the end of May.
The kick-off follows the Los Angeles World Airports (LAWA) Board of Airport Commissioners' recent approval of the largest tenant improvement award in its history, which cleared the way for the Delta Sky Way at LAX to begin.
Los Angeles Mayor Eric Garcetti, Delta CEO Ed Bastian, LA City Council member Mike Bonin, LAWA Commissioner Sean Burton and LAWA CEO Deborah Flint celebrated the milestone on May 31 at a press conference where they also shared new renderings of the future facility.
"Los Angeles is constantly reaching new heights, and today's project launch creates jobs and forges global connections," said Los Angeles Mayor Eric Garcetti. "The modernisation of Terminals 2 and 3 is an investment in our economy and people, and Delta's partnership is helping to accelerate an era of growth and innovation in Los Angeles."
Delta CEO Ed Bastian said: "Nearly 10 years ago, we made a commitment to be LA's premier, premium airline. Today, LAX is one of the most important hubs in our network where we operate more than 170 daily flights and connect more passengers to our partner airlines than anywhere else in the USA.
"The Delta Sky Way at LAX project is a once-in-a-generation opportunity to invest in and transform the airport experience in partnership with LAWA and the City of Los Angeles. Delta is excited and proud to be leading the way not just in LA but in our hubs across the country, with more than $12 billion in airport infrastructure investments in progress over the next few years."
Delta and LAWA also released new renderings of the facility today, which show the interior and exterior of the shared "headhouse" of Terminals 2 and 3; the interior, secured side of Terminal 3; and the connector between Terminal 3 and Terminal B, among other perspectives.
When completed, the modern facility will offer more security screening capacity with automated security lanes, more gate-area seating, and a world-class concession program in partnership with Westfield Corporation, in addition to all the amenities that Delta's customers have come to expect at LAX, including the Delta ONE at LAX check-in space, new Delta Sky Club; and the integrated in-line baggage system. Other key features include:
A 27-gate complex on Terminals 2 and 3 with a secure connection to Terminal B.
New headhouse with centralised lobby, security screening checkpoint, and baggage claim
Completely reconstructed Terminal 3
A bridge connecting Terminals 2, 3, and B on the secure side of the airport, as well as a dedicated baggage recheck and security checkpoint for seamless connection of international to domestic transfers, enabling significantly faster connections
Connection to the automated people mover, which is expected to be fully operational in 2023