Hotel developer reveals plans for Heathrow terminal build
The Arora Group has unveiled its plans for new terminal buildings at London Heathrow Airport, as part of its bid to undertake development of Heathrow's expansion.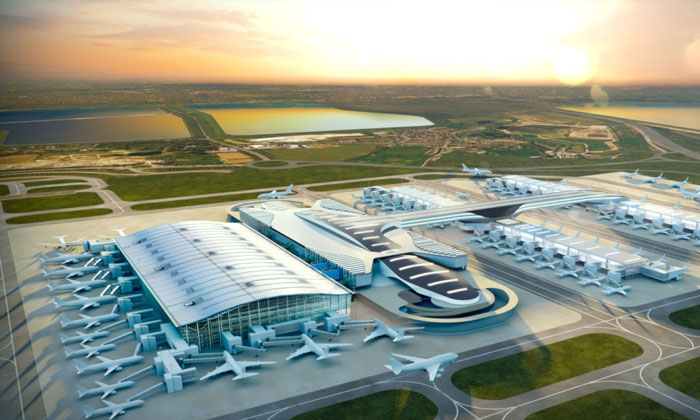 PREMIUM EXPERIENCE: A model of Arora's plan
Known as the 'Western Hub', the new terminals are designed to provide capacity for over 50 million additional passengers and will transform passenger experience and efficiency at the UK's premier gateway to the world.
The estimated cost of Arora's airport expansion plans to full capacity is £14.4bn.
Recently, Heathrow Airport Holdings said it would allow companies to bid to partner with it on various parts of the expansion scheme. Arora believes this is a step in the right direction but does not yet go far enough in guaranteeing a truly competitive expansion. It's Western Hub plans have been designed by internationally acclaimed architects, Corgan, who are responsible for Sacramento International Central Terminal B. 
The proposals concentrate new terminal capacity on the western side of Heathrow, between the existing Terminal 5 (T5) and the M25. This avoids the need to redevelop existing terminals in the Heathrow central area (Terminals 2 and 3).
Instead of new, independent terminal buildings, the Western Hub integrates new passenger facilities with T5 into a single hub campus. At the heart is a new central concourse, which will serve as a single front door for all 85m passengers using the Western Hub
This central concourse will provide access to both Terminal 5 and to the new Terminal 6, with an elevated bridge concourse providing panoramic views over the airfield for passengers, and easy navigation underneath for aircraft.
Surinder Arora, Founder & Chairman of the Arora Group, said: "Our approach has been to work closely with airlines and to employ the world's best and most experienced airport designers and these benefits are clearly evident in our Western Hub plans. Heathrow has been in monopoly control for too long and our proposals show what can be achieved through an alternative approach and Heathrow fully welcoming competition.
"We welcomed Monday's consultation from the CAA. It is helpful to have talks in place and we are eager to work with all parties to realise the best solution for Heathrow.
"We are passionate about developing a Heathrow that delivers a truly world-leading experience; one that works for airlines; one that offers passengers a top-class journey; and one that has the commercial grounding to be a long-term success for the nation to take pride in."