Longest UK non-stop route open for business with landing of London-Perth jet
After 17 hours in the air, nearly 90 minutes less than the world's longest, the inaugural non-stop flight from Perth to Heathrow and back has touched down.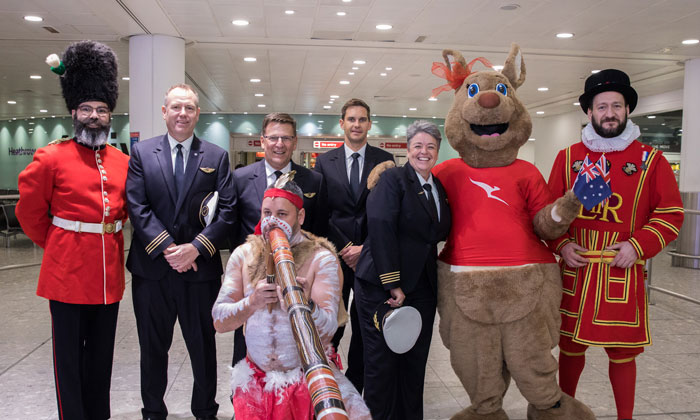 LONG HAUL: The flight covers 14,498 km, only 30 less than the longest, the Doha-Auckland route
A direct route between London Heathrow and Perth has become the world's second longest by distance after it opened over the weekend. The inaugural flight, from Perth, set off at 7pm on Saturday evening to land in London at 5am on Sunday, 17 hours later (keeping in mind a seven hour time difference). It returned at 1pm the same day.
The history-making Qantas F10 carried more than 200 passengers and 16 crew and is the only direct air link between Europe and Australia. Operated by a Boeing 787-9 Dreamliner, the flight reduces total travel time by eliminating stopovers and taking advantage of the most favourable winds on any given day without having to factor in a mid-point when choosing a flight path.
The Dreamliner is one of the cleanest and quietest aircrafts available, making it one of the fastest growing aircraft types at Heathrow, as airlines are encouraged to top the airport's Fly Quiet league table.
By contrast, a stopping flight between London and Perth via Singapore, the quickest route, would take nearly 18 hours, not including time spent on the switch. 
Simon Eastburn, Director of Airline Business Development at Heathrow said: "We are delighted to be supporting the very first direct air link between Europe and Australia, a true milestone moment, for a hugely popular route.
We have been developing Terminal 3 to bring passengers new and exciting experiences and this new service from Qantas certainly enables that, being of real benefit to tourists, families and business travellers alike."
Qantas Group CEO Alan Joyce, who landed at Heathrow on the first direct Perth-London service, said: "This is a truly historic flight that opens up a new era of travel. For the first time, Europe and Australia have a direct air link.
"The original Kangaroo Route from London to Australia was named for the nine hops it took to get there over four days back in 1947. That initial flight was a modern marvel when it started, and the journey gradually became shorter over the years. Now we can do it in a single leap.
"This is hands-down the most comfortable aircraft that Qantas has ever put in the sky. Boeing designed the Dreamliner with features to reduce jetlag, turbulence and noise. We've taken that a step further with our cabin design, giving passengers more space in every class as well as bigger entertainment screens and more personal storage.
"We've worked with the University of Sydney and our consulting chef Neil Perry to create a menu that helps the body cope better with jetlag and adjusted the timing of when we serve food to encourage sleep."
Baroness Fairhead, Minister of State for Trade and Export Promotion said: "The UK and Australia already have a strong economic and cultural relationship – based on our shared histories, language, and open liberal economies.
"This historic, new direct flight opens the door to further opportunities for British and Australian businesses and will make life easier for tourists travelling between London and Perth."