Edinburgh Airport flies further than ever with new Beijing route announcement
The UK's second most popular destination for Chinese tourists may soon see a surge as a new route opens between Beijing and Edinburgh.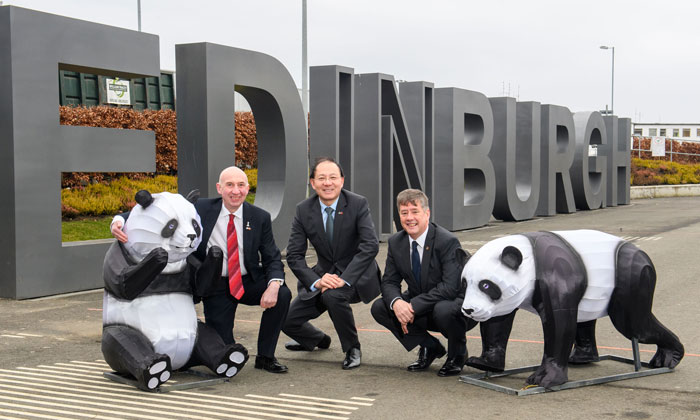 EXPANDA-ING: The new route is the furthest Edinburgh currently offers
The first ever direct flights from Scotland to China will begin in June following an announcement in China this morning.
The announcement will see Hainan Airlines flights to Beijing Capital International Airport beginning from June 12, flying 4 weekly on an Airbus A330-300.
It's part of an innovative flight model which links in three capital cities – Beijing, Edinburgh and Dublin. The route will fly from Beijing to Dublin and then onto Edinburgh and then back to Beijing on Thursdays and Sundays, flying to Edinburgh and then Dublin and then back to Beijing on Tuesdays and Saturdays.
It marks the successful culmination of Edinburgh Airport's partnership working with colleagues in China to attract these routes to Scotland in a move which will benefit the country's economy, culture and tourism.
Chief Executive of Edinburgh, Gordon Dewar said: "This is a fantastic day for Edinburgh Airport and for Scotland as we connect Scotland and China for the first time. We are two countries steeped in history and rich in culture, offering new destinations for people from both countries to visit and explore.
"Edinburgh is second only to London as the most popular UK destination for Chinese tourists, and we have worked incredibly hard with partners across the city and country to get to this point."
The culmination of more than three years of work, Mr Dewar added that relationship building and working with partners in both countries has been crucial to the announcement:
"A number of organisations shared our vision in attracting this route to Scotland, and it's testament to our working together with both UK and Scottish governments and bodies such as Scottish Enterprise, Visit Scotland, Laings the Jeweller and Edinburgh Hoteliers Association among others that we've finally achieved it. Edinburgh Tourism Action Group's China Ready programme has also prepared the city for this growing market, so we are in good shape.
"Of course, we've also built close relationships with firms in China who have been instrumental in this development and we thank them for their assistance. Hainan Airlines have been a huge help and they must be congratulated for this innovative approach to tie the Celtic capitals of Edinburgh and Dublin into the route and open up these cities to the Chinese market.
"This is an incredibly exciting day for the airport, for the city and for the country. Tourism is one of our biggest economic drivers and still has masses of potential to unleash – let's use this opportunity to drive it forward."
UK Government Aviation Minister Baroness Sugg said: "The first scheduled direct route between Edinburgh and Beijing is fantastic news, and follows on from our work to increase the number of flights possible between the two countries.
"Edinburgh offers tourists from around the world a unique and vibrant cultural experience, and this link will mean more Chinese visitors can enjoy Scotland's incredible hospitality and stunning scenery.
"As a major market for Scotland's world class produce this is also a vote of confidence in the strong economic links between the UK and China, bringing our ambitious businesses and exporters even closer to their customers."