Fire fighter at three New Zealand airports notified over toxic fire-fighting foam
A specialist aviation fire services provider has been ordered to stop using foam containing PFOS by May 4.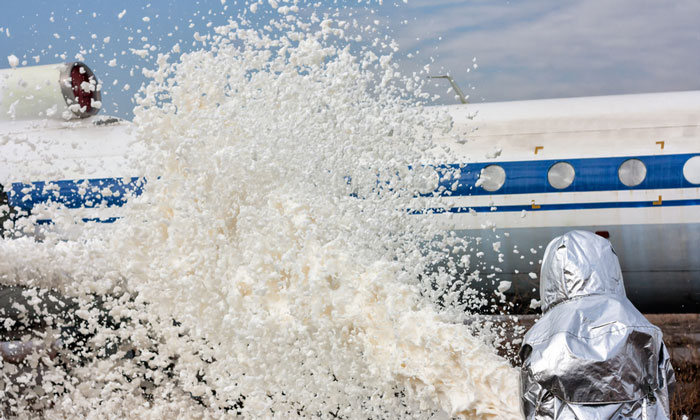 FOAM: PFOS is harmful in the environment and may affect human health if there has been long-term exposure
Environmental authorities in New Zealand have found storage drums containing a prohibited chemical in fire trucks at three airports.
The Environmental Protection Authority (EPA) has issued a compliance order to Task Protection Services Ltd, a specialist aviation fire services provider, after foams contained in two fire trucks at Palmerston North Airport and various storage drums tested positive for perfluorooctanesulfonic acids (PFOS).
Inspectors also found drums of fire-fighting foam at Gisborne and Hawkes Bay airports either explicitly labelled as containing "PFAS (PFOA or PFOS)" or labelled with the names of products known to contain PFOS.
Dr Allan Freeth, the EPA's Chief Executive, said: "Foams manufactured using PFOS have not been legal for use in New Zealand since 2006, when they were excluded from a Fire-fighting Chemicals Group Standard issued by the EPA. PFOS is listed as a persistent organic pollutant under the Stockholm Convention, and the Hazardous Substances and New Organisms Act was amended in 2011 to reflect this.
"This means that no import, use or manufacture of PFOS compounds is permitted in New Zealand, other than for specific, identified uses, such as laboratory analysis."
The compliance order requires Task Protection Services Ltd to stop use of fire-fighting foam containing PFOS when responding to emergencies by Friday May 4, unless another date is mutually agreed. In the interim, it has been told it may continue using the foam for emergencies, in the interests of safety. The compliance order also requires Task Protection Services immediately to cease using PFOS foam for training or testing purposes."
The company must submit a plan to the EPA by Tuesday April 10, detailing steps that will be taken to ensure the foam is no longer used. The plan must also show how the foam will be safely stored and disposed of.
This action follows a similar EPA Compliance Order served on Nelson Airport on February 27.
Related organisations
Related people