Victoria International Airport announces $19.4 million terminal expansion plans
Victoria Airport Authority (VAA) will be investing $19.4 million dollars over the next 27 months to expand its lower passenger departure lounge.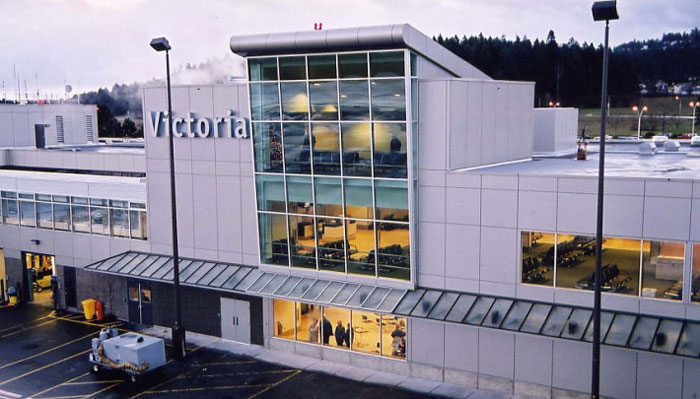 The project includes doubling the size of the existing lower passenger departure lounge, providing dedicated aircraft gates and covered walkways, new washrooms and additional food & beverage and retail.
Victoria International Airport (YYJ) saw a record year in 2017 with 1,934,832 passengers, up 4.2 per cent over 2016. In response to this passenger growth and the use of larger aircraft in existing markets, construction of a 1765m2 addition to the lower passenger departure lounge is set to begin.
The Offices of McFarlane Biggar (OMB) Architects in Vancouver has been selected to lead the design team and Victoria based Durwest Construction Management (DCM) will manage the project.
"The upsizing of aircraft from 30-50 seat Dash-8's to 76-80 seat Q400's combined with passenger growth has driven the need to expand our lower passenger departures lounge. This is part of a multi-phase terminal and apron expansion plan.
"The airport recently completed an apron expansion that now accommodates the physical space required to expand the glass departure building north and eliminate the existing covered walkway. These improvements will not only improve overall safety and operations but will also enhance the airport experience for our customers by providing additional seating, new accessibility considerations and enhanced concessions," said VAA President and CEO, Geoff Dickson.
An economic impact study to measure the economic contribution associated with the ongoing activities of Victoria International Airport was recently completed. It showed the total economic output to be $880 million and reinforced the importance of a vibrant and growing airport to the region. Since transferring to a local airport authority on 1 April 1997, Victoria Airport Authority has invested $175 million into the airport and is debt-free.