Royal Schiphol Group announces profit drop despite rise in passengers
Measures taken to keep up with the growth in passenger numbers whilst maintaining quality are responsible for a fall in profits, according to the Schiphol Group.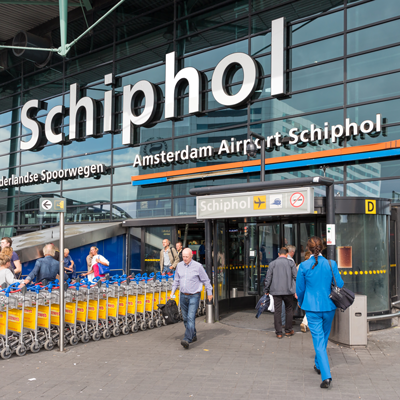 A BETTER DEAL: Amsterdam Airport Schiphol has cut airport charges by 23 per cent in three years
The Royal Schiphol Group, the operators of Europe's third biggest airport, have announced an 8.7 per cent drop in profits this year – despite a 7.7 per cent increase in passenger numbers.
At €280 million, 2017 pulled in €26 million less than the previous year. But the airport group said that the main  reason for this was the "operational measures required to accommodate the growth in passenger numbers and to maintain the same level of quality".
Amsterdam Airport Schiphol, by far the biggest airport the company operates, saw the passenger volume rise to 68.5 million. The number of air transport movements at Amsterdam Airport Schiphol, at 496,748, has practically reached the annual limit of 500,000 set for the period up to and including 2020. Cargo volumes increased by 5.4 per cent to 1,752 million tonnes.
Royal Schiphol Group President & CEO Jos Nijhuis: 'The aviation sector performs a pivotal role in society. The surge in air traffic at our airports continued in 2017. Indeed, Amsterdam Airport Schiphol has now nearly reached the maximum number of air transport movements permitted.
"This calls for new agreements on the long-term safe, smart and sustainable development of aviation beyond 2020 to enable us to continue fulfilling our socio-economic role – connecting the Netherlands to the rest of the world. We are continuously investing in our airport infrastructure, such as the new pier and terminal, to ensure a high level of quality for travellers and airlines. Until this extra capacity becomes available, we will continue to take further operational measures to avoid bottlenecks at peak times.
"Today we are working hard to provide quality and are laying a solid foundation for tomorrow's operations: Perform Today, Create Tomorrow.'
According the group, which also owns Rotterdam The Hague Airport and Lelystad Airport, the existing infrastructural capacity at Schiphol has been fully utilised. This required relatively costly operational measures leads to an increase in operating expenses and puts pressure on the Aviation results. Revenue increased by 2.4 per cent to 1,458 million euros. The market developments in the real estate sector were positive leading to an increase in the value of our real estate portfolio, despite a fair value loss on two cargo buildings. The result includes an amount of approximately 25 million euros to be settled with the airport charges for the 2019-2021 period (2016: 52 million euros).