Extension to support 1.8 million more passengers opens at China's Macau International
A new extension at China's Macau International Airport, in the South China region of Guangdong, has its capacity upped from 6 million per year to almost 8 million.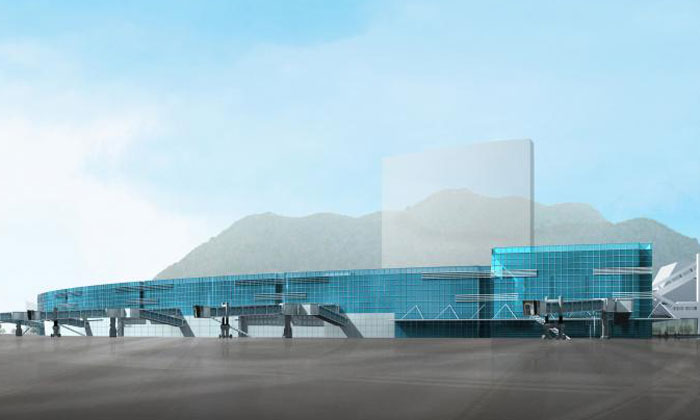 TOPPING OUT: A mock-up of the extension
A 14,000 m2 extension at Macau International Airport (MIA) has officially gone into operation in China just in time for the peak period of the Lunar New Year.
The extension will increase terminal capacity to 7.8 million, with an additional boarding bridge and four remote boarding gates. Besides the extension, additional boarding counters have installed in front of the boarding gate and a new baggage handling system has gone live in the arrival hall.
During the first five days of Chinese New Year, the airport estimates that the daily passenger volume will reach around 20,000, a 5 per cent increase compare to normal weekdays. To tackle with the peak season, MIA has said it will increase the security check channel, and 5 per cent more security staff will be sent out to support the security control to ease the traffic.
Building work started on the extension in November 2015 and in June 2016, a topping out ceremony was held. These traditionally mark the moment the last beam is installed in a structure. At the time, completion was expected for the second quarter of 2017.
Last month, Macau International Airport Company Limited (CAM) is launched a request for proposals for companies interested in five commercial spaces in the extended passenger terminal. A spokesman for the airport at the time said: "Our objective is to support Macau local enterprise as well as the Macau cultural industry for brand development, enhance competitiveness and promote business renovation and transformation by offering the request to qualified enterprises.  We hope to achieve a win-win business relationship with our business partners by providing outstanding services to passengers and airport users at MIA."
Related airports
Related organisations