High-tech incident command van ready for action in Houston
The three airports operated by Houston Airports can now benefit from a state-of-the-art command van which will keep them in the loop if an incident knocks out their communications.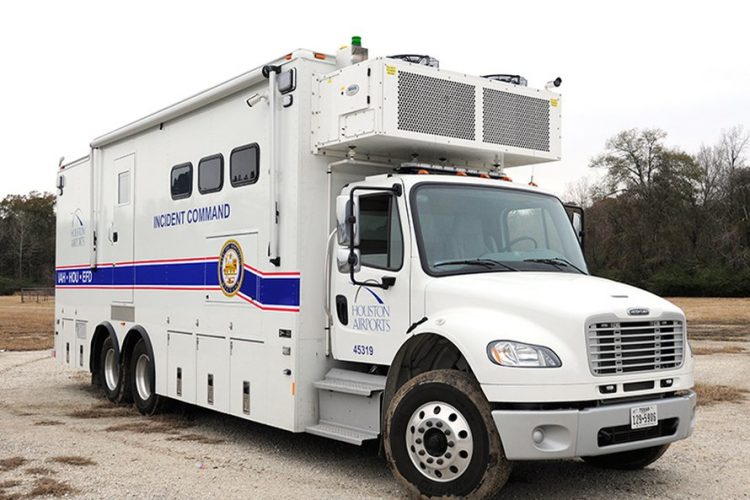 RESPONDING: The mobile command vehicle was deployed at Ellington during the F-16 jet fire in June
A mobile incident command vehicle, in the form of a large white van, has been delivered to Houston Airports.
The high-tech van promises to keep airports and personnel connected in the event of a crisis bringing down communication at George Bush Intercontinental Airport, William P Hobby Airport and Ellington Airport, the three hubs Houston Airports operates. Collectively, these transport more than 50 million passengers every year.
The vehicle is equipped with cutting-edge technology, which can essentially run the communication side of operations for all three airports. The vehicle has capacity for seven work stations, a 48-foot boom with a high-definition camera that links to four external cameras, Wi-Fi, cellular and satellite connection capabilities, radio, as well as on-board and backup generators for power.
If any of the airports' main communication systems are compromised, the vehicle could be used as a back-up communication centre. It can also provide support on the scene for any type of emergency situation. "In the event of an aircraft incident or an active shooter situation, this vehicle would be one of the primary vehicles that would be staged close to the incident site," said Frank Ciaccio, the emergency management coordinator for the Houston Airport System's Safety & Emergency Management Division.
"Previously, we didn't have a place where everyone could be at one time in the event of an emergency," Ciaccio added. "We had people on different channels and different frequencies. Through this vehicle, everyone can come together in a more unified command."
The mobile command vehicle has been deployed at Ellington during the F-16 jet fire, and proved to be a valuable asset as airport first responders were able to get close to the scene and use the high-definition cameras to gain views and aid in communications. It has also been featured in several local events, such as the Wings Over Houston Airshow and helping to monitor safety at the 2017 Superbowl, as a means to serve law enforcement with back-up and aviation support.
The vehicle is owned and operated by the Houston Airports.