Plane skids off runway at Turkish airport
Passengers reported that the plane had landed and was taxiing when a loud crash was heard and the plane began shaking. It ended its journey facing down a steep slope into the Black Sea.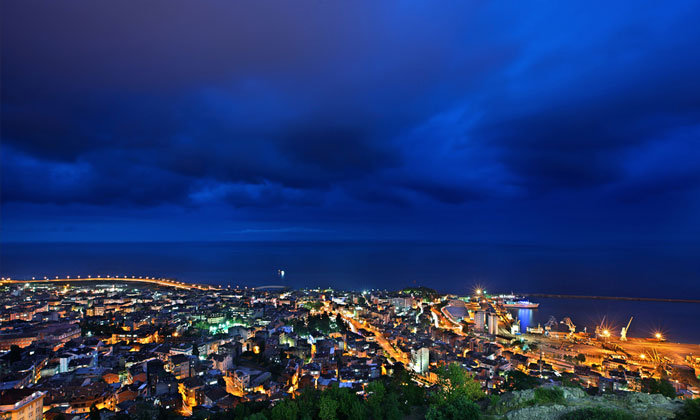 CLOSE CALL: Trabzon is a city and province on the Black Sea
A passenger plane containing more than 150 flyers skidded off a runway on landing and narrowly avoided crashing into the sea on Sunday.
There were no injuries reported after the incident at Trabzon Airport, though dramatic images of the large commercial airliner with its nose pointing down a steep bank into the Black Sea have been circulated worldwide. Multiple videos of the aftermath of the crash have surfaced online.
The Pegasus Airlines' Boeing 737-800 left Ankara late on January 13. The journey to Trabzon typically takes just over one hour.  
In a statement issued by Pegasus and published on Hurriyet Daily News, a spokesman said that the plane had 'skidded off the runway'. "Some 162 passengers, two pilots and four members of the cabin crew," they went on, "were evacuated. There are no casualties or injuries."
The airport was closed until 8am.
The Governor of Trabzon, Yücel Yavuz said: "All the passengers were evacuated. Their relatives came and took the passengers. Vehicles were provided to those who did not have cars. After the airplane landed, before it manoeuvred, it slipped and then veered off the runway. There are no injuries. There are some passengers who have gone to hospitals for precautionary purposes,"
A passenger, Fatma Gördü, is quoted on Hurriyet Daily News' website saying that the plane had landed and was taxiing before there was a crash and the plane started shaking. "We got pushed to the side; the plane's nose was facing down and the back was facing up. The passengers panicked a lot."
She added that the smell of fuel gave rise to a fear among the passengers that a fire might break out.
So far, no clear cause for the incident has been published. International Airport Review contacted the General Directorate Of State Airports Authority but at time of writing has yet to receive any response.
Trabzon Airport serves about four million passengers every year, most of whom are travelling to domestic destinations. It is located in the eastern Black Sea region of Turkey.