Pegasus Airlines to begin flights to Moscow
Moscow will be the latest addition to Pegasus' Russian network following the recent addition of new routes to Omsk, Krasnodar and Sochi…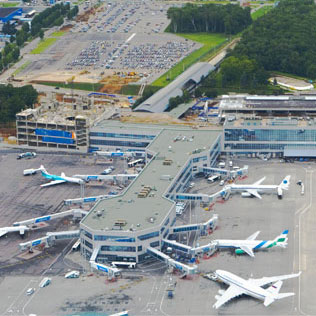 Moscow Domodedovo airport
Moscow will be the latest addition to Pegasus' Russian network following the recent addition of new routes to Omsk, Krasnodar and Sochi, with flights to Moscow from London starting from just £112.65 inclusive of taxes and charges as from 8 October. Moscow flights will be operating three times weekly via Istanbul Sabiha Gokcen Airport.
The new Moscow flights, now open for booking, depart from London Stansted at 23:35 on Mondays, Wednesdays and Saturdays; and on Tuesdays, Thursdays and Saturdays from Moscow Domodedovo Airport at 17:50 for London Stansted.
Together with our new route to Moscow, Pegasus now flies to 73 destinations in 30 countries across Europe, the Middle East, Russia and the Caucasus.
Pegasus Airlines connects to 37 destinations from Moscow
Pegasus connects from Russia's capital Moscow to 21 destinations within Turkey: Adana, Ankara, Antalya, Batman, Bodrum, Dalaman, Denizli, Diyarbakir, Erzincan, Gazipasa, Gaziantep, Hatay,  Izmir, Kayseri, Konya, Malatya, Nevsehir, Samsun, Sivas, Sanliurfa and Trabzon; and 16 other international destinations: Barcelona, Beirut, Berlin, Baku, Cologne, Copenhagen, Doha, Dubai, Ercan (Northern Cyprus), London, Marseilles, Milan, Stockholm, Tehran, Tel Aviv and Tbilisi; comprising a total of 37 destinations in all.