Broken water pipe floods terminal at JFK adding to winter woes
A winter storm which caused a 'cascade' of issues at one of America's busiest airports has been followed by a burst water pipe which flooded a terminal and led to significant delays and 55 cancellations.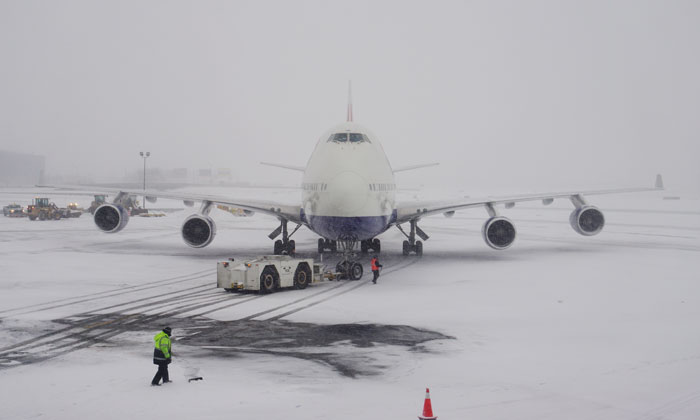 FREQUENT VISITOR: JFK is no stranger to inclement winter weather conditions as this photograph from 2015 demonstrates
Operations at America's fifth biggest airport were 'significantly disrupted' on Sunday after a burst water pipe flooded one of its six terminals.
Inbound flights to John F Kennedy International Airport's (JFK) Terminal 4, the only privately operated terminal on the site, were shut down for several hours and the terminal building partially closed during the incident. Both domestic and international departures still operated but with delays.
The incident started at 2pm when a water pipe that feeds the terminal's sprinkler system broke. After water from the broken pipe began flooding the terminal, power to the affected areas of the terminal was shut off for safety reasons.
The Port Authority of New York and New Jersey announced it will launch an investigation into the the incident. Port Authority Executive Director Rick Cotton said: "What happened at JFK Airport is unacceptable, and travellers expect and deserve better.
"While the water pipe break that occurred appears to be weather-related, we have launched an investigation into the incident to determine exactly what occurred and why an internal pipe was not weather protected and whether any other failures contributed to this disruption. The Port Authority is committed to providing the highest calibre of service to all travellers and we will hold those responsible accountable for any shortcomings we find."
Terminal 4 is operated by JFK International Air Terminal LLC (JFKIAT), a private company owned by Schiphol USA Inc., a U.S. affiliate of Amsterdam based Schiphol Group. 
The incident heaped on troubles already caused at the New York airport by a winter storm on Thursday and the continued fallout from it. On Saturday, 94 flights were cancelled due to the severe weather disabling equipment. The Port Authority described these problems as a 'cascading series of issues, including frozen equipment breakdowns, difficulties in baggage handling, staff shortages, and heavier than typical passenger loads.