VIDEO: 3D animation inside Istanbul New Airport
The five-minute clip unveils some of the range of features and concessions at the site whilst showing off its scale as one on the world's largest new builds.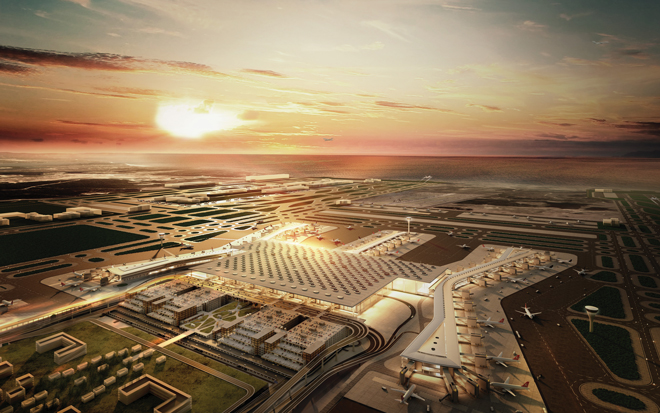 MEGAHUB: Istanbul New Airport is one of the most anticipated builds of 2018
A video has been released showing a 3D rendering of Istanbul New Airport, the 200-million capacity megahub set to open this October.
The video, İstanbul New Airport: The Place Where Dreams Come True. We Are Ready For Take-Off in 2018, was uploaded to YouTube on December 22 and has since had more than 150,000 views.
It is made up of panning shots, swooping in on the airport from above before entering the terminal building. Animated passengers are featured, going about their business inside the 1.4 million m2 terminal, passing through the 143 passenger boarding bridges, 13 check-in islands, 468 counters, 114 self check-in, 228 passport control points. As the camera pans, features of the new build pop up in bubbles such as the vast 'cargo city', equal in size to the nearby terminal, and the 18,000-bay carpark.
When it opens later in the year, Istanbul New Airport is expected to have a capacity of 90 million, slightly less than Beijing Capital International Airport, the current number two in the world. This is anticipated to expand to 200 million, nearly double the current annual passenger count of Hartsfield-Jackson Atlanta. It has been built through an investment of USD$10.3 billion and once complete, it will serve more than 350 international destinations and host over 150 airlines.