Airside tunnel at Abu Dhabi Airport completed after three years
Abu Dhabi International Airport is in the midst of a 742,000m2 terminal build as passenger numbers are expected to surpass 45 million in less than a decade.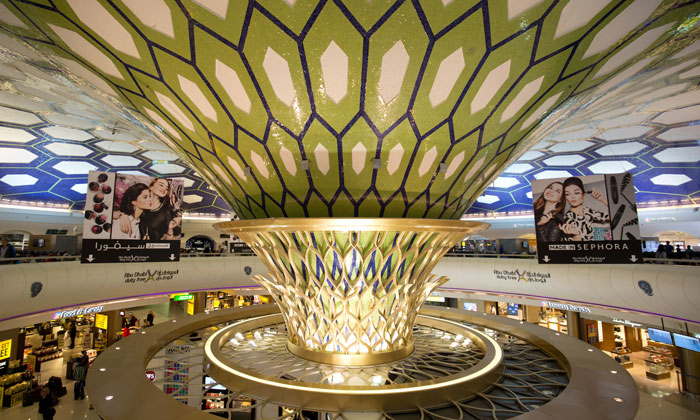 GROWING: Abu Dhabi International Airport is the second largest airport in the UAE after Dubai International
Abu Dhabi Airports' announced on Sunday the completion of the Midfield Airside Road Tunnel (MART) that links the new Midfield Terminal Building (MTB) with the southside terminals (Terminal 1 and 3) at Abu Dhabi International Airport.
The MART tunnel is approximately 1,165 meters long with average overall width of 35m, and will provide airside connectivity between the existing terminals and the MTB, allowing for the passage of passenger busses, transfer baggage, crew busses, catering trucks, ground services equipment, cargo vehicles and emergency service vehicles.
The completion of the tunnel was marked by a site visit of Abu Dhabi Airports' executive team lead by its Acting Chief Executive Officer, Abdul Majeed Al Khoori.
He said: "Today's achievement is a key milestone towards delivering an airport hub that can sustain growth for years to come. It is crucial to have efficient connectivity between all of the airport's terminals once the MTB is operational, to ensure we deliver a highly functional gateway, utilising all available resources and infrastructure at its highest operational capabilities."
The MART tunnel was constructed in two phases; phase one being the southern part of the tunnel section beneath the south runway, which was completed in December 2014, and phase two connecting MART phase one with the airside towards Terminals 1 and 3 including the full MEP installation for the entire project, to deliver a fully operational network of road tunnels.
"The MART project is a very complex one being carried out in a live and extremely busy airport environment, alongside a mega project being built. Therefore, I would like to take this opportunity and thank all teams that were involved within Abu Dhabi Airports and its stakeholders, as without the joint efforts and unified goals, this project wouldn't have been achievable."
Last month it was announced that the 'megaterminal' was nearly 90 per cent complete and would be ready for action towards the end of 2019.