New Jersey authorities approve $500 million for major international airport projects
The cash injection will go towards a huge redevelopment project currently underway at Newark Liberty International Airport.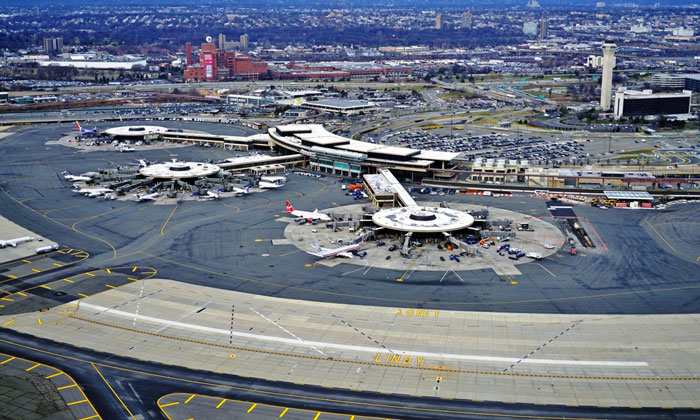 BRICK CITY: Newark Liberty is the 46th busiest airport in the world by passenger numbers
The body that oversees airports and harbours in New York and New Jersey has approved a USD$496 million investment in Newark Liberty International Airport.
The Port Authority Board of Commissioners made the announcement last week, allowing New Jersey's main airport to make a start on major landside and airside projects.
The cash is part of the overall $2.3 billion Terminal A redevelopment programme, designed to deliver a one-million-square-foot terminal accommodating 33 aircraft gates, provide an efficient roadway network and create parking for around 3,000 vehicles.
Work authorised last week includes extensive paving work and the milling of existing pavement; the demolition of buildings, concourses and satellites; installation of a new drainage system; construction of four new bridge structures, and taxi lane lighting and new curbing.
The new passenger terminal, to be known as Terminal One to avoid confusion with the existing operational Terminal A, is scheduled for a partial opening in 2021, with the facility expected to be fully operational in 2022. The redevelopment programme, approved by the Port Authority board in March, projects the creation of 10,390 jobs, $998 million in wages and $3.93 billion in regional economic activity.
"Newark Liberty is experiencing unprecedented growth in passenger traffic, up about 7 per cent this year and on pace to greatly exceed the record 40 million customers we served in 2016," Port Authority Chairman Kevin O'Toole said during the announcement of the funding last week.
"As another record year for Newark Liberty and our entire airport system draws to a close, this vote reaffirms our agency's commitment to modernising our airports and delivering world-class customer service."
The Port Authority's Vice Chairman, Jeffrey Lynford added: "Today's authorisations will help accelerate a program that everyone agrees is vital to the airport's future success,
"And that success hinges on delivering operating efficiencies and enhancing the travel experience for tens of millions of customers who rely on Newark Liberty for their air travel needs." 
An additional $250 million was authorised for two new projects directly tied to terminal redevelopment: $175 million to pave 40 airside acres to create needed aircraft parking positions, and $75 million for foundation work on new terminal frontage to accommodate a future AirTrain alignment. These projects, which are being funded through PFC collections and other offsets to the existing capital plan, will be implemented by programme contractors concurrent with the Terminal A airside and landside work.
The board also approved $8 million to analyse the feasibility of consolidating rental car facilities (CONRAC) to centralise operations of all rental agencies serving the airport, as well as the design and construction of a new 3,000-space public parking garage that would help serve Terminal One and could be integrated into the CONRAC facility. Pending the outcome of the feasibility study, a development agreement could come later next year.
The new Terminal One will have the capacity to accommodate 13.6 million passengers annually while retaining the flexibility for future growth and expansion, serve larger aircraft and meet changes in passenger demand. The current facility, opened in 1973, was designed to handle a maximum of nine million passengers per year.
For more information regarding the Terminal A project, you can click here to visit its redevelopment page.