UN find China's biggest airport is getting greener
Two years ahead of a new mega airport opening in one of the world's most populated cities, the news that Beijing Airport is getting greener is music to many ears.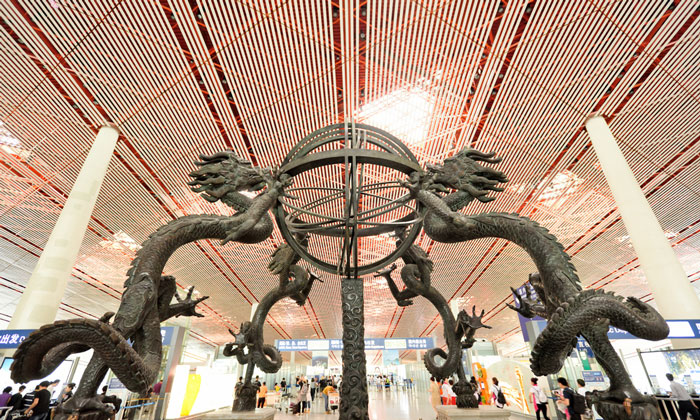 GREEN DRAGON: The ancient armillary sphere statue in Beijing Captial International Airport
Beijing Capital International Airport, China's largest with 94.39 million passengers passing through in 2016, is making steady progress on greening its operations, but can do more to minimise its environmental impact, new UN research said today.
According to the Assessment Report on Beijing Capital Airport, use of gasoline and diesel by airport vehicles declined 45 per cent and 49 per cent respectively between 2010 and 2016, while overall carbon dioxide emissions were cut by almost 16 per cent between 2014 and 2016.
This is despite the airport adding roughly ten million annual passengers since 2010, a growth rate that is comparable to the increase in Beijing's Gross Domestic Product.
"Beijing Capital International Airport has shown strong commitment towards sustainability, balancing growth in air, cargo and passenger traffic with enhanced environmental performance," said Steven Stone, Chief, Resources and Markets Branch, Economy Division of UN Environment.  "With focused actions in the right places – including electric vehicles, renewables and better transport links among them –- the airport can continue its leadership in environmental stewardship."
The airport has contributed up to 9.7 per cent of Beijing's economic output and employed up to 6 per cent of the city's working population directly and indirectly, making it a cornerstone of the city's growth and jobs.
However, this growth brings pressure on natural resources and the environment, which Beijing Capital will have to manage carefully, says the report – which was produced in collaboration with the UN Environment-Tongji Institute of Environment for Sustainable Development.
In response, the airport is switching from isolated issues of energy consumption, greenhouse gas emissions, and noise reduction towards the systemic consideration of its overall operation.
Of the airport's 4,000 vehicles, more than 60 per cent are special-purpose. Beijing Airport aims to switch at least 10 per cent of these, and 20 per cent of the general-purpose vehicles, to electric powered-alternatives by 2020.
The airport is also increasing water-use efficiency to help cope with the chronic water shortage facing Beijing. The airport's per-capita water consumption declined from 23.75 litres in 2012 to 21.24 litres in 2015, a reduction of 10.6 per cent.
Performance in terms of indoor air quality and wastewater treatment is fully up to national standards, while efforts to encourage recycling among passengers are innovative.
"As the only airport operator partner with UN Environment globally, we are very proud of this cooperation with the world-leading organisation within the UN system in the field of environment," said Mr. Zhang Wei, the Vice President of the Beijing Capital International Airport Co., Ltd. "We have made some improvements in the past years, including energy and resource efficiency and pollution reduction. However, that's not enough.
"This Assessment Report is just a start for us in the green airport journey. We would like to strengthen this cooperation and keep improving our environmental performance in our future work plan, under UN Environment's guidance, to achieve our ultimate goal of green transformation."
Further milestones could be achieved by ensuring that a greater share of electricity is sourced from renewable energy, waste volume is reduced and energy is recovered from incineration. The share of recyclable waste that is separated should be increased from the current level of 20 per cent to the national target of 35 per cent for 2016-2020, the reports says.
Steps could be undertaken to integrate the airport's light rail with the city's metro system. Along with increased parking fees, this would reduce the number of private car trips to the airport.
Tapping into the growing green bond market – both to finance the airport's greening efforts and put its assets into investments that support sustainable development – would be a good option to drive change.
Further progress could be achieved by ensuring that its recruitment procedure becomes more encouraging for women, helping efforts towards gender equality.
The report was released during the third UN Environment Assembly in Nairobi, which brings together over 4,000 heads of state, ministers, business leaders, UN officials and civil society representatives to tackle the global menace of pollution.