Business park next to airport to boost Mexico-American business
Mexican customs officials may soon be based on a 350-acre business park alongside Phoenix-Mesa Gateway Airport, turning the Arizonan airport into a hub for American exporters.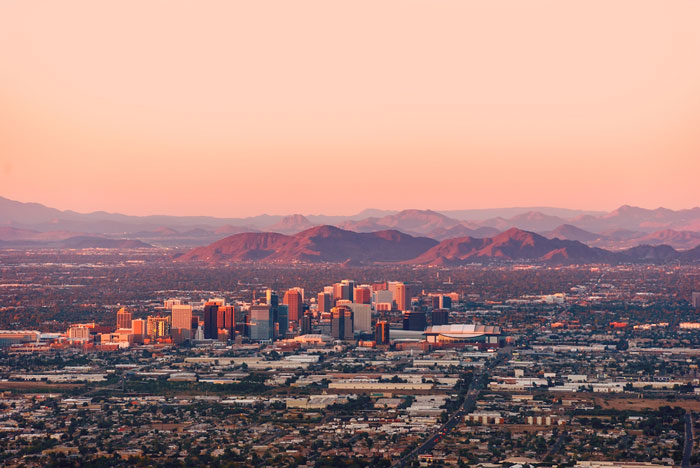 CUSTOMS HUB: Phoenix, the largest city in Arizona.
A local newspaper in Phoenix, the East Valley Tribune, has reported on a major project currently under discussion between the city's second airport and a Mexican developer, Mesa Skybridge.
It claims that the Phoenix-Mesa Gateway hopes to build a 350-acre multipurpose business park, staffed with Mexican customs officials. These officials would be able to pre-clear goods bound for Mexico, opening the airport up to companies wanting to enter the nation's market. Currently, exporters wishing to send their wares south can only do so to a limited number of airports over the border, airports that have customs officials in place. With this new development, they will have a far broader range of airports in Mexico to send products.
Speaking to AZ Central, another local news site, Mesa Mayor John Giles, the Chairman of the airport authority's board of directors, said: "It won't be an exaggeration to say that Mesa will be the hub for e-commerce between the United States and Mexico.
"You could certainly picture them (companies like Amazon) at Gateway moving a lot of cargo in and out of Mesa, Arizona and Mexico. 
"Customers want to be able to log onto Amazon and the next day a nice man hands them a cardboard box with their stuff in it. They can't do that right now because the nice man is stopped at the border and 12 days later; after it goes through customs and everything, they get their box that they wanted."
AZ Central said that its reporters had seen an email sent by Brian O'Niell to U.S. Customs and Border Protection Director of Field Operations William Brooks in July. The communication stated the development agreement between the airport and Mesa Skybridge is scheduled to be presented to the airport authority board Nov. 21, followed by a public announcement with Governor Doug Ducey after Thanksgiving (November 23).